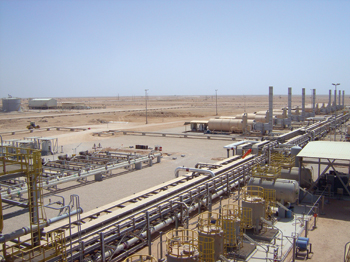 Mukhaizna ... the centre of dispute
THE search for oil in Oman began in 1925, soon after D'Arcy Exploration Co won a two-year licence. Then the country was a British protectorate. The firm made geological surveys but failed to find oil. In 1937, after oil finds in Bahrain and bigger ones in Saudi Arabia's Eastern Province, BP-led Iraq Petroleum Co (IPC) came to Oman and established Petroleum Development (Oman & Dhofar) Ltd.
PDOD got concessions and options in areas around Muscat and the town of Dhofar, the latter then under a separate administration.
The outbreak of World War-II interrupted PDOD's work. PDOD was owned by BP, Shell, Total, Exxon, Mobil, with 5 per cent held by Callouste Gulbenkian (the famous Armenian broker called "Mr. 5 per cent" whose company was later named Partex and registered in Portugal).
PDOD resumed exploration in the late 1940s. It had to relinquish Dhofar and by then it had changed its name to PDO. In 1956 PDO managed to spud its first exploration well at Fahud. This turned out to be a dry hole.
In 1954, Cities Service and Richfield Oil of the US came to Oman and found Marmul in the south in 1956. But the two relinquished the field to PDO as the oil was very heavy and the area was affected by political turmoil. PDO failed to find oil elsewhere and Marmul was shut in. This led to the departure from PDO of BP, Compagnie Francaise des Petroles (Total), Exxon and Mobil in 1960.
Shell stayed behind with 85 per cent in PDO, along with 5 per cent for Partex and 10 per cent for the government. In 1962, Shell found Yibal. It found Natih (1963), Fahud and Al Ghubar (1964). Those finds had sufficient reserves to warrant development.
PDO built an export terminal at Mina Al Fahal, just north of Muscat. Oil exports began in 1967 as Total rejoined PDO.
Exploration intensified and led to discovery of Lekhwair and Al Huwaisah in 1968; Qarn Alam, Habur, Ghaba North and Saih Nihaydah in 1972; Amal and Saih Rawl in 1973; Anzauz and Barik in 1974; Shibkah in 1976; Rahab in 1977; and Birba and Qaharir in 1978. By late 1973, world crude oil prices had quadrupled and encouraged PDO to increase exploration as well as speed up development of these fields.
Following the trend in Opec (though Oman never joined Opec or Oapec), Muscat took 25 per cent in PDO in early 1974 and raised this to 60 per cent in mid-1974. Shell's holding fell to 34 per cent, Total's 10 per cent fell to 4 per cent and that of Partex dropped to 2 per cent.
After an oil glut in 1977, Muscat had to improve E&P terms, with emphasis on Dhofar. It signed a five-year agreement which PDO. PDO found Mahjour, Runib, Qata, Rima and Jalmud in 1979 – when crude oil prices rose sharply, warranting fast-track development. PDO found Nimr and Thulailat in 1980, Zauliyah and Thayfut in 1981 and many others in the subsequent years.
By then several other firms had relinquished their blocks and left Oman. Elf Aquitaine in 1973 got an offshore block off the Musandam Peninsula, where it found gas/condensate fields at Bukha and Henjam in 1976. But it relinquished them later.
In JV with Sumitomo and Wintershall, Elf had got an onshore block in the Sahmah area and in 1978 found the Sahmah oilfield which it developed. Elf sold its interests to the local company Petrogas, as its output fell, and left Oman in 1999 (Elf was absorbed by Total).
Safah was found in 1983 by Quintana/Gulf Oil and was developed by Oxy. The oil producing Wadi Aswad fields in onshore Block 5 were found in 1984 and developed by Japex of Japan (Japex then was in partnership with the state-owned Japan National Oil Corp – JNOC, which now is known as Jogmec). But the Japanese JV decided not to renew its 20-year deal in late 2001 and sold its assets to Petrogas, of the local company MB Petroleum.
Exploration in non-PDO areas was limited and mostly involved little-known firms. These included Compact Oil (of Bermuda-based Transworld owned by John Deuss) which had a 50,000 sq km tract along the northern coast. Arakis of Canada and Aegis of the US got the Jebel Aswad block under a contract signed in mid-1989.
Blocks offered since then have been part of areas relinquished by PDO. To boost exploration, Muscat in late 1994 pressed PDO to abandon areas where it was not operating. In early 1995, PDO relinquished about 95,662 sq km onshore and offshore.
The government was not happy with Shell's PDO performance as its expensive EOR systems had failed to stop a steady fall in oil output since 2000. In December 2004 PDO's concession in Block 6, covering most of Oman, was extended until 2044. Originally signed in 1937, that had been due to expire in 2012.
Particularly unhappy with Shell's plans for the Mukhaizna field of heavy oil, the state finally transferred this from PDO to a partnership of Oxy and Abu Dhabi's Liwa Energy in an exploration and production sharing agreement (EPSA) signed in June 2005. That was a major setback for Shell.
Under its December 2004 agreement with the government, PDO in June 2005 had to relinquish 10 per cent of its 114,000 sq km area in Block 6. MOG's Petroleum Concessions & Exploration Services division took the decision to divide the area into a number of blocks. In mid-2006, the MOG signed seven EPSAs in Oman's first competitive bidding round:
Oxy took Block 54, adjacent to its Block 53's Mukhaizna field, and its partners in this are Liwa (15 per cent) and Mitsui (15 per cent). Dubai-based Indago got Block 43A.
Block 43B went to MOL of Hungary. Block 56 went to Oilex of Australia (25 per cent & operator) in JV with an Indian group of Gail (25 per cent), Hindustan Petroleum (12.5 per cent) and Bharat Petroleum (12.5 per cent), and Videocon Industries (25 per cent).
State-owned PTTEP of Thailand, which had Block 44, got Block 58. A group of Evertson of the US and Omani firms Al Zakwani Enterprises and National Steel got Block 55. A JV, Taqa Exploration, headed by Omani firm Muscat Overseas took Block 57.
In November 2007 Reliance Industries Ltd (RIL), the biggest private group in India, got an EPSA for the 20,000 sq km deep-water Block 41 close to its Block 18. Rak Petroleum of Ras Al Khaimah (RaK) got an EPSA for onshore Block 30 in central Oman. But Reliance (RIL) later left Oman and its block was offered to another company.
In the first quarter of 2008, the MOG awarded three offshore and two onshore blocks. In early 2009, the MOG awarded two offshore and two onshore blocks between Musandam in the north and Salalah in the south.
Oxy/Liwa in November 2008 got a 20-year EPSA to develop four existing gas fields and explore for potential new finds in Habiba – Block 62 – in Northern Oman. This covers 2,269 sq km and Oxy is the operator (48 per cent), with Liwa holding 32 per cent and the state-owned Oman Oil Co (OOC) having 20 per cent. An exploration, appraisal and development programme began immediately. Production began in 2010 and was to reach a plateau of 165 MCF/d by early 2012. Oxy's share is about 10,000 bpdoe, with Liwa's averaging 6,000 bpdoe. The rest is taken by OOC. Total investment in late 2008 was put at $500 million.
The MOG in April 2009 gave three gas EPSAs: Block 64, 3,874 sq km, in the Ghaba Salt Basin to Harvest Natural Resources of the US, signed on April 11; Block 63, 3,709 sq km in Al Dahira and Al Dakhiliya, to Petronas of Malaysia, signed on April 15; and Block 60, 1,500 sq km containing the Abu Butabul gas/condensate Fm found in 1998, to BGI signed on April 30.
In January 2010 the MOG launched a bidding round for mostly gas-rich blocks, denoting Oman's E&P attractiveness among IOCs and smaller firms.
Oilex in March 2009 completed testing of its Al Jumd-1 well at Al Klata Fm. It said the results suggested the liquid was heavier than it had expected. In January 2008 it had said Sarha-1, the first of three wells to be drilled in a continuous sequence in Block 56, was below 1,673 m in the Cambrian Huqf Fm.
The primary and secondary objectives in the Permian to Cambrian interval exhibited oil shows and increased gas readings from drill cuttings. On reaching about 1,900 m, a comprehensive wire-line logging programme was launched to evaluate the anomalous zones encountered and to determine whether production testing was warranted. Several of the fields in its area hold over 500 million barrels of oil in place found by PDO.
Circle Oil of the UK in June 2009 said initial interpretation at its onshore Block 49 in the south indicated that the salt basin could turn the area into a "top class oil play". Circle Oil has since continued work, including a 3D seismic survey.
Circle Oil later got offshore Block 52 and in January 2013 said the area contained 7 billion barrels of oil in place.
Epsilon Energy of Canada in January 2009 got a 20-year oil and gas EPSA for Block 55 covering about 7,564 sq km in the south-central region. During an initial three-year exploration programme the company was to acquire 800 km of seismic data and reprocess a further 4,000 sq km of existing data before drilling at least four wells.
This initial exploration phase was expected to take three years and the EPSA contained an option for negotiating an extension if the prospects were promising.
Naftogaz Middle East, a JV of Ukraine's state-owned Naftogaz and Abu Dhabi-based Al Jazeerah Enterprise for Development & Trading, in June 2007 got EPSAs for Block 39 in Salalah and Block 42 in Sharqiyah. No progress has since been reported by this JV.