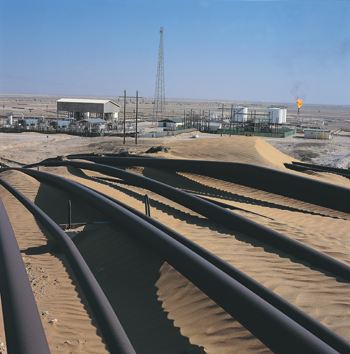 PDO ... asked to hold gas guzzlers
OMAN is putting more pressure on its two biggest oil producers, Petroleum Development Oman (PDO) and US Occidental Petroleum, to cut the amount of natural gas they use to power their oil operations as the government struggles to balance LNG export obligations against the need to meet soaring domestic gas demand.
The oil ministry is asking PDO, which accounts for about 90 per cent of the country's gas output, to put projects that require significant gas volumes, especially for steam injection, on hold. "PDO has more heavy oil that they want to bring on stream, but we are restricting them," Oil Minister Mohammed Al Rumhy says.
Heavy oil development is crucial to sustaining oil production targets, and the natural gas is used in particular to generate steam for enhanced oil recovery (EOR). One alternative now being considered by PDO is to expand a solar EOR pilot scheme that has been operating for the past year at the Amal heavy oil field in its giant Block 6 concession.
The solar project produces around 50 tons per day of steam that feeds into existing thermal EOR operations at Amal, and in its first year saved around 35 million cubic feet of gas, PDO managing director Raoul Restucci says.
Establishing a local supply chain to support full-scale deployment across Block 6 is taking longer than intended, but Restucci says PDO is "very confident" that it will be able to finalise plans by the third or fourth quarter.
Oxy has also looked at possible use of solar EOR technology for its 125,000 barrel per day Mukhaizna heavy oil field, but has yet to commit.
"That's an area for Oxy to probably learn from to see if they can become less dependent on gas," oil ministry undersecretary Salim Al Aufi says.
"We have better uses for the gas elsewhere." The US independent now uses around 200 million cubic feet per day of gas to generate roughly 500,000 bpd of steam at Mukhaizna, and the question is how much gas solar EOR could replace. Al Aufi says solar could never be a full substitute, but he and his ministry colleagues are trying to convince Oxy "to look into alternative ways of generating steam."
Oman has more than doubled gas production since the turn of the century, with output topping 3.6 billion cubic feet per day (37 billion cubic metres per year) for the first time last year. More than 80 per cent is nonassociated, with associated output remaining more or less steady in line with oil production.
Power generators get priority access to gas kept at home. Al-Aufi says the plan is to hoist output to over 4.2 bcfd by 2018, but this hinges on getting new projects such as BP's Khazzan tight gas development at Block 61 off the ground. BP wants to bring Khazzan on line by the end of 2017 and reach a plateau of 1 bcfd in 2018.
Two smaller projects are also expected on line – PDO's Mabrouk field, discovered in 2012, and state-owned Oman Oil Company Exploration & Production's (OOCEP) Abu Tubul tight gas project at Block 60. PDO plans to reach a plateau of 180 mmcfd from the 3 trillion cubic foot Mabrouk field by 2017, Restucci says, while OOCEP wants to start up Abu Tubul in June and hit a 70 mmcfd plateau sometime next year, chief executive Salim Al Sibani says.
Last year's 4 per cent output increase enabled Oman to boost LNG exports for the first time in a decade, although its three LNG trains still operate at only 85 per cent.