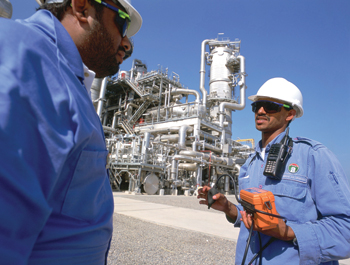 PDO ... ensuring safety compliance
PETROLEUM Development Oman (PDO) has adopted a back-to-basics approach to tackle asset integrity challenges and ensure that the company mitigates the risk to the people, infrastructure and environment, says the company's managing director, Raoul Restucci.
He also reveals that the PDO is developing a system with clear lines of accountability so that everybody from junior roustabout to supervisor knows what is expected of them and acts accordingly.
Asset integrity system outlines the ability of an asset to perform its required function effectively and efficiently whilst protecting health, safety and the environment.
"It's not just about personal accountability, it's also about developing a mentality where our personnel feel an obligation to intervene and make sure others comply," Restucci says.
The managing director points out that the company held a safety day across all of PDO to review the need to enhance compliance culture. "Often it is the cumulative effect of wrong decisions, poor practices, mounting workloads, corner-cutting and inadequately trained or poorly motivated which provides the backdrop for AI-PSM incidents," he adds.
Restucci explains that the PDO has launched a deep-dive investigation into recent process of safety incidents, identifying four possible contributory factors: "Is the drive for productivity increasing our risk tolerance? Are we creating work conditions which invite people to make errors, such as activity overload or vacancies in critical areas? What more can we do to improve training and development?
Are we failing to effectively implement lessons from incidents?"
"We are examining systemic and behavioural patterns which increase the risk of asset damage and human injury. Instilling the right mindset, making complacency our enemy and compliance our friend, while developing competence and expertise," he says.
Restucci further says that substantial investment have been made in a 'total reliability – maintenance integrity execution' programme, based on continuous site coaching and training.
The implementation of this programme in six PDO assets, the managing director says, has been a great success with all achieving calculative maintenance execution status in 2013 – an internationally recognised standard of competence and compliance.