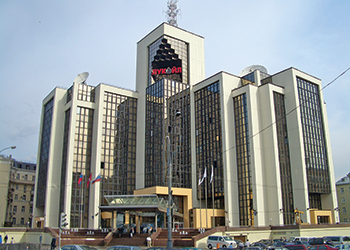 Lukoil ... eyeing a crude swap with Iran
A particular focus has been the possible resumption of Caspian swaps with Iran that were suspended around six years ago and accounted for up to 150,000 barrels per day of crude oil from Russia, Kazakhstan and Turkmenistan
The lifting of US and EU sanctions against Iran in mid-January was a game-changer for the other four states bordering the Caspian Sea – Russia, Kazakhstan, Turkmenistan and Azerbaijan – as they look to develop new export routes and markets for their oil and gas. But with some financial restrictions still in place that make doing business with Iran difficult, industry sources say it could still be some time yet before trade flows resume.
Since the sanctions were removed, all of Iran's Caspian neighbours have sent high-level delegations to Tehran to reactivate trade links. A particular focus has been the possible resumption of Caspian swaps with Iran that were suspended around six years ago and accounted for up to 150,000 barrels per day (bpd) of crude oil from Russia, Kazakhstan and Turkmenistan.
Leading the pack is Russia, which of the Caspian quartet has by far the closest ties with Iran, based partly on defence cooperation and alignment in the ongoing conflict in Syria.
According to trading sources, Russian oil giant Lukoil – via its Swiss trading arm Litasco – has lifted two cargoes of Iranian crude from Kharg Island over the past fortnight, both of which are destined for Romania's Black Sea port of Constanza and will be processed at Lukoil's Petrotel refinery. At least one of the ships was Indian-owned, which gets round lingering restrictions on shipping insurance.
Lukoil is also in talks with Iran on entering into a crude oil swap deal under which the Russians would move barrels across the Caspian to Iran's Neka terminal and receive a similar volume of Iranian Light crude at Kharg. Industry sources say most of the oil would come from the Lukoil-operated Filanovskogo field in the North Caspian, which is due to come into production this year and ramp up to a plateau of some 160,000 bpd within two years. Lukoil is also negotiating an oil products swap deal, using the 3 million metric ton per year oil products terminal in Astrakhan.
One of the main attractions of the Caspian swaps, before they were suspended in 2010, is that they gave shippers access to Asian markets and a higher premium compared to Europe. But trading sources say the Brent-Dubai spread has now swung in Europe's favor and it makes little sense for Lukoil to use tap into the southern route.
"I don't see any prospect for swaps to resume in current market conditions. The numbers just don't add up," says one trader who was involved in moving Caspian barrels to Iran several years ago. On top of this, Iran has given no indication of what kind of a swap fee it would charge shippers to factor in the cost of moving the crude to the northern refineries at Tabriz and Tehran. The previous rate that ranged from $1.50-$2 per barrel, depending on the volume shipped, would almost certainly be yanked up, the source says.
Before the swaps ground to a halt, two companies dominated the business: Swiss trader Vitol and Dragon Oil, Turkmenistan's largest non-state producer which is now 100 per cent owned by Dubai's Emirated National Oil Co Vitol supplied up to 50,000 bpd of Kazakh crude to Neka from the Aktau terminal, often via affiliated company Caspian Oil Developments, while Dragon supplied a similar volume of sweet Cheleken crude from the Aladja terminal.
But since then, the Caspian export dynamics have changed. All of Dragon's entitlement is now handled by little-known UK company United Petroleum, which buys the barrels F.O.B. Aladja and then takes them west to Baku, to be fed into the Baku-Tbilisi-Ceyhan pipeline, or north to the Russian Caspian port of Makhachkala, where the crude is piped to the Russian Black Sea port of Novorossiysk with the help of Concept Oil, a Hong Kong-based trader with close ties to Swiss-based firm Tenergy.
Azerbaijan, whose relations with Iran have never been easy, is making a big push to improve ties. This week, President Ilham Aliyev made an official visit to Tehran, and hailed the start of a new era of cooperation with his Iranian counterpart Hassan Rohani. During the trip, state oil company Socar signed an agreement with National Iranian Oil Co (NIOC) on the joint development of oil and gas structures in the Caspian, and a separate deal with Iranian private group Ghadir to produce and market oil products and petrochemicals.
Iran is already an investor in Azerbaijan's oil and gas sector via Naftiran Intertrade Co (Nico), an NIOC subsidiary which owns a 10 per cent stake in the BP-operated Shah Deniz gas development. Nico, which is also responsible for negotiating the Caspian oil swaps, is due to receive an influx of cash now that it has been removed from a EU and US blacklist and its overseas accounts unfrozen.
Azerbaijan and Iran already have a gas swap deal under which Iran supplies gas to the Azeri-populated enclave of Nakhichevan in exchange for Azeri gas delivered to northern Iran. There has also been talk of Iran supplying gas for the Tanap pipeline crossing Turkey, which is due to come into operation in 2020 with an initial capacity of around 16 billion cubic metres per year.