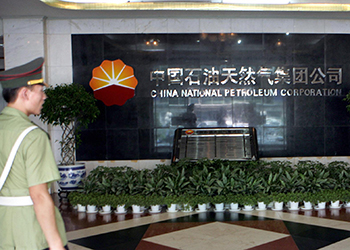 CNPC ... signing deals with Iran
China was one of the few countries that maintained a solid commercial presence in Iran's petroleum sector after the UN, US and EU imposed increasingly tough sanctions on Iran over a period of years, culminating in the 2012 US and EU sanctions rounds
Tehran and Beijing have signed a bevy of petroleum deals that could see Iranian crude supply to China rise to more than 1 mbpd, Iranian state media reported.
Reports citing Iran's deputy oil minister for international and commercial affairs, Amir Hossein Zamaninia, indicated the two countries signed the framework deal on petroleum cooperation during a Chinese trade delegation visit to Iran, building on an oil supply agreement signed earlier this year.
Zamaninia disclosed to the official IRNA news agency that the supply deal, if backed by commercial contracts, would make China the buyer of 50 per cent of Iran's oil exports, which currently exceed 2 mbpd.
"A contract to sell 430,000 bpd has been signed with Chinese companies for a long term," Zamaninia says, without clarifying the agreement's date or circumstances.
He indicated this would be in addition to Iran's existing crude exports to China. Iranian state television quoted Zamaninia as saying Iran and China had signed a memorandum of understanding covering proposed sales of Iranian crude, condensate and petroleum products to China over a five-year period.
IRNA further quoted the official as describing the sales agreement as a state-to-state accord that would provide groundwork for long-term collaboration in the petroleum sector.
"The cooperation agreement we signed includes exploration, enhancement of recovery and development [of oil and gas], manufacturing oil and gas equipment and also different investments in these areas," Iranian state television further quoted Zamaninia as saying.
He declined to estimate the value of either deal.
In 2011, Iran's crude covered 11 per cent of China's oil needs, Zamaninia stated, referring to the year before crippling international sanctions were imposed on Iran over its nuclear programme that specifically targeted the country's petroleum sector.
China's crude oil imports from Iran peaked at 557,413 bpd in 2011 but fell to 430,585 bpd over 2013 before recovering to 534,506 bpd in 2015.
Zamaninia says he hoped the cooperation accord, signed by himself and the deputy administrator of China's National Energy Administration, Zhang Yuqing, would increase China's participation in Iran's upstream, midstream and downstream oil sectors.
That would result in Iran supplying an even larger per centage of China's oil needs in the post-sanctions era than was reached in 2011, oil ministry news service Shana reported him as saying.
That position was endorsed by Iranian oil minister Bijan Zanganeh.
"China's oil imports from Iran, currently more than 600,000 bpd, will increase even more through projects under construction by Chinese companies," Shana quoted the minister as saying following a meeting with Zhang.
Since implementation of the nuclear deal in mid-January, China's crude imports from Iran have risen more than 13 per cent, IRNA says.
China was one of the few countries that maintained a solid commercial presence in Iran's petroleum sector after the UN, US and EU imposed increasingly tough sanctions on Iran over a period of years, culminating in the 2012 US and EU sanctions rounds.
Last July, a nuclear deal was signed between Iran and six world powers, including China and the US, under which Iran agreed to scale back its nuclear activities in return for termination of the 2012 nuclear-related sanctions.
Nonetheless, despite generally appreciating the recent Chinese presence in Iran, Tehran has repeatedly complained of unsatisfactory Chinese performance on Iranian oil and gas projects.