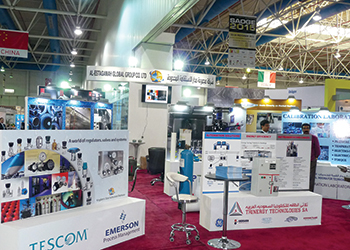 A previous edition of Saoge
The show will showcase products and services from all over the world; companies coming from as far afield as Italy and China, exhibiting together with local companies, resellers and joint ventures from throughout the kingdom and the GCC
Held under the patronage of Prince Saud Bin Naif Bin Abdulaziz, Governor of the Eastern Province, the Saudi Arabia International Oil and Gas Exhibition (Saoge 2016) will host some 100 companies from 25 countries, while more than 10.000 visitors are expected to attend the show.
Set against the backdrop of reduced global demand and depressed prices, the need to ensure full asset optimisation and efficiency has never been greater. As the foremost hydrocarbon producer in the world and with a number of midlife assets the Saudi and broader GCC oil and gas sector plays a pivotal role in supplying global demand.
With this in mind producers and end consumers look to both the Gulf Cooperation Council (GCC) and Saudi Arabia as field leaders in the optimisation of upstream and midstream oil and gas assets. Thus Saoge, hosted in Dammam, the hub of the Saudi oil world, provides a truly unique platform to assess the key fundamentals and drivers forging the global oil and gas markets.
This year, Saoge will showcase products and services from all over the world; companies coming from as far afield as Italy and China, exhibiting together with local companies, resellers and joint ventures from throughout the kingdom and the GCC.
National pavilions from China, Egypt and Italy will be present at the show. The Italian Trade Commission has once again ensured a strong Italian presence at Saoge, which is billing up to be a really important sector event.
With reduced refining margins across the global oil and gas industry, as well as depressed yet stabilising oil pricing, the need to innovate has also never been greater. Technological innovation allows both regional, national and independent oil companies the chance to enhance the bottom line whilst boosting asset throughputs. Reduced demand and per-barrel pricing as well as the emergence of new regional competitors makes for a turbulent yet exciting time in the region. Saoge was founded back in 2008 to bring together upstream professionals to debate these crucial elements and stimulate development. It is a must attend event for regional and global sector professionals.
Both internationally and from within the kingdom, Saoge has enjoyed steady growth over the past seven years with a successful 23 per cent annual growth rate. The Saoge 2015 show exceeded expectations with a record attendance of 7,953 visitors.
With current demand, Saoge is expecting some 10.000 visitors over the three days this year. In the past seven years Saoge has played host to more than 1,000 companies from more than 50 countries, with 40 per cent of exhibitors from the GCC and 60 per cent of exhibitors from international countries.
For the past 30 years International Exhibition Services (IES) has been at the forefront of the events industry, organising international trade exhibitions, bespoke conferences and seminars and supporting international business all over the globe. Three decades of hands-on experience has given it a detailed understanding of how to plan and manage high profile events with a genuine confidence in its ability to meet high standards.