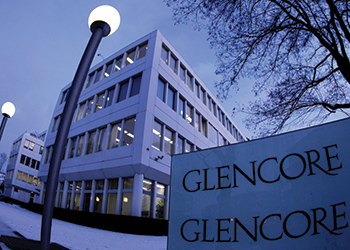 Glencore ... active in Iran again
Trading companies have also become active again: Swiss giant Glencore, for example, recently bought an 80,000 tonne Iranian fuel oil cargo
After a break of almost four years due to sanctions, European oil companies are now back doing business with Iran, but it is not all smooth sailing. Over the past 10 days, French major Total, Spanish refiner Cepsa and Litasco -- the Geneva-based trading arm of Russian giant Lukoil -- have all loaded Iranian crude oil at Kharg Island in the Gulf. Other European refiners such as Greece's Hellenic Petroleum and Italy's Saras are expected to follow suit.
Trading companies have also become active again: Swiss giant Glencore, for example, recently bought an 80,000 tonne Iranian fuel oil cargo for Singapore, while Vitol has resumed shipments of gas condensate.
Purchasing Iranian oil is not as easy as it sounds. This is because European banks, which finance oil trade flows by issuing Letters of Credit (LCs) for buyer and seller, are not touching Iran with a barge pole. Despite the lifting of all of the main US and EU financial sanctions on "Implementation Day" on January 16, restrictions remain in place on the use of the US dollar and US financial system in Iran-related transactions. Several banking sources say Iran will remain off limits for the banks until there is a clear green light from the US Treasury, which is monitoring remaining restrictions closely. "None of the big banks will go anywhere near Iran until their compliance people tell them it's 100 per cent safe to do so. It's a case of once bitten, twice shy," says a European banker.
Over the past few years, several big international banks, most notably BNP Paribas and Standard Chartered, have been hit with monster fines by the US Justice Department and Securities and Exchange Commission for violating Iran sanctions. Banking sources say the scale of the punishment forced the banks to reassess their entire risk profiles: Some European banks, for instance, will now no longer do any business in Nigeria because of the perception that corruption is widespread.
But, in the case of Iran, there are smaller banks in Europe and the Mideast, principally in Dubai, that are prepared to take the risk and finance trade with Iran -- even in dollars. According to industry sources, at least one regional Swiss bank has started providing LCs for entities registered in Dubai that are buying and selling Iranian oil and have disguised Iranian ownership. "With dollar restrictions still in force, you need to be a little bit creative," says one trading source. "There is good money to be made if you are prepared to take the risk." The sources say the euro remains the currency of choice for Iranian buyers and sellers, although he says other currencies pegged to the dollar such as the United Arab Emirates dirham are also used.
For the past five years or more, Iran has been receiving payment for its oil in euros, although the barrels are still priced in dollars. This applies to its customers in China, India and Japan, which are the main buyers of Iranian crude, although on occasion have been paying in their own currencies. Because of sanctions, billions of dollars in oil payments were trapped overseas, and these accounts have now been unfrozen and the funds repatriated to Iran.
Despite the lifting of sanctions, officials at National Iranian Oil Co (NIOC) say payment will continue to be made in euros, although other non-dollar currencies could be acceptable in a pinch. European buyers such as Total, which earlier this month signed a term contract with NIOC to buy around 160,000 barrels per day of crude, are expected to pay in euros on open credit out of their own resources, which means no bank would have to open up an LC. The trading firms also pay in euros, although industry sources say they tend to buy not directly from NIOC but from UAE-based front companies that can accept dollar payment.
The removal of sanctions means that Royal Dutch Shell can start repaying a euro-denominated debt with a dollar value of over $2 billion that it owes NIOC for past crude oil purchases. Shell says the process of repaying the debt has now started, but it won't say how the payments are being made.
It is not just the European oil companies that are starting to re-engage with Iran. The Japanese are also eager to increase their purchases from Iran.