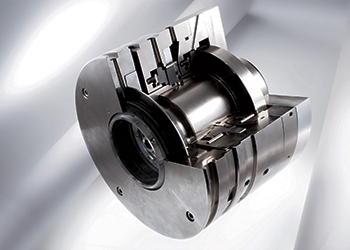 EagleBurgmann ... cutting-edge technology
Despite the current low oil prices and tough economic conditions, EagleBurgmann's business in 2016 has grown from the previous year, as a number of key projects including Sadara, PetroRabigh Phase 2 and Jazan are being built or commissioned
EagleBurgmann Saudi Arabia, a market leader with over 130 years of global experience in supplying and servicing high-end engineering products such as mechanical seals, seal supply systems, packings and gaskets, magnetic couplings, carbon floating rings, expansion joints and special seals, has ambitious plans to expand its capability in the kingdom.
"The expansion will include new offices and enhanced manufacturing capabilities, as well as additional service operations, all of which will further enhance our support to the end-user in country," says Biju Chacko, sales and service director of the company.
"These plans are currently being reviewed by our corporate management, and we hope they will be rolled out in the near future," he says.
The company, which is a joint venture between EagleBurgmann (Germany) and Gas Arabian Services of Saudi Arabia, says its expectations are high as, whilst there are many important projects planned in kingdom in the coming years, its product range offers solutions to a number of industry sectors, such as oil and gas, chemicals, water, power, and food.
"Since our own growth plans align closely with Saudi Arabia's 'Vision 2030' plan for the kingdom, we see huge prospects ahead," says Chacko.
Despite the current low oil prices and tough economic conditions, EagleBurgmann's business in 2016 has grown from the previous year, as a number of key projects including Sadara, PetroRabigh Phase 2 and Jazan are being built or commissioned, he says.
"Low oil prices do have an effect on our business as many of our customers are in the oil and gas, refining and petrochemical sectors, however since various mega projects are either under way or in the commission stages, we have been able to overcome the current economic slowdown that many companies currently have to deal with," he explains.
Chacko says the company constantly innovates and introduces new products to the market. "Recently we introduced important new technologies such as Diamond Faces, CoBa Seals and Rotech Boosters (for compressor applications) and already have many success stories in the country."
EagleBurgmann's products are supported by after-sales and service, often backed up by long-term service agreements.
"We regularly train our customers in the various aspects of mechanical seals so that they can best utilise their own equipment. The training involves the best practices adopted in the industry and, in addition to in-kingdom programmes, training sessions are often held in Germany and Japan, all of which adhere to the highest quality and HSE standards," he says.
The company has nearly 80 employees in-country dedicated to the Saudi Arabian market. Its main facility in Khobar has a substantial manufacturing and service capability, and in addition has service centres in Jubail and Yanbu, and a sales office in Jeddah.
"We have a regional office based in Dubai, which supports sales and service activities in all GCC countries. Globally EagleBurgmann has over 60 subsidiaries, 131 service centres, 162 sales offices, 45,000 customers and over 5,800 employees," he adds.