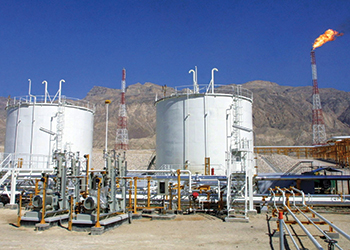 Iran is contemplating huge investments in its upstream sector
Besides plans to increase its oil production capacity to 4.8 mbpd, Iran has earmarked midstream gas projects worth billions of dollars for private sector development
Iran is looking to attract at least $70 billion worth of investment under its planned new upstream contract to help it reach its oil production capacity target of around 4.8 million barrels per day (mbpd) by 2021, the country's oil minister says.
To reach the ambitious target, Opec's former No 2 crude producer would have to rely on foreign investment under the Iran Petroleum Contract (IPC) in addition to its own resources, Iranian Oil Minister Bijan Zanganeh says.
"We believe it is necessary to reach production in crude oil of at least 4.8 mbpd in the next five years," Zanganeh says. "And we don't want to reach this level of production by the new contract model only. We can use other ways ... EPC (engineering, procurement and construction) contracts and investment by our own financial resources."
"However, we need a huge amount of money, at least $70 billion for the IPC (alone)," he adds, noting that Iran would prioritise "shared" fields in border areas for development.
The country at present pumps about 3.8 mbpd and should reach 4 mbpd "very soon," according to Zanganeh, amid efforts to return output to pre-sanctions levels.
While Iran has exceeded expectations in ramping up oil production and exports since sanctions were lifted in January, it has struggled to present the global oil industry with its planned new upstream contract, which is set to replace the previous, much-disliked buyback model.
Ali Kardor, deputy managing director for investment and finance at National Iranian Oil Co, says Iran remained committed to rolling out its first bid round under the much-anticipated new upstream contract, but also pointed out it still required government approval.
Iran previously said it was looking to raise production capacity to 4.7 mbpd – plus 1 mbpd of condensate, which is largely produced from the giant offshore South Pars gas field – by the end of its existing five-year development running to 2021.
It plans to increase production to 4.2 mbpd next year but is likely to need foreign investors to get above that level.
In November, Iran published a list of 18 exploration blocks and 52 oil and gas fields to be offered under the IPC to international oil companies from this year. However, internal disagreement over the contract terms to be offered means the IPC still hasn't been finalised.
Further indication that politics still stand in the IPC's way came when Iran's English-language Press TV quoted Iranian First Vice President Ehsaq Jahangiri as saying that he had called on Zangeneh to address domestic criticism of the IPC and "present the government with your proposals for amendments for adoption as soon as possible."
Industry officials are concerned that changes to the IPC in response to domestic criticism could leave the new contract commercially less attractive than what had been promised by Zanganeh and his team.
Despite difficulties getting the IPC off the ground, Iran says it would allow Chinese duo China National Petroleum Corp and Sinopec to undertake second-phase developments at the giant onshore North Azadegan and the onshore Yadavaran oil fields, respectively, under the old buyback terms.
Zanganeh ... targeting 4.8 mbpd output in the coming years
"It was part of the first contract that we signed with these companies before and we were committed to award Phase 2 to them if they want and if they agree," Zanganeh says in Vienna, adding that Iran wanted to "continue cooperation with Chinese companies."
Meanwhile, Iran has earmarked midstream gas projects worth billions of dollars for private sector development as the country moves ahead with plans to boost gas processing capacity to meet rapidly rising domestic requirements.
According to an updated strategic objectives document from National Iranian Gas Co (NIGC), processing and dehydration capacity at domestic gas plants has increased 26 per cent to 756 million cubic metres per day from a year earlier, and the state company is looking to raise that further to 1.2 billion cubic metres per day by 2025. The goal is to boost the share of gas in the domestic energy basket and replace liquid fuels such as fuel oil, which is widely used to fire power plants in the country but more polluting.
According to the document, NIGC's strategic objective is to become the world's third-largest gas producer by 2025. Iran, which sits on the world's largest natural gas reserves, presently ranks fourth behind the US, Russia and Qatar in production of the resource, according to BP data.
To achieve its target – and with nuclear-related sanctions on Iran removed since January – NIGC is looking to enlist local and international private investors. NIGC says it plans to offer projects ranging from major pipeline systems to compressor stations, underground storage, and mini and medium-scale LNG plants to the private sector. Investors will have the option of choosing from contractual models such as build-own-transfer (BOT), build-lease-transfer (BLT), public-private partnership, and engineering, procurement, construction and financing (EPCF) for different projects.
The company has specified 13 projects worth a combined $14 billion as the "most important investment opportunities." These include several major pipeline projects, the largest of which covers a 1,800 kilometre gas trunk line with 16 compressor stations at an estimated price tag of $5.3 billion to be carried out on an EPCF, BOT or BLT basis. Other projects include the $1 billion construction of 10 compressor stations and underground gas storage at the Ghezel Tappeh formation in Golestan province in the country's north. Depending on the project, investors' repayments might be made partially in petroleum products, NIGC says.
Soaring power demand, increased needs from industries such as petrochemicals, and subsidised prices have turned Iran into the world's fourth-largest gas consumer in recent years. Between 2005 and 2014, domestic consumption jumped 66 per cent to 170 billion cubic metres per year (16.4 billion cubic feet per day), according to Fitch Ratings. With domestic gas demand set to increase further in coming years and increased exports via pipeline and – further down the road – in liquefied form on the agenda, NIGC will have to continue expanding domestic transportation, distribution and storage infrastructure.
NIGC says it increased the total length of the country's urban gas distribution network to 277,000 km now from 263,000 km in 2015, with 23.3 million households now connected to the gas grid, up 1 million from a year ago.
In the meantime, foreign oil companies chasing upstream oil and gas deals in Iran will have eight local firms to choose from as joint-venture partners, according to a list drawn up by the country's oil ministry.
But they will have to select carefully – one of the firms, Khatam Al Anbia, is owned by the Revolutionary Guard, or Sepah, and remains on a US, UN and EU blacklist due to its alleged involvement in nuclear proliferation activities.Another firm, Persian Oil and Gas Development Co is part of a multibillion-dollar business conglomerate.