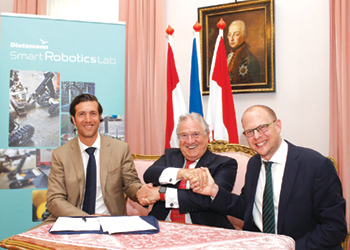 Kütemann (centre) signs the investment agreement with Taurob directors Biegl (left) and Silberbauer
Taking men out of harm's way, while performing round the clock with robotics applications for operational, maintenance and inspection tasks, are the main drivers explaining why Dietsmann believes in the adoption of robotics in the Oil & Gas industry
Dietsmann Smart Robotics Lab (DSRL), a 100 per cent-owned subsidiary of the Dutch Dietsmann Group,has maked a substantial investment in Austrian robotics technology specialist Taurob GmbH. An investment and joint development agreement was signed on April 24 by Dietsmann CEO Peter Kütemann and Taurob's Directors Matthias Biegl and Lukas Silberbauer during a ceremony hosted by the Austrian Ambassador to the Netherlands, Dr Phil. Heidemaria Gürer, at the Austrian Embassy in The Hague.
Peter Kütemann, founder and CEO of Dietsmann, said in his address: "Taurob has developed one of the first ATEX-certified intelligent robots with an intuitive control system and multipurpose interfaces for quick and easy add-on integration. We see it as the near future replacement of human inspection and maintenance missions, especially in remote and hazardous energy production locations. Taking men out of harm's way, while performing round the clock with robotics applications for operational, maintenance and inspection tasks, are the main drivers explaining why Dietsmann believes in the adoption of robotics in the Oil & Gas industry."
In turn, Lukas Silberbauer, one of Taurob's Directors, stated: "Compared to last year, our team has already doubled, and through our partnership with Dietsmann we will continue our strong growth path. We hired senior experts across multiple domains who help to make our robots more intelligent, capable and robust than ever before. Robots and Artificial Intelligence are the future, and we are well prepared to change the game."
Finally, his business partner, Matthias Biegl, expressed what this new partnership means for their company, explaining that: "The announcement of the strong partnership with Dietsmann is a milestone in the history of Taurob. This cooperation will add great commercial value to industrial end users and facilitate the wide distribution of ground robots and robotic services. At this memorable event we feel honoured that Total representatives are present to celebrate this moment with us. Continuing our successful development path together with Total will allow us to maintain the technological edge for the years to come."
Dietsmann and Taurob see it as their common goal to extend the use of robotics applications for Operation & Maintenance and inspection tasks. Both companies will combine their specific industry knowledge to further develop and apply robotics solutions on Dietsmann-operated installations, and installations of internationally-based asset owners. Through their strategic alliance, Taurob and Dietsmann are determined to deploy and exploit remotely-operated and autonomous robots for the benefit of existing and new clients, in existing and new markets worldwide. They are convinced the partnership will lead to the development of workable operational business models that can generate sustainable profit for both themselves and their clients.
Dietsmann, a privately-owned Dutch multi-local company, is a global front runner in Advanced Predictive Maintenance for the energy industry. Serving some of the world's leading energy and mining companies in the world, the company sees Robotics and Big Data as crucial instruments in optimising production, safety and reducing emissions in the environment. Therefore, Dietsmann is investing in the digitalisation of maintenance to lead the way towards smart Operation & Maintenance of tomorrow.
Taurob is a Vienna-Austria based company that develops waterproof, ruggedised and ATEX-certified robots for hazardous missions with intuitive control system and multipurpose interfaces for quick and easy add-on integration. Taurob robots can aid in gaining situational awareness in dangerous environments, as well as accomplishing tasks such as riskless detection, sample-taking or manipulation of hazardous substances.