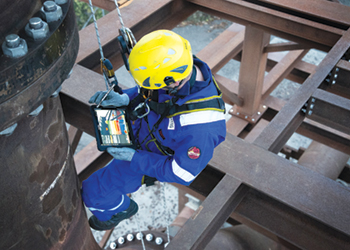 Arup's AIM
As part of the service, operators and asset owners will be able to access their interactive inspection data instantly at any time, to make informed decisions about asset repairs, replacements or improvements
Arup and EnerMech have announced a new digitised inspection service – Arup Inspection MInteg (AIMTM) – to enhance and revolutionise the inspection process for the oil and gas industry.
Created by Arup, the global engineering and consultancy firm, the innovative inspection technology – the first of its kind – digitises the entire inspection workflow by leveraging automation, overhauling the current paper-based and outdated manual process. EnerMech's specialist inspection division MInteg and Arup have signed a three-year agreement to complete inspections with AIM.
By using AIM, oil and gas organisations can expect to see inspections completed in significantly less time, resulting in reduced risk and costs. As part of the service, operators and asset owners will be able to access their interactive inspection data instantly at any time, to make informed decisions about asset repairs, replacements or improvements.
MInteg Operations Director, Patrick Gallagher, said: "AIM is a potential game-changer which offers enhanced inspection capabilities on oil and gas assets and can assist operators with prioritising the annual integrity management cycle. The potential time savings and subsequent cost reductions are considerable. In addition, AIM can significantly reduce the amount of time personnel will be required to work at height using rope access to inspect difficult-to-reach areas of offshore and onshore assets."
Dr Bryan Horton, Offshore Digital Leader, Arup, added: "The partnership between Arup and EnerMech brings global expertise to digitise an old way of working, drive high value and lower risk outcomes for operators. EnerMech is a leader in the industry and we are delighted to be working with them on this pioneering technology. Clients have benefitted significantly from both organisations working together - we look forward to this continuing."
The two organisations will collaborate throughout the inspection process, further supporting operators to enhance assets based on the inspection findings via engineering expertise across the North Sea, Western Australia and Gulf of Mexico.
Arup is the creative force at the heart of many of the world's most prominent projects in the built environment and across industry. Working in more than 140 countries, the firm's designers, engineers, architects, planners, consultants and technical specialists work with our clients on innovative projects of the highest quality and impact.
Formed in April 2008, EnerMech provides a broad range of asset support services to the international energy and infrastructure sectors, from pre-commissioning through operations and maintenance and late-life support/decommissioning. The business is focused on offering a safer, more customer-focused, responsive service at lower cost, while delivering a much greater level of engineering and technical support than competitors can offer.
With a 3000-strong workforce, EnerMech specialises in providing integrated supply, operations, maintenance and engineering solutions in its core services of Cranes and Lifting, Electrical and Instrumentation, Equipment Rental, Hydraulic products and services, Industrial Services, Process, Pipeline and Umbilicals (PPU), Maintenance and Integrity Services, Training and Valve supply and services.
The group is headquartered in Aberdeen with bases in Great Yarmouth, Bristol (UK); Stavanger, Bergen, (Norway); Houston, Broussard, Slidell, Pasadena, Sulphur, Casper, Williston (USA), Trinidad, Mexico, Abu Dhabi, Iraq, Qatar, Saudi Arabia, Azerbaijan, Kazakhstan, Georgia, Singapore; Perth, Melbourne, Sydney, Brisbane, Darwin, Gladstone, Chinchilla (Australia); Malaysia, China, South Korea, India, Ghana, Nigeria, Angola and South Africa.