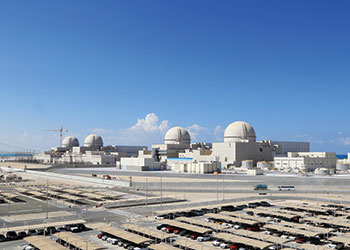 The first of four units at the Barakah Nuclear Energy Plant has started
UAE's Energy Strategy 2050 calls for improving its energy efficiency by 40 per cent, in addition to reducing its carbon dioxide emissions by 70 per cent and increasing the production of clean and alternative energy by 2050
There are not many countries in the world that have remained true to their commitment of cutting their dependence on oil as much as the United Arab Emirates (UAE). It has ardently pursued its Energy Strategy 2050, which will see investments of AED600 billion ($163 billion) to achieve an energy mix that combines renewable and clean energy sources to balance economic requirements and environmental goals.
The development of clean and alternative energy is a key pillar in the country's economic diversification. In August this year, the UAE became the first GCC country to generate power from nuclear energy. This is in addition to its other ambitious renewable energy targets (solar, wind and hydrogen), whereby the country plans to generate half of its energy mix from clean and renewable energy by 2050.
In crude terms, the UAE is the third largest producer in the Organisation of the Petroleum Exporting Countries (Opec).
According to Opec's Annual Statistical Bulletin 2020, the UAE in 2019 produced a little over 3 million bpd of crude, in addition to 55,096.5 million cu m of natural gas. It refined 1.124 million barrels per day and exported 881,800 bpd worth of petroleum products and 9374.2 million cu m of natural gas.
Last year, the Abu Dhabi Supreme Petroleum Council announced increases in recoverable crude reserves of 7 billion barrels and 58 trillion standard cu ft (Tscf) of conventional gas, bringing the total for Abu Dhabi to 105 billion barrels of recoverable oil, 273 Tscf of conventional gas and 160 Tscf of unconventional gas resources.
He said the UAE remained committed to the Opec+ output cut deal despite its domestic energy needs, which spiked in August and caused it to pump above its quota to meet surging demand. It, however, compensated by cutting output the following month by 8 per cent to 2.476 mbpd, achieving 116 per cent compliance with its Opec+ quota, S&P Global Platts reported.
Meanwhile, the UAE's biggest energy company, Abu Dhabi National Oil Company (Adnoc), is on track to boost its oil production capacity to 5 million barrels per day (bpd) by 2030 despite the coronavirus pandemic's impact on demand and energy transition trends, the company's CEO Sultan Al Jaber said last month.
Adnoc has said it will continue to generate new value streams by investing in higher value, higher return projects. In July this year, the company gave away a 49 per cent stake in select gas pipeline infrastructure assets to a consortium of global investors for $10.1 billion. And last month, it announced further investment of $2.1 billion by the Abu Dhabi Pension Fund (ADPF) and Abu Dhabi holding company ADQ's into these assets.
Separately, Adnoc has made significant progress on its $3.5-billion Crude Flexibility Project (CFP). Once completed in 2022, the CFP will allow Adnoc to process up to 420,000 bpd of heavier and sourer grades of crude oil — by leaving the more high-value Murban crude available for export — as part of the 840,000 bpd refinery in Ruwais.
To further cater to other crude grades, Adnoc has awarded several contracts worth nearly $600 million to local and international companies to upgrade its oil pipelines and crude receiving facilities at the Jebel Dhanna terminal.
These projects will not only increase the capacity of the two main oil lines, but it will enable the Jebel Dhanna Terminal to receive Upper Zakum and Non-System crude for delivery to the Ruwais Refinery West project.
Turning away from Abu Dhabi, the chief oil producing emirate, other emirates are also playing a key role in raising the country's energy profile. So, for example, Fujairah is known to be the most important bunkering location in Middle East.
The comparatively tiny emirate is a developing oil and trading hub due to its strategic location in the Strait of Hormuz. National oil companies such as Saudi Aramco already have bases there and it is home to Adnoc trading derivatives and Murban crude futures. The port has capacity to store 40 million barrels of oil products and about 20 million barrels of crude oil.
It is in Fujairah where Adnoc is building the world's biggest underground oil storage with a capacity of 42 million barrels of crude oil.
Yusr Sultan AlJunaidy, Managing Director of ENOC's Horizon Terminals, said there is a lot more potential for crude storage in Fujairah, adding it should also expand into LNG and that Horizon was interested in investing in LNG and developing it at Fujairah.
Until now, UAE's crude exports have mostly been to Asia. But that might change after the country signed a peace agreement with Israel. Last month, UAE-based MED-RED Land Bridge (MRLB) signed a deal with Israel's Europe-Asia Pipeline Company (EAPC) to transport oil from the UAE to the West via pipelines linking the Mediterranean to the Red Sea.
According to S&P Global Platts, EAPC can be a good alternative to the Suez Canal, which is limited by tanker size, and the SUMED pipeline in Egypt that only carries oil in one direction. Comparatively, EAPC has four pipelines that include the 245-km bidirectional pipeline connecting the Red Sea port city of Eilat in southern Israel to the Mediterranean port city of Ashkelon, with a capacity to carry 30 million mt of crude per year.

GAS SELF-SUFFICIENCY
UAE is boosting its gas production by announcing several gas finds this year that will put the country on the road to self-sufficiency. Currently, gas from Qatar accounts for nearly a third of UAE's total gas supply.
In January, Italian Eni and the Sharjah National Oil Corporation (Snoc) announced the discovering of gas and condensates in Sharjah, the country's third largest emirate. The Mahani reservoir is the first onshore Sharjah discovery in 37 years, with the well achieving flow rates of up to 50 Mscf/d of lean gas and associated condensate.
SNOC expects production from the first drilled well in Mahani to start next year but it is unlikely to be 50 MMcf per d in 2021, reports S&P Global Platts.
Snoc CEO Hatem Al Mosa said Sharjah needs gas for power generation and its current gas fields are suffering from natural decline. The emirate is not targeting gas self-sufficiency but focusing on low-cost gas, so much so that Snoc is putting its LNG project with Uniper on hold to focus on its first gas discovery, Mosa said.
Just a week later after the Mahani find, Adnoc discovered 80 Tscf in Jebel Ali on the Dubai-Abu Dhabi border. According to Wood Mackenzie, the deposit is the largest global gas discovery since 2005, when the Galkynysh field in Turkmenistan was found.
Furthermore, Adnoc is developing the Ghasha ultra-sour gas concession with the help of Eni and Germany's Wintershall. The concession is expected to produce over 1.5 billion cu ft per day (bcf/d) by around 2025. Adnoc also plans to boost production from its Shah sour gas field from about 1.3 bcf/d to 1.5 bcf/d through a joint venture with Occidental Petroleum.

CLEAN ENERGY INITIATIVES
Several Middle Eastern countries have set ambitious renewable energy targets to be reached by 2030 and 2050 while also committing to reducing emissions from the hydrocarbon industry. The concept of creating a circular carbon economy is gaining traction, though cost is still preventing large-scale implementation of technologies to extract, store and utilise carbon dioxide in the effort to decarbonise the energy and industrial sectors.
To date, the UAE has the largest carbon capture storage and utilisation (CCUS) projects at a steel plant. Accordingly, Adnoc captures 800,000 mt per year of CO2 from Emirates Steel and injects it into its oil reservoirs for enhanced oil recovery.
Adnoc is on track to expand its CCUS capacity at least fivefold to 5 million mt per year of CO2 by 2030, through capturing CO2 from its own gas plants. The company's Shah gas plant has the potential to enable the capture of 2.4 million mt of CO2, while the Habshan and Bab plants could enable the capture of almost 2 million mt of CO2.
The UAE Energy Strategy 2050 calls for the UAE to reduce its carbon dioxide emissions 70 per cent by 2050. The country has already taken bold steps to reduce energy consumption.
The region is making progress in cutting natural gas flaring. Across the Mena region, flaring accounts for 40 per cent of the world total, generating 300-500 million mt of C02-equivalent emissions per year, according to a Chatham House commentary by Adel Hamaizia and Mark Davis. Mena could generate up to $6.4 billion/year by capturing gas rather than flaring it.
Adnoc has a zero intentional flaring policy, which has reduced the volume of natural gas flared by more than 90 per cent since the company started the policy. The company plans to lower its greenhouse gas emissions intensity by 25 per cent by 2030.
Abu Dhabi plans to generate a third of its power from clean energy, including nuclear reactors, in four years. In 2019, Abu Dhabi generated 2,163,799 MWh of electricity from renewable sources.
On October 22, this World Energy Day, Dubai reiterated its pledge to diversifying the energy mix. The emirate has made significant achievements in reducing carbon emissions. More than 14 million tonnes of emissions were reduced in 2019, a 22 per cent reduction compared to business as usual, said HE Saeed Mohammed Al Tayer, Vice Chairman of the Dubai Supreme Council of Energy, and MD & CEO of Dubai Electricity and Water Authority (DEWA).
The percentage of clean energy in the Dubai's energy mix is about 9 per cent, exceeding the percentage set in the Dubai Clean Energy Strategy 2050, which aims to provide 7 per cent of Dubai's total power capacity from clean energy sources by 2020 and 75 per cent by 2050.

NUCLEAR ENERGY
It was a proud moment for the UAE in August this year, when the first of its four reactors at the Barakah Nuclear Energy Plant located in the Al Dhafra region of Abu Dhabi dispatched the first megawatts of clean electricity to the national grid. The Barakah-1 reactor can produce 1.4-GW of electricity.
To celebrate the commissioning of the Barakah 1 unit, Emirates Post even issued a distinctive commemorative stamp.
Once all four units are operational, they will produce 5.6 GW of electricity, meeting up to 25 per cent of the country's power needs. Construction of the three remaining nuclear units is almost complete and the full commissioning of all units will take a few years.
According to Mohamed Al Hammadi, CEO of Emirates Nuclear Energy Corp, the Barakah plant has been designed for eight units, adding the decision to go beyond rests with the government and depends on the energy strategy. The government does a comprehensive review of the energy policy every 10 years.
Meanwhile, Adnoc Distribution has become the first petroleum products company in the UAE to be qualified on the Nawah Nuclear Approved Supplier List (NASL). It will supply a range of products including lubricating oil, engine coolant and anti-rust, grease, and fuels to the Barakah Plant, after being qualified on the NASL within the highest safety related category 'Q Class'.
Till now, 73 local companies have been qualified on Nawah's NASL list. These join a further 2,000 local suppliers, who are supplying products and services to the Barakah plant, with contracts totaling $4.8 billion.

HYDROGEN PLANS
Abu Dhabi is also looking at hydrogen as a means to further its clean energy agenda.
"Hydrogen is very high on our agenda, right now we are really at initiation phase," Sharif Al Olama, an Undersecretary at the Energy Ministry, told the Siemens Energy week virtual conference last month. "We are in the process of setting the roadmap of where we are going with hydrogen."
The UAE is also looking at blue and gray hydrogen, capitalising on its experience in carbon capture utilization and storage (CCUS).
Both the UAE and Saudi Arabia have started to explore the potential for hydrogen production. The first green hydrogen production in the UAE is in the commissioning stage at Dubai's solar park.
The project aims to test and showcase an integrated megawatt-scale plant to produce green hydrogen using renewable energy, store the gas, and then deliver it for use in electricity generation, transportation and other industrial uses.

WASTE TO ENERGY
Sharjah plans to build the Gulf's first waste-to-solar energy facility amid a push to produce at least 44 per cent of the country's power from clean energy by 2050.
The Emirates Waste to Energy Company, a joint venture between Sharjah-based Bee'ah and Abu Dhabi clean energy company Masdar, will launch the project in 2021 in two phases.
About 47 ha of a landfill area will be transformed into a solar energy farm after reaching its zero-waste target. The Sharjah Waste to Energy Facility will have an annual capacity of processing 300,000 mt of non-recyclable waste. Phase 1 of the project includes converting 270,565 sq m of the landfill into a 24 MW solar farm and in phase two an additional 200,099 sq m will create 16 MW in solar power.