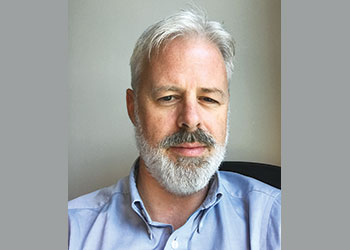 Philips ... eyes on the region
For UK-based Tekmar Group, a leading provider of technologies and services for the global offshore energy markets, the Middle East is a significant growth region.
Several of the group's operating companies are already established in the region and are actively involved in the supply of subsea products to Tier 1 contractors and major energy companies, particularly in the UAE, Saudi Arabia and Qatar.
Through a family of companies, including Ryder Geotechnical, AgileTek Engineering, Subsea Innovation, Tekmar Energy, and Pipeshield International, Tekmar offers a range of complementary subsea solutions that together analyse, de-risk and protect subsea projects throughout an offshore projects lifecycle, from concept to completion, and throughout operations.
The group's core competencies include geotechnical design and analysis (cable burial risk assessments, foundation design, jack-up analysis and mooring analysis); subsea engineering analysis (global and local analysis, failure mode analysis); bespoke equipment design and build (pipeline repair clamps, back deck equipment; subsea sealing solutions and bespoke mechanical solutions); subsea protection technology (cable and SURF protection systems, bellmouths and hang-offs, bespoke polymer solutions); and subsea stability and protection (concrete mattresses and structures, scour protection, precision placement units, bespoke concrete solutions).
"As part of the group's commitment to the region, it has dedicated representation in the UAE along with strategic supply bases in Saudi Arabia, Qatar, Abu Dhabi, Dubai and Bahrain, where local production and logistical activities are performed," Adrian Philips, Senior Representative – Middle East, Tekmar Group, tells OGN.
In addition, the group has strategic alliances with in-country manufacturing partners to maximise their ability to supply locally, reduce customer costs and increase efficiencies.
The group is currently exploring further in-country manufacturing opportunities with Saudi Aramco's IKTVA (In-Kingdom Total Value Add Program) and Abu Dhabi National Oil Company's (Adnoc) ICV (In-Country-Value) programmes.
According to Philips, group company Pipeshield International has a registered legal entity in both Saudi Arabia and UAE. The company is registered with Saudi Aramco and has its own vender ID in Saudi Arabia. Pipeshield is also pre-approved with Adnoc to supply a range of products and services in the UAE.
In order to leverage the group's regional offering, Pipeshield International and Tekmar Energy, both world leading providers of subsea protection and stabilisation solutions, are working together to combine a unique yet complementary product offering that offers an increased value proposition to customers in the Middle East, whilst taking advantage of the group's regional presence and local manufacturing capability.
The companies are also exploring alternative component materials and design configurations and are investing in state-of-the-art manufacturing equipment to ensure the delivery of cost-effective, and fit-for-purpose solutions for a wide range of subsea applications.
Together Pipeshield and Tekmar Energy are supplying to multiple projects in the region, including the design, engineering, manufacturing and supply of thousands of km of TekDuct protection systems, ballast modules, vertical restrictors, bespoke concrete mattresses, concrete sleepers and vertical restrictors, for the protection and stabilisation of subsea power cables, umbilicals, flexible flowlines and rigid pipelines.
"The Tekmar Group has delivered a number of work scopes and continue to deliver ongoing commitments on behalf of National Petroleum Construction Company (NPPC) and other Tier 1 contractors in Saudi Arabia. The scopes include the supply of concrete mattresses and concrete sleepers which will be deployed on a host of Saudi Aramco projects in the Middle East," Philips explains.
He says this activity in the region is a positive step forward for the group's Middle East expansion strategy, with the goal of becoming a leading provider of subsea technologies and services for offshore energy projects in the region.
Philips adds Tekmar Group wants to increase its activity in the region by acquiring more contracts and new clients, and with that its operations in the region will expand organically.
With respect to the ongoing global pandemic, Philips says: "Whilst Covid-19 has impacted the global marketplace, with supply chains affected and projects delayed, it has not affected the group's operations in the Middle East. We have taken the necessary safety precautions and continue to deliver."