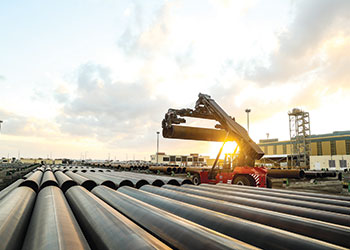 AGPC state-of-the-art factory in KIZAD, Abu Dhabi
Despite being a relatively new entrant into the market, Al Gharbia Pipe Company (AGPC) has carved a place for itself as a key pipes manufacturer, producing from its state-of-the-art factory in KIZAD, Abu Dhabi.
The company manufactures longitudinal welded steel pipes using the DSAW process. It produces pipes in sizes ranging from 18 in (457 mm) to 56 in (1422 mm) diameter with wall thickness from 6.35 mm up to 44.5 mm and single pipe length up to 13 m. AGPC has an annual capacity of 240,000 tonnes, equivalent to 520 km of pipeline.
AGPC's main product range includes sour and non-sour service line pipes from API 5L Gr B up to Gr X80 specifications; conductor pipes for wellhead casing; and structural pipes for offshore construction and foundation pipe.
Commenting on the company's development, Thomas Gomolsky, Business Development Manager, AGPC, says: "Using the latest German technology from SMS in Germany, we produce Japanese quality pipes in Abu Dhabi for the local, regional and global markets. All machines on the production line are linked to a unique software that allows total control of every step of production, guaranteeing a highly automated production process."
AGPC pipes are tested throughout the production process using automated phased array UT, radiographic examination and magnetic particle examination as well as 360-degree laser measurement of dimensional tolerances of the finished pipes. Its in-house laboratory is fully equipped for all mechanical tests including DWT, chemical analysis and corrosion testing to NACE.
AGPC is certified by API to API 5L / 2B / Q1 and ISO 9001 / 14001 and 45001.
AGPC was established in 2015 by three strong partners, each contributing to the success of the company:

• SENAAT, part of ADQ, the largest industrial holding company owned by the Abu Dhabi government.
• JFE Steel Corporation, the second largest integrated Japanese steel producer and well known for producing high grades sour service plate and pipe.
• Marubeni Itochu, Japan's premier trading house with a large network of offices around the world supporting our global sales and supply activities.
The company is a key partner in the UAE's In-Country Value (ICV) programme. "With strong support from our Abu Dhabi shareholder, AGPC offers a high degree of localisation with a substantial focus on in-country value, which is now gaining importance in every country and especially in the GCC. We are working on further improving our localisation scheme to further contribute to the Abu Dhabi and the GCC's efforts for industrialisation and human resource development," says Gomolsky.
AGPC is approved by the Abu Dhabi National Oil company (Adnoc) for all its products. Production for various Abu Dhabi pipeline projects for sour service pipes are either already completed or ongoing. The company has also just completed production for its first client in Bahrain, manufacturing sour service pipe for gas pipelines. AGPC's strategic location close to the new Khalifa Port in KIZAD allows for easy import of raw materials and export of pipe and easy access to Abu Dhabi oilfields. Besides its core markets in the GCC, AGPC aims to cater to the wider Mena region as well as Africa and Caspian markets, concludes Gomolsky.