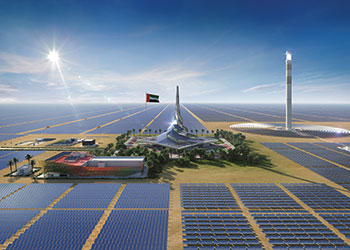 Mohammed bin Rashid Al Maktoum Solar Park, Phase 5, was launched this year
Over the past two decades, the UAE has led the world in solar power and renewable energy technology innovation. In 2013, Shams 1, located in Abu Dhabi and the first solar farm in the Middle East and then the largest concentrated solar power (CSP) plant in the world, began commercial operations.
Fast forward to 2020, EWEC (Emirates Water and Electricity Company) has announced the development of the 20GW Al Dhafra Solar Photovoltaic (PV) Independent Power Producer (IPP) project — the world's largest solar power plant in Abu Dhabi. It will be larger than TAQA's existing 1.2 GW Noor Abu Dhabi solar plant, which is currently the world's largest operational single-project solar PV plant.
Al Dhafra is being built by a consortium led by Abu Dhabi National Energy Company (TAQA) and Masdar, with partners EDF and Jinko Power. It has one of the most cost-competitive tariffs for solar PV energy, set at AED 4.97 fils/kWh ($1.35 cents/kWh) on a levelised cost of electricity (LCOE) basis.
Once fully operational, the plant will increase Abu Dhabi's solar power capacity to approximately 3.2 GW, and reduce Abu Dhabi's CO2 emissions by more than 2.4 million metric tonnes per year, equivalent to removing approximately 470,000 cars from the road. It will electrify 160,000 households across the UAE.
Separately, Abu Dhabi's renewable energy company, Masdar, is advancing the commercialisation and deployment of renewable energy, sustainable urban development and clean technologies to address global sustainability challenges. Today, Masdar is active in more than 30 countries, including the UAE, Jordan, Saudi Arabia, Mauritania, Egypt, Morocco, the UK, the US, Australia, Spain, Serbia, India, Indonesia, and Uzbekistan.
Masdar City houses the headquarters of International Renewable Energy Agency, an intergovernmental organisation that supports countries in their transition to a sustainable energy future.
Since 2006, Masdar has invested $4.5 billion in renewable energy projects, representing a combined investment of approximately $14.3 billion. The power generating capacity of the renewable energy projects in which Masdar is a partner is more than 5GW. At the beginning of 2019, Masdar set a target of doubling its renewable capacity, then at 4GW, within five years. The company now expects to exceed that target before the end of 2020.
Following suit, neighbouring Dubai has outlined its own clean energy roadmap. The Dubai Clean Energy Strategy 2050 calls to provide 75 percent of Dubai's total power capacity from clean energy sources by 2050 and make Dubai the city with the lowest carbon footprint in the world.
Saeed Mohammed Al Tayer, Vice Chairman of the Dubai Supreme Council of Energy, and MD and CEO of Dubai Electricity and Water Authority (Dewa) said Dubai is developing pioneering renewable and clean energy projects to transform the Emirate into a global hub for clean energy and green economy.
One of DEWA's key projects to achieve this is the Mohammed bin Rashid Al Maktoum Solar Park, the largest single-site solar project in the world. Phase 1 of this ambitious project was launched in January 2012.
This year, Phase 5 of the solar park, which aims to have 5 GW of solar power by 2030 at a cost of 50 billion dirhams ($13.6 billion), was launched. Saudi Arabia's ACWA Power was awarded the contract to build the $2 billion, 900-MW fifth phase. Last month, Ducab HV, a subsidiary of Ducab Group, announced during WETEX 2020 that it will supply and install high-voltage cable for Phase 5.