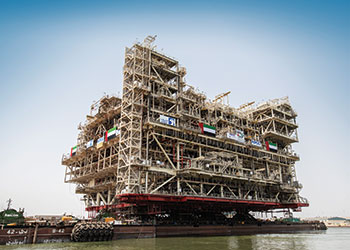 The 'super complex' platform in Abu Dhabi, UAE
An Enerpac EVO Synchronous Lifting and Weighing system has been used to successfully weigh one of the world's largest 'super complex' platforms located in Abu Dhabi, and then reposition using a bespoke Push-Pull Gripper Jack system, also from Enerpac. Three platforms modules weighing a combined 70,000 metric tonnes (MT) were relocated offshore.
Located 30 km north west of Abu Dhabi, it is the largest offshore jacket fabricated in the Middle East. Claiming the Guinness world record for the heaviest single-module topside on a fixed steel jacket, the platform includes accommodation, utilities, water disposal, separation, and a riser platform.
This module will form a key part of the field infrastructure as they move from the construction site to reposition offshore. Accuracy and precision are paramount manoeuvring and repositioning, in an environment like this.
As the global world leader for heavy lifting systems for complex applications such as this, the client partnered with Enerpac to provide a solution that would be swift and effective.
Traditionally an array of load cells is used to weigh the platform module, however the sheer module size meant another approach was needed. For the load out, the client was looking for a contingency plan in the event the load-out operation had to be aborted and the load retrieved in the middle of the load-out.
Enerpac presented two solutions to work in unison, firstly Enerpac developed a unique Push-Pull Gripper Jack system designed especially for this project, to load-out three platform modules weighing 18,000 MT, 20,000 MT and 32,000 MT.
The Enerpac engineers worked closely with the client to ensure that for each module, the weight, and centre of gravity (CoG) were pre-determined prior to movement.
Accompanied by the multifunctional synchronous lifting EVO system which operates 96 cylinders.
Two special multifunctional synchronous lifting EVO systems were designed and operated simultaneously with a master controller providing an accuracy of lifting synchronisation with the plunger stroke of each of the cylinders (an EVO system operates 96 cylinders) being less than 1 mm. The EVO system allowed an unprecedented ease of weighing and measuring the CoG of a structure of this size.
The load out of a structure as large as this is probably the most complicated move. With accurate planning by the client and the efficiency of the Push-Pull Gripper Jack system, the load out of 32,000 MT structure was achieved within a 12-hour window.
Enerpac is a global market leader in high pressure hydraulic tools, controlled force products, portable machining, on-site services and solutions for precise positioning of heavy loads. As a leading innovator with a 110-year legacy, the company has helped move and maintain some of the largest structures on earth. When safety and precision matters, elite professionals in industries such as aerospace, infrastructure, manufacturing, mining, oil and gas and power generation rely on Enerpac for quality tools, services and solutions.