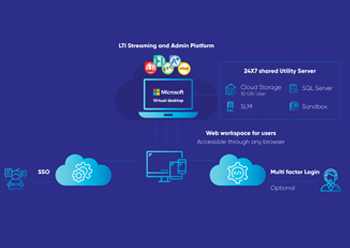 LTI's services for AspenTech ... reliable access to the latest suite of applications
The partnership delivers performance engineering and manufacturing supply chain solutions for oil and gas and chemicals industries through the cloud to enable remote access, enterprise scale and operational agility, officials of the company say
Aspen Technology (AspenTech), a global leader in asset optimisation software, has partnered with Larsen & Toubro Infotech (LTI) to help capital-intensive industries accelerate their digitalisation journeys.
The partnership enables LTI to deliver AspenTech's performance engineering desktop solutions, such as Aspen HYSYS and Aspen Plus, as well as AspenTech's manufacturing supply chain solutions, including Aspen Unified, Aspen PIMS-AO and Aspen Petroleum Scheduler, through LTI managed cloud services.
This alliance allows industrial organisations to bring their own license to gain high-fidelity remote access to their mission-critical applications, increase compute flexibility and performance gains for more accurate, faster decision-making and accelerate time-to-value from new product innovations.
LTI's managed cloud services for AspenTech applications provides refineries, chemical plants, and engineering and design firms with simplified, secure, and reliable anytime-anywhere access to the latest suite of applications. This process helps in reducing the cost, complexity, and overheads of hosting and operating them.
In refineries and integrated petrochemical companies, planners and traders can run hundreds of PIMS simulations within minutes without investing in and maintaining complex and expensive compute infrastructure. The transparent "pay only for what you use" model for the underlying cloud infrastructure supported by LTI FinOps tools minimies cloud costs.
Furthermore, technical departments get anytime-anywhere access to the latest process engineering and simulation software to provide optimal operating parameters for operations departments, which maximises the margins. Projects and engineering departments can get faster access to the latest engineering software, share information easily, and collaborate securely.
The services offer the ability to support multiple versions of the same software for an organisation, and the capability of sharing sessions with co-workers for project work or training.
Sanjay Jalona, CEO and Managing Director, LTI, says: "Our partnership with AspenTech, as both a managed hosting and implementation services provider, will unlock tremendous value for our joint customers looking to enhance operational agility and thrive in the face of changing conditions."
Antonio Pietri, President & CEO, Aspen Technology, says: "The process manufacturing industry is undergoing a significant change in how it conducts business, and the cloud is one of the enabling factors for that shift. Our partnership with LTI provides our customers with solutions that will accelerate their digitalisation journey and significantly scale-up the overall capabilities. We're very excited for this partnership, not only for what it means for LTI and AspenTech, but also for how we will work together to benefit customers."