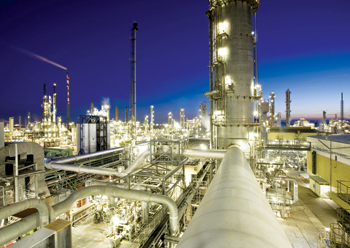 The industry is discussing the best approaches to driving productivity
With the industry looking for ways to achieve increased productivity, the ongoing Covid-19 pandemic has provided an opportunity for technology to prove its worth and subsequently prompt investment and adoption of it

In the wake of capex cuts in the downstream, innovation that will help drive return on investment (ROI) on existing and upcoming projects are becoming a major focus for project owners.
The industry is looking for innovative strategies to drive productivity through alternative contract strategy. If nothing else, the ongoing Covid-19 pandemic has provided an opportunity for technology to prove its worth and overcome concerns. This may help speed up investment and adoption of technology in the industry.
Discussing the best approaches when it comes to tapping engineering, procurement and construction (EPC) contractors, as well as technologies, industry leaders saw that both EPC and engineering, procurement and construction management (EPCM) has its own advantages. They called for the need to standardise criteria to measure contractor's performances.
Thomas Abel, Senior Vice-President for Projects at Borealis, says: "With an EPC contract, an owner has the convenience of a single contact point, or just one contractor who in turn subcontracts suppliers, services and labour. With an EPCM, the contractor only acts as a consultant.
He says with an EPC, the advantage is that the contractor bears the risk. He is responsible for cost, time and performance.
An EPC contract, however, is not necessarily a guarantee against unforeseen variations. "Strong change and claims management and steering committees need to be in place," Abel says.
Projects best suited for an EPC are those where "you have a very clear scope," he says. Sometimes an EPC project may not be possible even if it was the company's first intention, he adds.
On the other hand, an EPCM has its own advantages. "With an EPCM you can start quicker," says Abel.
"A pitfall with EPCM is you don't have the commercial competition. The multiple bidding processes with EPC contracting and subcontracting help bring costs down."
Another issue with an EPCM is that the contractor does its business by selling the hours to the client so the motivation to keep timelines is not as strong. Because of the bigger risk, with EPCM, an owner must keep enough contingency reserves.
But regardless of going with an EPC or EPCM contract, good front-end loading always improves the outcome, says Abel.
• Comparing contractors: Having a common metric to compare contractors' quality, cost, production and scheduling across diverse projects could greatly help both contractors and owners, says Taylor Auburg, Vice President of projects at Freeport LNG.
For example, comparing safety between diverse projects and across all industries is easy because measuring incidents per 200,000 worked hours is the one standard international metric. "You have to have a common metric to measure things consistently between companies over time," Auburg says.
But when it comes to comparing contractors, a lot of people look at cost-size of the project.
"You need to go a little bit deeper than that in order to have a commonality, a common factor, a way to normalise the variances between projects, and I call that the complexity factor of a project," he adds.
Corporate specific guidelines can be set to assign relative levels of difficulty, measured with a points system, for equipment pieces and major infrastructure components. This can cover trayed towers, pumps, and control buildings. Under these guidelines, planning, equipment lists, and every part of a project has a point value assigned that is not based on dollar value or throughput, but on the complexity. Once the point assignments is completed, a multiplier is used. "You add up the numbers and you get the relative complexity," says Auburg.
Individual companies can set their guidelines for comparing performances across projects. The Construction Industry Institute (CII) also offers guidelines under its Engineering Productivity Measurement Procedure (EPMP).
The CII's EPMP involves seven disciplines and 17 metrics. Areas include for example piping, with metrics such as linear feet of pipe, number of fittings or number of hangers.
The CII guidelines set common metrics to ease project comparisons based on items like volume of concrete and steel used, or the size of buildings that are part of projects. On the electrical side, for example, there is the measurement of linear feet of wire and cable. This way they can normalise the complexities across diverse projects.
Contractors can use this point evaluations and measurements to show that they have done projects in the past of similar complexity. They can offer detail to show similarities to a new project, rather than limiting comparisons to locations or cost.
Contractors can also evaluate changes in their performance over time. This can demonstrate to potential clients that they are getting better.
"They make performance a market differentiator," says Auburg.
Metrics are also good for self-management. They can help to try to repeat positives from lessons learned and avoid the negatives. The assessment can include the impact of external as well as internal factors.
Contractors can also identify and show performance changes for example after the start of the use of 2D CAD or 3D CAD. For contractors, such metrics can provide a proper analysis that can help see what went wrong.
"Thinking that bad projects are an anomaly puts yourself into a position of having a false sense of security," sasy Auburg.
He adds contractors can use the metrics to train in what led to successful projects. "For owners, analysing the metrics should identify the best and worst performers for a given project."
• Involving EPC contractor in FEED: Charles Schwenck, Executive Vice President and Chief Commercial Officer at Meridian Energy Group, says it is important to have the EPC contractor involved in the early design stages.
He doesn't want "someone defining a project that they didn't have to live with".
James Richard, Construction Manager at Shell, agrees that early contractor involvement is important. "In cases where a FEED contract may not include them, hiring them as consultants could be a possibility," he says.
Advanced Work Packaging (AWP), which combines data from multiple sources into a planning tool that includes a virtual construction model is new to a lot of people so it is important to fully explain what project success looks like to all, says Richard.
Kristopher Lengieza, Director of Business Development and Marketplace at Procore Technologies, says early engagement by all stakeholders, contractors, engineering procurement" participants is important to understand the multiple pieces in a project.
"AWP is all about transparency. Making sure that we have transparency that you can share that information across the stakeholders and understanding that you are measuring the things that are going to impact the project," he says.
• Adoption of technology: Stressing the role of technology in the need for coordination and sequencing the project is Eric Crivella, Director of Business Development for Digital Construction Works. He says going digital is all about creating close feedback loops.
"It should get to the point where you have succinctly defined your path of construction and then the rest is figuring out how engineering and procurement will fill that same path of construction," he adds.
He further says: "You are really striving for being more predictable and the only way you can get there is through a model centric approach, taking advantage of creating a virtual construction model that integrates the various project IT systems, materials, management system, schedule, alignments, the equipment list, etc. You are creating a digital twin of the asset as you go along during construction."
Once created, a digital twin during construction could later help train operators, as well as be used for procedures, debottlenecking and to plan shutdown turnaround processes.
Technology may also help with laying out 'smart' contracts designed to release payment as soon as works are completed.
There has been some reluctance on the part of owners to introduce new technologies in part out of concern about trying new tools with projects that sometimes cost billions of dollars. The Covid-19 impact provided an opportunity for technology to prove its worth and overcome concerns. This may help speed up investment and adoption of technology.
"A good example of that is the integration of various electronic platforms that we knew there was a use case for and it was highly theoretical just six months ago," says Mark Wyszynski, Senior Information Technology Advisor to Projects and Engineering at Shell.
"As several construction projects around the world saw interruptions we still had the ability to engage each other and to continue the engineering work," he adds.
The potential for acceleration in digitalisation that may bring cost savings include in areas like platform integration, drones, digital twins and 3D modeling.
"Now the interest lies in integrating those systems whether it be our financial systems with our safety systems so that we can get a consolidated project report," Wyszynski says.
• Alternative contract strategy: Scope definition is the first thing needed before signing a contract, says Michael Dailey, Vice President and General Counsel at Air Liquide.
"There is a notion out there that you can use alternative contract approaches to address situations where you may have a less defined scope. However, the better defined the scope, the more certainty that there is going to be project success," he says.
"A second thing to consider during the pre-contract phase is really an honest assessment of the owner's organisation," he adds.
"There is some portion of the typical contract risk that is going to be shifted to the owner. That can work well if the owner has the skill set and resources to manage that risk, but before that someone needs to do a real assessment," Dailey says.
This requires looking specifically at potential risks for a specific project and considering them in the contract.
There is a tendency to grab the last contract used and reuse it for the next project simply because it worked well.
"It's much better for the owner and the contractor if they sit together and determine what the real risks are for that project and if there are steps that can be taken before that contract to reduce that risk," says Dailey.
For an owner it is also important to consider keeping within the company the most important roles in a project like site or project managers.
Another issue to consider is the inclusion of incentives for contractors. Sometimes incentives are set up only tied to a specific completion, which leads to attention directed to moving faster but just within a specific area.
Rather than tying a milestone payment to some event, it is best to align incentives with the real objectives that an owner is trying to achieve.
Mark Cotugno, Global Procurement Director Enterprise at The Chemours, says keeping a strong owner team involved in the project is key for success. "With higher engagement usually there are better project outcomes."