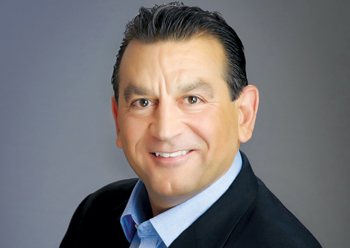 Kedzierski ... empowering people through technology
Industry 5.0 will bend back the technology curve to recognise the limitations of technology, address transition pains and open the door to renewed work environments, Brent Kedzierski of Shell tells OGN
Aveva, a global leader in engineering and industrial software, and the Shell Oil Company have joined forces to discuss the future of smart production.
In an interview with Abdulaziz Khattak of OGN, Brent Kedzierski, Head of Learning Strategy and Innovation at Shell, and Ian Willetts, AVEVA's Vice-President for Process and Simulation explored how more personalised solutions will empower workers to take greater control over their work experiences, creating, more adaptive, on-demand experiences that will increase worker confidence, resulting in greater workforce creativity, autonomy and performance. According to Kedzierski, Industry 5.0 will be characterised by mass personalisation and greater workforce collaboration.

We haven't yet fully embraced Industry 4.0. Don't you think Industry 5.0 is coming a bit too early?
Kedzierski: The paradox of automation states that 'when humans are less involved, their involvement becomes more critical'. This not only is proving true on multiple levels, but ongoing experience is revealing that a corrective paradigm is needed to create a better marriage between humans and connected technologies. While Industry 4.0 has yet to flourish, its potential to unleash excessive automation that devalues human intellect, creativity and connectivity is an issue of concern for many. Even innovators like Tesla's Elon Musk tweeted that "excessive automation" at his company was a mistake and added "humans are underrated". Each wave of industry success will depend on actively reimagining ways to better integrate human and machine workers as both continue to evolve. Blatant and complicit disregard for the potential drawbacks of Industry 4.0 innovations will have negative effects on workforce health and human relations. Simply put, industrial growth without mindful attention to human sustainability is reckless and unsustainable.

How are the two periods going to be different? What are some of the salient features of both?
Kedzierski: The moment Industry 4.0 delivers super smart and people-less factories, it will mark the maturity of the hard side of industrial evolution. However, focusing only on the hard side of industry will be counterproductive if we don't look to humans as a source of distinctive energy to power ongoing innovation. Industry 5.0 is much more than another revolution to jack up the speed of productivity. Think of it as a turning point to ensure a future where human energy is leveraged as a disruptor. It's the first industrial revolution where "the human touch" and "brainpower" serve as disruptors to propel industry in more creative and imaginative directions. This means bending back the technology curve to recognise the limitations of technology, address transition pains and open the door to renewed work environments, where people can come to work and be creative, collaborative and flourish. The salient feature of Industry 5.0 is its intent to enrich human purpose, inclusion and fulfillment at work before technology takes that away.

What is the future of smart production? Are we going to see fully autonomous facilities with less human intervention?
Kedzierski: Smart production will represent more sophisticated, dynamic, integrated and sustainable production ecosystems that are more automated, connected, flexible and capable of more complex, cost-effective production cycles that leverage more robust process control. Most importantly, smart production will enable data driven product customisation that will meet ever-evolving consumer expectations by delivering the adaptability needed to handle both planned and unplanned production complexities. However, a fully autonomous industry will also be inherently complex, messy and nonlinear. Unfolding conditions will create a continuous "fog of uncertainty" where any plan will not be as important as the act of continual planning. This is where humans come into play. Hyper complex and interconnected production environments cannot be achieved or sustained without human intervention to see patterns and drive operational planning. This means humans and collaborative robotic technology working together as a dynamic duo. Collaborative robotics and the reimaging of how humans' impact and create value across industry will drive a new category of super jobs fueled by human centric power skills. Automation obliges humans to know more, process faster and leverage others in new ways. If done well, the industry will meet consumer expectations by delivering hyper customised products that unlock the power of whole systems planning and positively impact human development and sustainability.

Why is the focus on workers' empowerment through personalised solutions when we are moving towards industrial autonomy?
Kedzierski: Influential thinker on the topic of leadership Warren Bennis said: "The factory of the future will have only two employees, a man and a dog. The man will be there to feed the dog. The dog will be there to keep the man from touching the equipment." If industrial autonomy proves true, then leaders must reflect on three hard truths that surface the more advanced our industrial economy becomes. The first is that automation and advanced consumer demands drive increased specialisation. The second hard truth is that as automation displaces human energy, industry must rethink how to reskill and redeploy workers in order find better ways to feed the dog. The third hard truth is that upskilling and reskilling human capability requires new skills contained within more specialised and complex jobs. Taken together, these hard truths have a material impact on the need to leverage automation in more thoughtful ways to support greater autonomy in humans. Technology has an unbridled capacity to expand the cognitive and creative abilities of humans by freeing them from the mundane and providing access to more context rich data enabled by cyber-physically connected systems. Taken together, more personalised and contextualised data will increase human autonomy in ways that will enable individual's and teams to connect, predict and adapt in ways that will deliver the dog more flavorful and nutritious food.

As AI/ML/DL evolves, will we eventually give up on human instructors especially since systems like the OTS will learn faster and better through digital twins?
Kedzierski: Today, human instructors exist to facilitate learners through an instructional event or act as subject matter experts. Digital or AI/ML, DL instructors will perform all transactional activities associated with facilitating learning events and providing explicit expert content. Automation will free human instructors to dedicate more focus and time to support human centric or tacit skill development. However, human instructors will need to be reskilled to become more specialised in counseling operations and leveraging OTS and other tools to support operators in building and honing higher order and more instinctive skills such as advanced problem solving and decision making that will evolve based on a new era of "coboting" capabilities. While machines are much more consistent than humans and better at precision work, they have fundamental limitations when compared to humans. They're incapable of the emotional adaptability and fully showing, perceiving and processing human emotion. Most importantly, they can't hold deep intellectual conversations with operators or understand, empathise, motivate or inspire learners. To propel the next class of operators in the skills that define us as humans we need humans that are reskilled in developing operators that can thrive in collaborative robotics relationships.

How will all this impact the landscape in the oil and gas industry?
Kedzierski: As industry works towards energy transition the increasing expectation will be for key players to leverage progress and profits for global well-being and sustainability. One way to start is to rethink our approach to the long-standing industry Risk Assessment Model (RAM). RAM has focused on assessing and preventing risks across broad areas - people, assets, community, and environment. Adding the sustainability lens to this model would be a new and higher concept approach for the energy sector to extend the reach of this model to from the perspective of sustainability versus risk alone. This means industry acting purposefully to enrich people, community and the environment for greater contribution to create more human centric societies. A start is for industry to improve the well-being of their workforces by creating more psychologically safe workplaces, where human energy thrives, and human capabilities can grow at exponential rates over the next 20 years. In predicting what lies beyond industrial autonomy and the connected plant, we must assume that market leadership and brand power will shift to companies who not only provide profits to shareholders, but leverage their resources to shape an energy future in ways that contribute positively to connected communities and society where they operate and serve.
________________________________________________________________________________________________________
Making sense of huge amount of data
Willets ... driving competency
AN Willetts, Vice President for Process & Simulation, AVEVA, says Industry 4.0 must not be technology for technology's sake, it must be a building block to a more sustainable, safe, and inspiring workplace.
Blending the technology aspects of Industry 4.0 with the human aspects of Industry 5.0 puts the connected worker at the heart of any company's successful digital transformation. AVEVA provides the connected worker with the tools needed to improve skills relentlessly, empower seamless collaboration and to drive competency and consistency throughout the organisation.
AVEVA's Cloud hosted, AI-enabled digital twin allows the connected worker to optimise the entire value chain, thereby enhancing efficiency, sustainability and ROI.