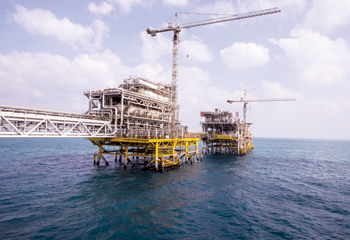 As the Kingdom pushes ahead with strong investment in the downstream, the Royal Commission for Jubail and Yanbu, with key industrial cities under its supervision, has found itself at the forefront of realising this goal, writes Abdulaziz Khattak

The Jubail and Yanbu industrial cities are Saudi Arabia's success stories and cornerstones of the kingdom's economic diversification ambition; and have spontaneously knitted into the Vision 2030 plan.
The successful model of these two cities is now being replicated by Royal Commission for Jubail and Yanbu (RCJY) with the Ras Al Khair Industrial City on the eastern coast and Jazan Economic City, in Jazan Province.
In April, the Ministry of Industry and Mineral Resources disclosed that the RCJY had attracted a total of SR1.2 trillion ($319.9 billion) investment into all four cities, with $250 billion going into the industrial segment.
The commission's investment was 17 per cent of the total, coming to SR203 billion. This showed that for each riyal spent by the government, another SR8 was spent by the private sector, indicating the trust investors had in public policies.
Jubail and Yanbu, each flanking the Arabia Sea and Red Sea coasts, respectively, have seen rapid expansion and industrialisation since their inception in 1975. From small coastal cities, they have grown into industrial powerhouses.
Today, the number of basic and secondary industries in the cities have reached 870 units and they house 194,000 workers.
In April, 39 new factories began production, with a growth rate of 26 per cent compared to the previous month.
These include two new plastics plants in Jubail Industrial City by Advanced Petrochemical at a total cost of $485 million. With over 800,000 tonnes of polypropylene manufacturing capacity and taking 37 months to complete, the facilities are further investments by the Kingdom in higher value industries.
Global demand for polypropylene consumption is on the rise in the packaging and automotive sectors.
Last year in November, major investments worth $1.9 billion were signed by RCJY with Chinese companies to build an LED factory and a polycarbonate and polyethylene manufacturing facility in Jubail industrial city.
Understanding the need for proper infrastructure being key to the success of industries, the RCJY has overseen the development of transport networks and ports to directly connect manufacturers with markets around the world. This is also in line with the Vision 2030, which aspires the Kingdom to become a global logistics centre.
In February, Hutchison Ports was contracted to build a new multipurpose port on the Red Sea coast at the Jazan City for Primary and Downstream Industries (JCPDI).
The port will drive growth in the entire region in addition to serving eastern and southern Africa. It is also located on China's Belt and Road Initiative and is the Kingdom's nearest port to East Asia. The port will include a container terminal and a general cargo and dry-bulk terminal developed in two phases. It will be equipped with the latest technologies and facilitate best industrial practices.
Commercial operations of Phase I will being this year and will start with the general cargo and dry-bulk terminal, which will have a berth length of 540 m. The container terminal is expected to start commercial operations in early 2022 and will offer 730 m of berth.
On this, Abdullah bin Ibrahim Al-Saadan, Chairman of RCJY said: 'We are seeking to provide the best services and to ensure the highest levels of quality and efficiency.'
The following month, the 450,000 cu m per day Yanbu-4 independent water producer (IWP) plant was brought to a financial close.
The IWP project, which is estimated to cost $880 million, includes a water transmission line and storage facilities for two operational days was awarded to a consortium of International Power (Engie), Mowah, and Nesma on a build-own-operate (BOO) basis.
Yanbu IWP is scheduled to start commercial operations in Q4 2023 and will contribute $400 million to the Kingdom's economy, and provide employment to 500 Saudis.
Work is steadily progressing on the Kingdom's rail network, especially in to and from the industrial and energy centres. This will significantly boost the economic growth and competitiveness.
Saleh bin Nasser Al-Jasser, Chairman of the Saudi Railway Company (SAR), said the railway construction projects will offer better transportation options to the Saudi industrial sector, and reduce the amount of freight moved on roads.


SAUDISATION
The Kingdom's long-term vision includes developing the local workforce to global standards and providing them the necessary training opportunities and investment. The government has stepped up efforts to secure more jobs for its citizens through localisation efforts.
Leading here again is the RCJY, which early this year signed a memorandum of understanding (MoU) with the Saudi Aramco Entrepreneurship Center (Wa'ed) to support start-ups in Jubail and Yanbu in the energy and petrochemicals sectors with the aim of bridging gaps in the local economy and to accelerate modernisation and digitalisation of the Kingdom's industrial sector.
Wa'ed Managing Director Wassim Basrawi said he was 'thrilled to establish this new working relationship with the Royal Commission for Jubail & Yanbu', and adding that it would boost the pace and quality of Saudi's newest industrial players and it potentially give Wa'ed an exciting new role as a key enabler of mission-critical industrial start-ups.