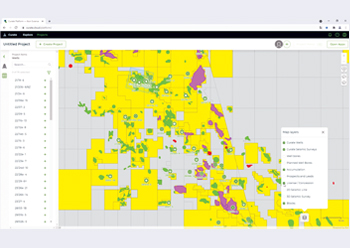 A screenshot of Curate ... helping companies accelerate exploration and minimise portfolio risk
Oil and gas firms believe they are already up to speed with digital technologies, but this misconception has caused the sector to be slower than others to innovate with transformative and data-driven solutions, Stuart Thomson of Ikon Science, tells OGN

Digitalisation has made important inroads into the oil and gas industry. However, the industry has yet to take full advantage of the opportunities derived from using data and technology in a truly meaningful way.
In a tight oil and gas market, the repercussions are extensive, with most oil and gas businesses failing to recognise the full potential of a digital transformation to capitalise on the value of their data.
"Significant value can be accessed for those companies that implement digital across their businesses rather than taking a piecemeal approach," says Stuart Thomson, Chief Technology Officer, Ikon Science.
The company just launched a scalable, cloud-enabled knowledge management solution called Curate designed to provide cost efficiencies along with faster and more accurate decision making.
In a 2019, Boston Consulting Group stated that the benefits of introducing digital across oil and gas companies' businesses yields a major impact: 50-60 per cent reduction in data interpretation time and cost in the exploration phase; up to 70 per cent reduction in engineering hours in the field development stage; 20-30 per cent faster well delivery and more productive wells in the drilling stage; and 3-5 per cent increased production coupled with 20-40 per cent reduced maintenance cost in the operations/production stage.
Thomson says the challenge in adopting a digital transformation lies in the nuances of the industry. "Companies are inherently project-focused and safety conscious, and because the industry has used automation and data processing for decades, many operators believe they are already up to speed with digital technologies. This misconception has caused the sector to be slower than others to innovate with transformative, data-driven solutions."
The amount of data generated per field has also exponentially increased over the years with ever increasing live streams coming from wells, seismic and more. The volume of data generated today is vast and constantly being updated.
When the various initiatives involving the Internet of Things (IoT) and the volume of constantly evolving production and drilling information that drives automated modelling and prediction technology is added in, the amount of data is staggeringly large.
Energy companies are challenged to navigate the large amounts of complex data they possess as it is often siloed within different departments and software programs. This inefficiency causes 20-30 per cent in lost personnel time.
The inability to instantly access data leads to isolated workflows, poor utilisation, and compromised decision-making resulting in locked in capital and delayed revenue due to sub-optimal exploration, appraisal and development processes.
It has never been more important for oil and gas companies to drill smarter and safer with less capital investment and human resources. Yet the key that makes digital transformation possible continues to challenge many operators because of the perceived complexity.
Ikon Science's Curate solves this dilemma by providing instant access to subsurface information, limitless performance and a unique ability to leverage specialist knowledge in wider workflows within a single workspace.
It provides tight integration with legacy databases and open industry standards such as the OSDUTM data platform, enhancing the ability of organisations to consistently build on existing knowledge through workflow applications and streamlined processes.
This allows companies to achieve better business outcomes by realising efficiency gains across all exploration, appraisal and development workflows.
Curate helps companies accelerate exploration, minimise portfolio risk, and optimise well planning and drilling activities, achieving greater results while preserving capital and human resources to create a stronger bottom line.
"It's imperative for energy companies to identify new ways to increase efficiencies and minimize risk," says Dr Denis Saussus, CEO of Ikon Science.
He concludes: "Curate leverages our 20 years of unrivaled subsurface data solution expertise to allow companies to realize the promise and full potential of digital transformation by enabling them to immediately capitalize on the value of their data today with an enterprise-ready solution while preserving human resources and capital. This creates a powerful competitive advantage."