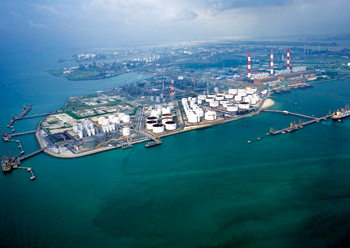 Demand for oil storage is set to increase
The rapid industrialisation of countries like India and China is boosting demand for oil and leading to high consumption, which in turn will require storage facilities, says a report

The global market for oil storage terminals, deemed crucial for the purpose of supplying oil across the globe, is expected to reach $37.52 billion by 2027 growing at an annual rate of 4.9 per cent in the foreseeable future.
Globally, the Asia Pacific region will hold a significant oil storage terminal market share in the coming years. The rapid industrialisation of countries like India and China is boosting demand and leading to high consumption of oil which in turn will require storage facilities.
According to Fortune Business Insights' report, 'Oil Storage Terminal Market, 2020-2027', economies that are majorly dependent on the surplus oil production for their income require such storage terminals, and the increasing use of automobiles is expected to boost the demand for such terminals.
Currently, however, the construction of oil storage terminals and related upgrades are expected to be postponed due to a global industrial slowdown affected by the Covid-19 pandemic, which battered the oil and gas industry by reducing demand for oil.
The demand for oil diminished so significantly last year that the world started running out of room to store crude oil. This pushed producers to drastically cut output after prices at one point even fell below zero.
And although offshore tanker storage did offer an alternative to land storage, that option is 'very pricey' and there are not enough tankers available to deal with such a situation.
However, demand for oil will start to rise after the lockdowns are lifted and as the manufacturing bases spring back into operation.
Moreover, the high use of crude oil products in nearly every industry including the automobile, aviation, petrochemicals and even cosmetics will significantly boost the oil storage terminal market growth.
'This indicates that the consumption of crude oil and its products is going to gain more traction during the foreseeable future,' the report said.
In the Asia Pacific region, South Korea and Singapore are the key storage hubs that experience high demand from India and China to facilitate the operation and demand of raw materials associated with crude oil in the latter mentioned countries. The low cost of labour has attracted many Industries to set up their production bases there.
Meanwhile, Europe is also expected to showcase significant growth in the market as several countries in the region are primarily dependent on crude oil to for their energy demands.
'They require storage facilities to store their crude oil that will propel the adoption of advance oil storage terminals in the forthcoming years,' the report said.
The oil storage terminal market is segmented into strategic reserve and commercial reserve, with the latter dominating the market due to growing demand. The past few years have experienced a most of the terminals to be used specifically for the purpose of commercial crude oil boosting its demand.