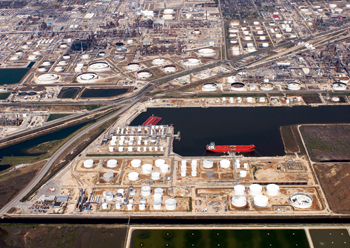 People in the highly technical tank storage industry need to be equipped with the best skills
Realising the need, the consultancy offers online courses to those interested in or already engaged in the oil and gas industry, marine tank storage terminals, chemical industries, and cargo handling, Captain Paul Nix, CEO of Tankskills, tells OGN
HE oil and gas sector is, hands down, the largest industry in the world, at least from a dollar value perspective. Not only does the industry employ hundreds of thousands of workers across the globe, but it is also one of the most highly profitable sectors that annually generates billions of dollars.
As a consequence of globalisation, countries around the world have become more and more reliable on petroleum-based products.
According to estimates, 100 million barrels of oil are being consumed globally every year, with the developed countries responsible for the majority of this consumption.
However, the industry is also facing many challenges as the tilt towards renewable and alternative sources of energy has led many countries to introduce more pro-environment legislation and stringent restrictions on oil and gas corporations.
Nix ... reducing risks through education
As a society, mankind is at a pivotal point, where it is recalibrating many of its energy choices. But what is often seen is that people participating in these discussions often have no clue about how the oil and gas industry actually works.
Many people are unaware of bulk storage, cargo handling, and other such crucial aspects of the industry. Even those who are genuinely interested in learning about the developments being made within the industry are unable to find the kind of expert knowledge and guidance they are looking for.
Tankskills is an online digital e-learning platform that specialises in courses that let individuals get an in-depth understanding of subjects such as bulk storage and cargo handling.
Keeping the focus firmly on the oil, gas, and chemical industries, the platform is providing the latest insights discussed within the worldwide oil and gas community.
Tankskills is not only making individuals more aware of the inner workings of the industry but also facilitating further learning for professionals who are already engaged in the oil and gas sector.
To better understand the work Tankskills is doing, Abdulaziz Khattak of OGN interviewed the CEO of Tankskills, Captain Paul Nix. Below are the excerpts from the discussion with him about the future of the oil and gas industry and what goals he sees Tankskills accomplishing in the near future.

Can you tell us a little about your background and the work you do at Tankskills?
Nix: As the CEO of Tankskills, my primary responsibility is to manage Tankskills as a company.
My background lays in the shipping industry and tank storage. I have been active for more than 44 years in the industry. I am a master mariner and I have managed, built and did business development in tank terminals.
Very early on in my career, I noticed an immense knowledge gap within the industry, and it's a demand that is not being met by industry specialists and professionals. So I decided to start my own company to focus on tank storage consultancy and use my experience for the benefit of others. My dream came true in February 2020 when I finally started my company.

Tell us more about Tankskills?
Nix: When I started Tankskills it was the onset of the Covid-19 pandemic. That was when I realised that classroom training would become more difficult and I also learned that consultancy or training could be done online as well.
I created Tankskills to be an online digital e-learning platform that would specialise in courses related to bulk storage and cargo handling. My vision for Tankskills was to create a portal that would specifically cater to individuals interested in and professionals working in the chemicals, oil, and gas industries.

How did you come up with the idea of Tankskills?
Nix: After decades of being associated with the industry and working in several different verticals, I realised the need for specialised competencies and the gaps that existed therein.
In an industry as technical and dangerous as ours, people need to be equipped with nothing but the best skills. It makes no sense to risk people's safety when proper knowledge and guidance can ensure safe and secure cargo handling of chemicals. This led to the creation of Tankskills.

Did Covid-19 play a role in the development of Tankskills?
Nix: Yes, most certainly. Before Covid-19, even though technological advancements were being made and put in place, we were able to take our time and gradually prepare ourselves for challenges.
However, with Covid-19 everybody was caught off guard, as we had to quickly adapt to the new normal. Everybody had to learn virtual calling and conferencing. We had to learn to work remotely through the internet. There was a sudden surge in technological developments that we had to quickly learn and adapt to.

What are the needs that you are addressing with Tankskills and who is your target audience?
Nix: Through our courses we are trying to reach individuals who are either interested in or already engaged in the oil and gas industry, marine tank storage terminals, chemical industries, and cargo handling. Our courses are specifically crafted to provide guidance and assistance to those who are working in these four industries.

One may get an impression that Tankskills is quite similar to Udemy or Coursera? What do you think differentiates Tankskills from other online learning platforms?
Nix: I think our hands-on approach is what distinguishes us from not just these two, but almost any teaching online platform. We have made it a priority to engage with the individuals, who enrolls in our courses.
For instance, we offer live streaming within the app, so that real-time interactions can take place between mentor and students. Similarly, we offer scheduled calls with the trainers, so that students can ask their queries and clear any doubts they may have.
We have also introduced hybrid solutions on our platform such as online classrooms and Hyflex virtual classrooms. These advanced training solutions are introduced to make sure students can experience uninterrupted learning.

So what does Tankskills do for the target audience?
Nix: Through our trainings, our audiences get equipped to mitigate liabilities thus reducing risks of incidents and/or accidents. For a company this means it will also reduce insurance costs. They will be able to recognize potential issues and incidents that come their way by operational preparedness, enhance HSE performance of their operations and reduce LTI rates. At Tankskills, our aim is to help you improve your customer audit scores and provide better value (services) for cash.

We have noticed that you have a bunch of different talents on your team, seemingly all from different backgrounds as well. How diverse is Tankskills?
Nix: Our vision as a digital platform is to serve people from all around the world. Diversity is certainly one of the most important priorities for us. We currently cater to audiences in different regions like Holland, Indonesia, Africa, and South America and hence will be extending our team by incorporating trainers from those regions as well.

As you mentioned, the courses are indeed very technical. Can you elaborate more on what competencies these courses would help individuals to develop?
Nix: We have deliberately made an effort towards crafting our courses in a way that builds upon the foundation of a competency framework. Also, our courses strictly adhere to and follow international standards and Industrial best practices. These standards include the Marine Terminal Operator Competence and Training Guidelines (MTOCT) and "OCIMF" Marine terminal Competency and Training Vol 1 and 2 and the bible for our Industry ISGOTT (International Safety Guide for Oil Tankers and Terminals
OCIMF stands for the Oil Companies International Marine Forum (OCIMF), a voluntary association of oil companies with an interest in the shipment and terminal of crude oil, oil products, petrochemicals, and gas. We also seek to elevate industry audit rating and boost compliance for SQAS, CDI, OSHA, ISO, OCIMF audits and certifications.
Is there anything else that you would want to share with our readers about Tankskills?
Nix: Because we have made an active effort to make Tankskills globally accessible, companies around the world, including those located in the most remote locations, can benefit from our courses.
Garnering International standards, our courses have earned applause in all influential circles within the industry. So I strongly urge those who are engaged within the sector to check out our platform. I am certain they will find the platform extremely impressive and incredibly valuable.