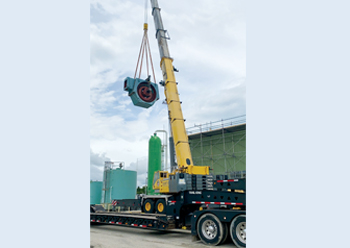 A mobile crane was used to transfer the motor onto a waiting trailer
The project for one of the largest energy infrastructure companies in North America involved removal of an 8,500-hp high-voltage compressor motor, rewind, re-installation and commissioning in a short timeframe

Large, high-voltage assets play an essential role in the oil and gas industry and implementing a planned maintenance regime is an important aspect of optimising reliability.
For the operator of a pipeline in North America, a series of rewinds have been entrusted to Sulzer to ensure a high-quality repair delivered on time.
Planned outages offer an opportunity to complete essential repairs and preventive maintenance without impacting productivity. However, it is critical they are completed on schedule, otherwise the plant will not resume production on time, incurring losses for the business.
In this case, the pipeline operator is one of the largest energy infrastructure companies in North America and keeping its assets in prime condition is essential for reliable operation. The company has a long-standing relationship with Sulzer and relies on its maintenance and repair services for rotating equipment.
The project involved removal of the 8,500-hp (6,340 kW) high-voltage compressor motor, rewind, re-installation and commissioning in a five week timeframe. With a brief amount of time to plan the project, Sulzer was contracted to deliver a solution that would ensure the compressor was ready to run on time.
Electrical engineers from the operator isolated the supply to the motor and handed the project over to the Sulzer team. Sulzer was responsible for disconnecting it and preparing it to be lifted out of the building. Due to its size, the motor had to be removed through the roof of the building before it could be transported to the service center in Pasadena TX.
During project pre-planning, Sulzer engineers confirmed the stator coil specifications, which were used to manufacture new coils at the Sulzer HV coil manufacturing facility in Birmingham, UK. Single source responsibility for coil manufacturing and installation allows Sulzer to retain full control of quality, cost, and delivery of the entire repair process and this is unique to Sulzer within the electromechanical service industry.
According to Marcin Chojnacki, Pasadena Service Center Manager: "Prior to this project, Sulzer had rewound a sister unit, so with the information from that project, we were in a good position to complete the second unit within a tight timeframe. Once the project was confirmed, we had just four weeks before the planned outage to put the necessary logistics into place to execute the project plan."
With the rewind complete, the motor was returned to the plant, where Sulzer's field service team reinstalled, aligned and commissioned it. The project was completed on time and startup was a complete success.
An operator commented: "It sounds like a Cadillac."
The rewound motor, designed with the latest insulation materials, will provide many more years of reliable service for the compressor train.