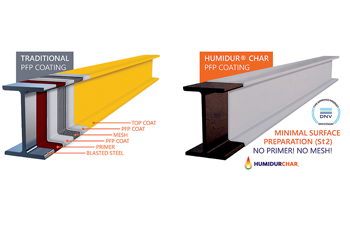 Humidur Char is a one-coat solution that provides passive fire protection
Humidur Char from Acotec is a new revolutionary one-coat solution for protecting oil and gas assets and similar structures against fire, and has led to a significant reduction in overall project costs

Acotec says its Humidur Char two-component, solvent-free, 100 per cent solids, polyamine cured epoxy PFP system offers anti-corrosion and fire resistance properties by intumescent action in just one coat – a major difference with the traditional PFP coating process, which requires up to five coats.
Humidur Char can be applied in one layer on minimum preparation standards, with no primer nor mesh required and will still provide the essential passive fire protection on the structural steel, used within the global oil and gas and chemical industries.
The systems has been applied to both onshore and offshore assets, and has led to a significant reduction in overall project costs.
Wim Schalley, CEO of Acotec, says: 'Partners in the oil and gas industry approached Acotec because they wanted a new innovative PFP coating that would reduce the downtime of their assets. Besides that, the new PFP coating must be efficient and easy to apply. That's how Humidur Char was born.'
'Yes, Humidur Char is a revolutionary one-coat solution. Our Humidur Char's slogan is simple and straight forward: 'Let's face fire in one coat',' says Schalley.
Whenever a fire breaks out on a platform, the results can be serious. However they may start, hydrocarbon explosions and fires have extreme consequences, both for the personnel, the management and all partnering companies involved, as assets may be destroyed, and production halted.
Passive fire protection is the number one concern of the oil and gas industry.
Typically, a traditional PFP coating requires lots of preparation including the blasting of the steel and numerous coats of paint: primer, PFP coat, mesh, PFP coat again, and then the topcoat. All this is completely unnecessary with Humidur Char, as it is a single-layer system.
The fact that the application is simplified in just one layer, eliminates the risk of inter-adhesion issues, and reduces the complexity of and possible errors during the job. Humidur Char can be trowelled or sprayed straight onto the structural component, which does not need to be grit blasted.
Spray application can be conducted with standard plural pumps, so no expensive and complicated specialised PFP pumps are required.
Humidur Char significantly reduces the overall project cost without compromising the safety on board including reduced asset downtime, reduced manhours, and reduced machinery and equipment cost.
With a wide application window in terms of humidity (maximum 95 per cent), Humidur Char can be applied at any location all over the world.
In addition, the unlimited overcoating window and wet-on-wet application provide unique flexibility to the applicator.
Humidur Char has passed an extensive test programme and protects against (high heat flux) jet fires, pool fires and can resist gas explosions (DNV).
Humidur Char is 100 per cent solids and free of VOCs. This makes Humidur Char the preferred sustainable option from a HSE point of view, to meet all local HSE regulations and improve the health and safety of the personnel.