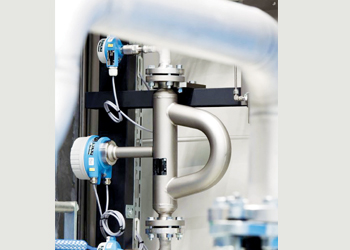 A flowmeter in the Proline series
Smart sensors ensure faster, more flexible and more economical production processes, and what makes the Endress+Hauser process sensors smart is its patented Heartbeat Technology

Smart sensors are intelligent all-rounders. They monitor fill levels remotely, measure the health of machine components or detect errors in the plant in record time.
Measuring devices with digital interfaces and smart diagnostic functions not only supply precise measured values but a host of valuable data from the process that could be rightly called the raw material for Industry 4.0.
The new Liquiphant device
Using this information, it is possible to optimise processes and workflows, and carry out predictive maintenance, so that plant downtimes become the absolute exception.
"Smart sensors, therefore, ensure faster, more flexible and more economical production processes," says a spokesman for Endress+Hauser.
What makes the Endress+Hauser process sensors smart is its patented Heartbeat Technology.
"To support you, as a plant operator, in reaching your goals, we at Endress+Hauser have implemented Heartbeat Technology into numerous measuring devices across our product portfolio. Its unique diagnostic, verification and monitoring functions all aim to support you in your daily striving to increase plant performance," the spokesman explains.
The Heartbeat Technology enhances measuring reliability and safety giving users the highest confidence in device performance due to outstanding diagnostic coverage and international standard-compliant development.
The intelligent iTHERM TrustSens temperature sensor
It improves operational efficiency by offering support through by timely, clear, and standardised diagnostic messages, providing easy-to-follow recommendations on the actions needed.
This means fewer unpleasant surprises as users get improved insights on device and process conditions to optimise the process and to keep operations stable.
All this leads to productivity gains while ensuring compliance. Optimised calibration/proof test cycles is done through traceable device verification without process interruption.
Overall, Industry 4.0-capable devices offer the user significant added value with their extended connectivity, internal diagnosis, verification, and monitoring functions as well as the direct communication between the smart sensors and the cloud.
• Flow: Many Endress+Hauser measuring devices are equipped with smart sensors, and this includes its latest flowmeters in the Proline series.
Not only do they supply measured values with the usual levels of precision, but they also determine parameters to identify influences with a negative effect on the measurement performance or production processes. These include corrosion, abrasion, deposit formation or gas inclusions.
The new Cerabar and Deltabar pressure transmitters
This information enables predictive maintenance and protects product quality. It also helps reduce costs and increase plant safety in security relevant or quality-critical applications.
• Pressure: The new Cerabar and Deltabar pressure transmitters supply valuable additional information, such as detecting clogged impulse lines, closed valves or changes in agitators.
This is made possible by the so-called statistical sensor diagnosis, which is integrated in the Heartbeat Technology.
This is based on recording the 'noise profile' of smart pressure sensors, which occurs during dynamic processes.
If this changes during the running process, due to a clogged pipeline for example, the pressure sensor detects the change and issues an alarm before the line is completely clogged.
• Level: The new Liquiphant is supposedly simple devices that contain more information than is already used today.
The new Liquiphant limit switch, for example, is more than just a limit detector. With the integrated Bluetooth® interface and SmartBlue app, you can access valid information for process optimisation, such as predictive maintenance, which can help to increase plant availability.
• Temperature: The multi award-winning, intelligent iTHERM TrustSens temperature sensor with TrustSens technology is the world's first RTD sensor that can handle in-situ self-calibration fully automatically.
The device practically eliminates the risk of undiscovered non-conformities, reduces production downtimes and increases product safety and process efficiency in plants from the beverage, food and life sciences industry.
The Memosens 2.0, which digitises the measured values directly in the sensor head
It is compliant with FDA 21 CFR Part 11 requirements and GMP guidelines. The automatically created calibration certificates as well as the additional information from the measuring device can be used for other plant optimisation scenarios.
• Analysis: To obtain more information from the analytical measurement technology, users can use the Memosens 2.0 interface.
Memosens stands for the digitisation of the measured values directly in the sensor head, the non-contact digital signal transmission and the diagnosis and storage of all data relevant to the sensor directly in the sensor.
Memosens technology has proven its worth millions of times over since it was introduced in 2004.
Additional process data and diagnostic information enable accurate predictions regarding the current state and future maintenance requirements.