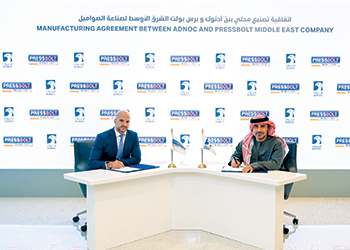 The agreement signing
The company has been manufacturing fasteners in Abu Dhabi since 2009, and recently expanded its production by movig to larger facilities and additing machinery

As part of its commitment to bolster local manufacturing, Pressbolt Middle East has signed a framework pricing agreement with Adnoc to supply the latter a range of critical industrial products in its procurement pipeline.
The company is a leading global supplier of fasteners, gaskets, special coatings and precision machined components to the engineering industries.
With this agreement, Pressbolt will manufacture these products locally.
As part of its expansion in the Mena region, Pressbolt recently relocated to a 10,000 sq m space, which is both a manufacturing facility as well as stockholding site.
This will be followed by further investments to enhance its in-country production capabilities in order to support continuous growth and add new product ranges.
The company has been manufacturing fasteners in Abu Dhabi since 2009, and recently expanded its production by taking larger warehouses as well as additional machineries. It has also recently started producing gaskets.
Commenting on the agreement and how localisation will impact the local energy sector, Hessam Saroukhani, the company's General Manager, told OGN energy magazine: "As we see several international companies establishing their regional facilities here, it is becoming essential for the supply chain to be able to source their requirements from the local market instead of overseas or depend on their foreign head offices. This will save a lot of money and improve projects' delivery time."
He says access to the evergrowing UAE economy has various governmental incentives and support, such as in-country value (ICV), as well as excellent logistical advantage to supply/service to the region.
The deal with Pressbolt is one of many agreements Adnoc signed this month with 23 UAE and international companies for local manufacturing opportunities across a wide range of critical industrial products. The total worth of these deals is AED17 billion ($4.63 billion).
The agreements outline the intention of the companies to manufacture these products in the UAE, supporting the 'Make it in the Emirates' initiative and the 'Abu Dhabi Industrial Strategy'.
The products are part of the AED70 billion ($19 billion) worth of products in Adnoc's procurement pipeline that the company identified for domestic manufacturing in July 2022.