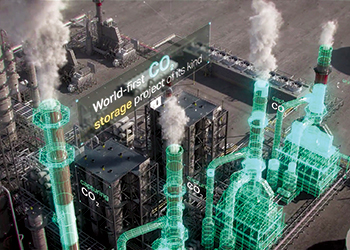 Adnoc is using the latest technology to capture CO2
The Abu Dhabi National Oil Company (Adnoc) is bucking the global trend of underinvestment in oil and gas and is undertaking developments throughout the value chain. It has given out billions of dollars' worth of new contracts and opened its subsidiaries to international investors.
Aiming to become an integrated energy company with sustainability at the core of its operations, Adnoc is witnessing a transformative period as it expands to reach its ambitious target of ramping up crude oil production capacity to 5 million barrels per day (bpd) 2027 from the current capacity about 4 million bpd; and its goals to achieving gas self-sufficiency by 2030.
In November last year, the group announced a $150 billion capex for the next five years, of which $48 billion will be injected back into the national economy through localisation.
The UAE sits atop some of the world's largest oil and gas reserves. Adnoc is currently underway with what is seen as the world's largest 3D seismic survey to accelerate hydrocarbon exploration. By 2024, the company will have surveyed 85,000 sq km, including offshore, onshore and transition zones.
Adnoc is expanding the mega Upper Zakum offshore oilfield, the second largest offshore in the world. Under a $29-billion, the production capacity of the field will be increased to 1 million barrels per day by 2024
Also in the upstream expansion, Adnoc last year awarded five multiyear drilling contracts worth $1.83 billion for both onshore and offshore, including conventional and unconventional fields.
Development is also underway at the offshore sour gas Ghasha Concession, the largest gas, oil and condensate fields yet to be developed in the country. The project has strategic priority as the UAE's gas demand grows rapidly.
• Decarbonisation strategy: Adnoc is actively pursuing the development of decarbonisation technologies, including carbon capture, utilisation, and storage (CCUS) and enhancing efficiencies and operational excellence.
The company aims to expand its CCUS capacity to 5 million tons per year by 2030, reduce greenhouse gas emissions from offshore operations by over 30 per cent, and supply more gas to power and decarbonise the UAE's energy mix.
Adnoc is also the first company in the industry to source 100 per cent power for its onshore grid from nuclear and solar energy. This will be further extended to offshore
• Make It In The Emirates initiative: Having identified $19 billion worth of products that can be manufactured locally, Adnoc has signed over $11 billion of agreements with local and global manufacturers in the past 12 months. This includes $4.63 billion signed early last month with 23 UAE and international companies for a wide range of critical industrial products. Last year, Adnoc signed agreements for local manufacturing commitments worth over $6.8 billion.
"These agreements reinforce our role as a critical engine for the UAE's industrial growth, and they offer significant potential to further increase our GDP contributions, stimulate economic diversification and create more skilled job opportunities for UAE Nationals. We look forward to working with these companies to deliver on these important agreements and drive more sustainable value to the UAE," Dr Saleh Al Hashimi, Adnoc Director, Commercial and In-Country Value Directorate, said.