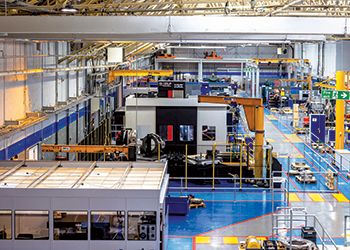 Shipham Valves' modern machinig centre and valve production facilities
The company has experienced one of its biggest transformations over the past three to four years with substantial investments in plant, machinery and people, Rob Moulds tells OGN

Shipham Valves, the East Yorkshire-based leading non-ferrous valve manufacturer, is celebrating a special year during 2023. This year it marks 225 years since it went into operation.
The Shipham Valves story dates back to 1798, with humble beginnings and a heritage that spans over 200 years. The business has operated during the tenure of 10 serving British monarchs and over 40 prime ministers, so enjoys a rich heritage.
Commenting on reaching the 225th anniversary and the longevity of the business, Rob Moulds, Shipham Valves Managing Director, comments: "There are no secret formulas for business longevity, however, it is pivotal that core values and business principles such as quality, innovation, continuous improvement and a resilient workforce are key factors."
He adds: "It has been an incredible journey over two centuries. However with the recent move to our state-of-the-art manufacturing premises located in Brough together with the substantial investment in our plant, learning-edge CNC machinery, machine centre technology and people, the business has experienced one of its biggest transformations over the past three to four years".
As a brass foundry, Shipham Valves initially supplied local fishing and commercial fishing fleets on the River Humber with brass valves, bells, cocks, gauges, and whistles.
In the early days, documents indicate, the business shared premises with another business in central Hull.
As the economy changes and markets fluctuate, demands placed on businesses can be challenging. And Shipham Valves has experienced its fair share of obstacles just like many other businesses.
Although business ownership has changed several times, it has maintained strong links with Hull, Humber, and East and North Yorkshire.
The company has maintained a global reputation for manufacturing high-quality non-ferrous valves that support a wide range of complex industrial applications.
Following an approach from the British Ministry of Defence, the company began manufacturing valves in bronze and gunmetal materials to meet bespoke requirements.
As a result of this investment in the manufacturing plant, facilities and eight new modern machine centres, Shipham Valves can produce valves ranging from ½ inch to 48 inches in-house.
Moulds continues: "Our brand is well-known throughout the world and has built up a strong reputation for quality. As custodians of this famous brand, we are responsible for building upon that reputation and supporting the many industries we have successfully served, meeting their complex valve requirements."
Shipham Valves is heavily focused on product design, quality, safety and reliability, and has become one of the most respected corrosion-resistant valve (CRA) manufacturers serving the oil, gas, petrochemical, naval marine, power generation industries and pipeline applications worldwide.
The company today operates from 6,000 sq ft of purpose-built manufacturing facilities, which specialise in the design, development and manufacture of an extensive range of ball, butterfly, gate, globe, check and hydrant valves and Y-type strainers.
The specialist material options include nickel aluminium bronze, bronze, duplex stainless steel, super duplex stainless steel, Hastelloy®, Monel®, titanium, Inconel® and zirconium.
All valves are manufactured by skilled technicians and tested under internationally recognised standards, including ASME, API, MSS, BS EN ISO, DIN and JIS.