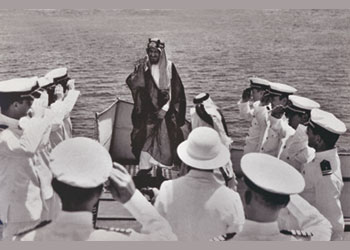 Photo 1: HRH King Abdulaziz is welcomed at Ras Tanura, 1939. Image: Aramco
The search for oil in Saudi Arabia, which began in 1933 following the signing of a concession agreement, has not only unearthed enormous reservoirs of oil but also catapulted the kingdom into a major economic power, ushering in prosperity for its populace and unprecedented transformations across its landscape during the last 90 years
Aramco this year commemorates an illustrious 90-year journey of exploration, discovery and groundbreaking innovation as the custodian of Saudi Arabia's extensive hydrocarbon wealth.
The saga of Aramco unfurls as an epic of unyielding ingenuity and unwavering determination. Triumphing over adversities and innumerable challenges, it has ushered in an epoch of abundant energy and transformative technology, even while bringing prosperity to the Kingdom and beyond.
Aramco's history is one the Kingdom and the hydrocarbon industry is proud of, and which inspires the company today as it evolves and transitions into a new era of energy.
'We are explorers at heart, always searching for new frontiers. At Aramco, a new frontier can be exploring a new geographic area, creating a new technology, entering a new partnership or enabling new opportunities for our business,' says Aramco.

THE EARLY QUEST
The pursuit of oil across the Arabian Peninsula was ignited in the early 1920s by audacious adventurers, galvanised by whispers of oil seepages, who embarked on a quest for the coveted 'black gold' in the region.
The sands of the Arabian desert can be daunting for any adventurer. However, conviction that the region held vast oil riches led to the establishment of the Eastern and General Syndicate in 1923, spearheaded by the enterprising New Zealand mining engineer, Major Frank Holmes (who later came to be known as Abu Naft – Father of Oil – in the Arabian Gulf for his efforts to find oil in many countries in the region). This consortium aimed to secure oil concessions in the area.
Photo 2: The first well at Al-Alat. Image courtesy: Aramco
During the same year of 1923, a concession was inked between Saudi Arabia's King and Holmes, granting the latter permission to explore for oil in the eastern region of Saudi Arabia. Holmes enlisted the expertise of a Swiss geologist to assess the terrain, yet the verdict delivered was one of caution, labelling the pursuit of oil in Arabia as a 'pure gamble'. This verdict cast a pall over potential investments from financial institutions and oil enterprises, leading to the expiration of the concession.
Nonetheless, a renewed vigour surged through the pursuit of oil in the region when the subsidiary of Standard Oil Company of California (Socal), Bahrain Petroleum Company (Bapco), struck oil in the Gulf region in 1932, breathing new life into the endeavour.

ARAMCO - THE BEGINNING
In 1933 when a concession agreement was signed between Saudi Arabia and Socal, a subsidiary company, the California Arabian Standard Oil Company (Casoc), was created to manage the agreement. Aramco traces its beginnings to this agreement, say the history pages of Aramco website.
The work began right away. After surveying the Saudi desert for oil, drilling began in 1935. Following years of effort with little to show for it, in 1937 Socal executives sought advice from their chief geologist, Max Steineke. Drawing on years of fieldwork, Steineke told them to keep on drilling.
PROSPERITY WELL Well
In 1938, the foundation of the future prosperity of Saudi Arabia and the success of Aramco were realised with the commencement of commercial oil production from Dammam No. 7 –the aptly named 'Prosperity Well'.
From the late 1940s, the company grew from strength to strength – hitting record-breaking oil production milestones.
Now named Aramco (the Arabian American Oil Company), the company's crude oil production hit 500,000 barrels per day in 1949.
In the biggest oil find, Saudi Arabia discovered Ghawar oilfield located in Al-Ahsa Governorate, Eastern Province, in 1948 and it was put on stream in 1951. Measuring 280 km by 30 km (some 8,400 sq km), it is by far the largest conventional oil field in the world, and accounts for roughly a third of the cumulative oil production of Saudi Arabia (as of 2018).
The company's rapid increase in oil production meant it had to expand its distribution efforts as well. In 1950, it completed the 1,212-km Trans-Arabian Pipeline (Tapline) – the longest in the world. The Tapline linked eastern Saudi Arabia to the Mediterranean Sea, sharply cutting the time and cost of exporting oil to Europe.
Meanwhile, after two years of exploration in the shallow Arabian Gulf waters, it discovered the Safaniyah field in 1951. It proved to be the world's largest offshore oilfield. And in 1958, Aramco's crude oil production exceeded 1 million barrels in a calendar year.
By 1962, Aramco reached another milestone, with cumulative crude oil production reaching 5 billion barrels. And by 1971, shipments of crude oil and petroleum products from the Ras Tanura Marine Terminal surpassed one billion barrels per year for the very first time.
Throughout the 1970s, the company proved itself as an economic force for Saudi Arabia. In 1973, the Saudi government bought a 25% interest in Aramco, increasing that interest to 60% the following year.

FULL CONTROL BY SAUDI GOVERNMENT
In 1980, the Saudi government increased its interest in Aramco to 100%. Eight years later, the Saudi Arabian Oil Company (now renamed Saudi Aramco) was officially established -- a new company to take over all the responsibilities of Aramco, with Ali I Al-Naimi becoming its first Saudi President in 1984, and the first Saudi President and CEO in 1988.
The following year, Aramco began its transformation from an oil-producing and exporting company to an integrated petroleum enterprise, with the formation of Star Enterprises in 1989 – a joint venture with Texaco in the United States. This would evolve to become Motiva, initially a partnership with Texaco and Shell, which in 2017 progressed to Aramco being the sole owner of North America's largest single-site crude oil refinery at Port Arthur, Texas.
Throughout the 1990s, the company gradually extended its ties and partnerships across the world – making several international investments, starting with its purchase in 1991 of a 35% interest in the SsangYong Oil Refining Company (renamed S-Oil in 2000) in South Korea.
The oil major's expansion continued in 1994 when it acquired a 40% interest in Petron Corporation, the largest crude oil refiner and marketer in the Philippines. In 1996, it made several more overseas investments in Europe by purchasing 50% in privately held Greek refiner Motor Oil (Hellas) Corinth Refineries, and its marketing affiliate, Avinoil Industrial Commercial and Maritime Oil Company.
In 1995, construction began on the massive Shaybah project in Rub' al-Khali desert, a vast oil field discovered in 1968. By 1998, with endurance, commitment, and determination, Aramco overcame tremendous obstacles, and completed the project a whole year ahead of schedule. It took a colossal 50 million man-hours to do so.

ADVANCE TECHNOLOGY
Leading up to the millennium, using advanced techniques to help it discover and extract crude oil became essential. The company needed technology on its side.
In 1997, it developed Powers (Parallel Oil-Water-Gas-Reservoir Simulator), a high-resolution reservoir simulator that models and predicts the performance of super-giant reservoirs. Powers was so successful that it went on to inspire a range of more powerful and precise Aramco simulation software.
Witnessing the advantages of technological advancements firsthand, in 2000 the company built a state-of-the-art Research and Development Center (R&DC) in Dhahran for its scientists. It used this work as the foundation for a network of research centres across the world, which to this day are working on breakthroughs to increase discovery and recovery, reduce costs, enhance safety, and protect the environment.
Aramco's success in world-scale innovation was highlighted in 2010 when it unveiled its unrivalled giga-cell reservoir simulation technology, GigaPowers – the second generation of Powers. And then, six years later, TeraPowers – the industry's first trillion cell reservoir simulation.

DOWNSTREAM FORAY
The company's downstream operations began in 1945 when the Ras Tanura refinery started operations and expanded with the acquisition of an in-Kingdom refining network from Samarec in 1993.
The year 2014 was a landmark year for the refining sector of Saudi Arabia, with the launch of two major refineries – Saudi Aramco Total Refining and Petrochemical Company (Satorp), a joint venture between Saudi Aramco and TotalEnergies; and Yanbu Aramco Sinopec Refining Company (Yasref), a joint venture between Saudi Aramco and China Petrochemical Corporation (Sinopec). Satorp, one of the most advanced refineries in the world, has a processing capacity of 460,000 barrels per day (bpd) of Arabian Heavy Crude to produce petroleum and petrochemical products.
Aramco and TotalEnergies made a final investment decision in December 2022 to construct a large petrochemical complex in Saudi Arabia. It will enable an existing Satorp refinery to advance Aramco's liquids-to-chemicals strategy.
Yasref is a world-class, full-conversion refinery that is the key anchor project in Yanbu. It uses 400,000 bpd of Arabian heavy crude oil to produce premium transportation fuels.
In 2006, Saudi Arabia drew up ambitious plans to build a new industrial city in Jazan, in the far south-west of the Kingdom. At the heart of the project is Aramco's fully integrated Jazan Refinery and Petrochemical Complex – the result of an estimated $21 billion of investment – which, when operational, is expected to produce both high-value products, and power, in a more sustainable way.
The Jazan oil refinery, with an output capacity of up to 400,000 bpd, has a wide portfolio which includes gasoline and ultra-light sulfur diesel (ULSD), as well as benzene and paraxylene. It provides feedstock for the integrated gasification combined-cycle (IGCC) plant, which generates power and industrial gases. The project, for which work began in 2012, came online in 2021 and reached its full capacity in early 2023.
By the early 2000s, to achieve its vision of becoming the world's leading integrated energy and chemicals enterprise, it continued to diversify even further.

INTO PETROCHEMICALS
With many ways of delivering value from a barrel of oil – including nonmetallic and crude-to-chemicals products – Aramco moved beyond traditional markets and uses for oil and gas. The company also invested in new solutions to achieve more efficient production and consumption of its energy products, including enhancing the performance and lowering the emissions of transportation with the development of new high-performance engine and fuel technologies.
In 2005, moving into its very first venture into the new petrochemical sector, Aramco partnered with Japan's Sumitomo Chemical to create a new petrochemical complex in Rabigh, Saudi Arabia. Petro Rabigh products are used in such end-products as plastics, detergents, lubricants, resins, coolants, anti-freeze, paint, carpets, rope, clothing, shampoo, auto interiors, epoxy glue, insulation, film, fibers, household appliances, packaging, candles, pipes and many other applications. In 2017, Petro Rabigh was expanded to produce a wide range of new high value-added products.
In 2011, Aramco decided to move decisively into the downstream with the establishment of Sadara Chemical Company, a joint venture between Saudi Aramco and The Dow Chemical Company. It is an unprecedented undertaking — the largest chemical complex ever built in the world in a single phase, with 26 integrated world-scale manufacturing plants, over 3 million metric tons of capacity per year, and a total investment of about $20 billion. Sadara started up its first production plant, moving on schedule from the construction to the operational phase, in December 2015 and commissioned the last of its 26 plants in August 2017.
In an unprecedented move in June 2020, Aramco acquired a 70% stake in Saudi Basic Industries Corporation (SABIC), a global petrochemical company, from the Public Investment Fund (PIF), the sovereign wealth fund of Saudi Arabia, for a total purchase price of SR259.125 billion ($69.1 billion). This combined strengths and interests of two global companies to accelerate Aramco's downstream strategy and leverage petrochemicals growth opportunities.
Combined, the Aramco and SABIC petrochemicals production volume (in 2019) was nearly 90 million tonnes, including agri-nutrient and specialty products.

GOING PUBLIC
Saudi Aramco was officially listed on the Saudi Stock Exchange (Tadawul) in December 2019, marking the successful Initial Public Offering of the company.
Saudi Aramco began attracting increased investor attention in 2016 when Saudi Crown Prince Mohammed bin Salman announced plans to list the company at a valuation of approximately $2 trillion. Saudi Aramco went public with an IPO in 2019, raising a record $29.4 billion.
In October 2022, Aramco established a $1.5 billion Sustainability Fund to invest in technology needed to support a stable and inclusive energy transition. The fund plans to invest in technologies that support the company's announced Scope 1 and Scope 2 net-zero 2050 ambition in its wholly-owned operational assets, as well as development of new lower-carbon fuels.
'We believe in the power of energy to transform lives, enhance communities, advance human progress, and sustain our planet. With global population forecast to increase by two billion over the next 25 years, even more energy will be required to meet rising demand. It will take all available sources of energy to fill this need — both legacy and alternative sources. And while alternative energy sources are steadily making advances, they will not be capable of meeting future demand alone. Even as we transition to a low emissions future, hydrocarbon-based energy sources will be counted on to meet the bulk of the world's energy demand well into the future,' says Aramco.

• Information for this article has been gathered from Aramco website and other sources.
Photo 1: His Royal Highness King Abdulaziz Al Saud is welcomed aboard D G Scofield during his first visit to Casoc's operations in Dhahran and Ras Tanura. On May 1, 1939, the King opened the valve that let the first shipment of oil to flow into the first tanker to transport crude oil.
Photo: DM McLeod/courtesy, Aramco
Photo 2: The first well at Al-Alat, 32 km from Dammam, stands tall over an empty landscape in 1937. Photo: M Steineke/ courtesy: Aramco