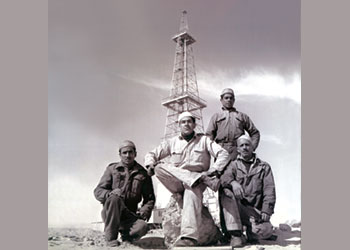 1931: Mining engineer Karl S Twitchell begins a journey across the Arabian Peninsula looking for water resources, mineral outcrops and oil seeps.
1932: King Abdulaziz, encouraged by Twitchell's reports, commissions him to contact US firms for concessions in Saudi Arabia.
1933: On May 29, oil concession agreement was signed between Saudi Arabia and Standard Oil Company of California (Socal). A subsidiary, California Arabian Standard Oil Company (Casoc) is created to manage the concession.
1935: First test well is drilled at Dhahran into the Dammam Dome.
1936: Texas Co (now Chevron) acquires a 50% interest in Socal's concession.
1937: Company geologist Max Steineke crosses the Arabian Peninsula both ways, reporting on the structure and stratigraphy of the peninsula.
1938: Dammam Well 7 at Dhahran strikes oil in commercial quantities. First crude oil is transported by barge to Bahrain.
1939: The first tanker load of Saudi crude oil is shipped from Ras Tanura.
1940: The Abquaiq field is discovered; First school for Saudi employees opens.
1941: A 3,000-bpd refinery opens in Ras Tanura but shut soon due to shortages caused by World War II.
1944: The company's name is changed to Arabian American Oil Company (Aramco).
1946: New 50,000-bpd refinery in Ras Tanura starts operation.
1948:  The Ghawar oil field is discovered; an 80-bed hospital opens in Dhahran.
1949: 500,000 bpd crude oil output achieved. 
1950: The 1,729km Trans-Arabian Pipe Line (Tapline) is completed from the Eastern Province to Sidon in Lebanon.
1951: Safaniya field, the world's largest offshore oil field, is discovered; the company completes the 603-km Saudi Government railway line from Dammam to Riyadh.
1952: Company headquarters is transferred from New York to Dhahran.
1954: Crude oil production exceeds 1 million barrels per day in May.
1957: Aramco TV, the first Arabic-language station in Saudi Arabia starts operation.
1959: Two Saudis – Abd Allah H Al-Turayqi and Hafz Wahbah – join the board of Aramco.
1961: The first shipment of LPG loaded onto a tanker at Ras Tanura.
1962: Total crude oil production reaches 5 billion barrels.
1963: Abu Sa'fah offshore field is discovered; the College of Petroleum and Minerals (later named King Fahd University of Petroleum and Minerals) is established.
1964: The Berri field is discovered.
1965: The Zuluf offshore oil field is discovered.
1967: Offshore fields Marjan, Karan and Jana are discovered.
1968: Shaybah field is discovered in northeastern Rub al-Khali; the company becomes the first in the world to produce 1 billion barrels of oil in less than a year.
1969: Aramco first offshore gas-oil separation plant (GOSP) goes on stream.
1970: Offshore Berri field is brought onstream.
1971: Crude oil production increases by over 25% to 4.5 million bpd.
1973: Saudi government acquires a 25% interest in Aramco.
1974: Saudi government increases its stake to 60%; Ju'aymah, the newest oil terminal starts operation.
1975: Saudi government asks Aramco to design, build and operate the Master Gas System.
1976: Aramco becomes the first in the world to produce 3 billion barrels of crude in a year.
1977: Berri gas plant begins operation.
1978: Qurayyah seawater treatment plant, the largest in the world, begins operation.
1979: Yanbu Industrial City Port and industrial complex, with several Aramco facilities, is dedicated.
1980: Saudi Arabia's government takes 100% stake in Aramco.
1981: Shedgum Gas Plant starts operation. Data processing begins at EXPEC Computer Centre.
1982: Dammam No 7 well is shut after producing 32.5 million barrels of oil in 45 years.
1983: Ali I Al Naimi appointed the company's first Saudi President.
1984: Shipping subsidiary Vela is formed.
1985: Aramco's first female engineer joins.
1988: Saudi Arabian Oil Company (Saudi Aramco) is established; a company subsidiary and Texaco establish Star Enterprise in the US Gulf Coast.
1989: The first oil discoveries made in central Saudi Arabia.
1990: Oil output increased dramatically to stabilise the market in response to Gulf crisis.
1991: A subsidiary buys 35% of SsangYong Oil Refining Company (now S-OIL) in South Korea.
1994: Maximum sustained crude oil production is at 10 million bpd; a subsidiary buys 40% in Petron.
1995: Vela completes programme to build 15 supertankers.
1996: Saudi Aramco makes foray into Europe with a subsidiary buying 50% of Motor Oil (Hellas) Corinth Refineries and Avinoil Industrial Maritime Oil Company in Greece.
1997: Aramco develops POWERS (Parellel oil-water gas reservoir simulator) to model and predict the performance of super giant reservoirs.
1998: A company subsidiary, in partnership with Texaco and Shell, establishes Motiva Enterprises, superseding Star Enterprise; Shaybah field comes on stream.
1999: The Dhahran - Riyadh - Qasim pipeline and Ras Tanura Upgrade projects completed.
2000: Research & Development Center (R&DC) opens.
2001: Environmental masterplan launched.
2002: Aramco buys Texaco's interest in Motiva. Shell and Saudi Refining, a subsidiary of Aramco Services Co, now own 50% each of Motiva; POWERS models the entire Ghawar field in a single 10-million cell model.
2002: Haradh Gas plant begins operation.
2004: The Qatif Program comes on stream; a subsidiary acquires a stake in Showa Shell, a refining company in Japan.
2005: Aramco forms joint venture (Petro Rabigh) with Sumitomo Chemical Co of Japan; a subsidiary, Sinopec of China and ExxonMobil sign a deal to expand a refinery in Fujian of China.
2007: Saudi Oil Minister Ali Al-Naimi outlines projects to achieve 12.5 million-barrel-a-day production capacity by 2009.
2009: Petro Rabigh begins production.
2010: GigaPOWERS unveiled.
2011: Sadara joint venture formed.
2013: Manifa project is launched.
2014: SATORP and YASREF refineries come online.
2015: Aramco pledges to reduce greenhouse gas intensity.
2016: Shaybah expansion goes onstream.
2017: Aramco is granted 230 patents by US Patent and Trademark Office; Aramco acquires full ownership of Motiva.
2018: Aramco acquires full ownership of ARLANXEO.
2019: Aramco becomes a public company with shares listed on Tadawul.
2020: Aramco acquires a 70% stake in Saudi Basic Industries Corporation (SABIC).
2022: The company launches its first annual Sustainability Report.