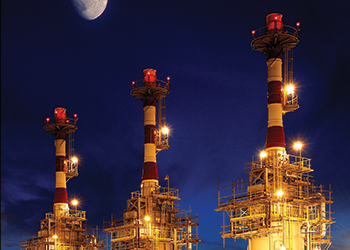 Adnoc has a pipeline linking Habshan to Maqta and the Taweelah complex
The Dubai-based federal entity Emirates General Petroleum Corp (Emarat) in late 2011 issued a study warning that the UAE's demand for natural gas will reach 25,000 mcfd by 2025. The previous forecast for UAE demand by 2025 was 20,000 mcfd
Despite being among the world's largest hydrocarbons producers, the UAE is becoming increasingly dependent on gas imports. Natural gas began arriving from Qatar in 2007 through the pipeline of Abu Dhabi-controlled Dolphin Energy Ltd (DEL).
Dubai in 2011 received its first LNG shipment as local and regional gas supplies by pipeline were no longer sufficient. The UAE's use of gas has risen sharply over the past decade, driven by rapid population growth which has increased demand for power and water, and a nation-wide push to industrialise.
UAE gas imports exceed exports. Abu Dhabi will begin importing LNG in early 2018 through a 9 mtpy Fujairah terminal being built for the leading UAE emirate.
The Dubai-based federal entity Emirates General Petroleum Corp (Emarat) in late 2011 issued a study warning that the UAE's demand for natural gas will reach 25,000 mcfd by 2025. The previous forecast for UAE demand by 2025 was 20,000 mcfd.
The demand is driven by a rapidly rising rate of consumption for power generation and industries in the union. This will mean the UAE could have a gas shortage by 2025.
At current rates of production, the UAE's 213 tcf of proven reserves of natural gas should last for over a century. But with demand projected to grow at 5 per cent per annum, the reserves would only last for 50 years. The looming shortage would be caused partly by failure to price natural gas up to encourage new exploration and recovery.
DEL, designed to supply 2,000 mcfd from Qatar, in 2008 reached its full capacity. Its Phase-II, which calls for the capacity to be increased to 3,200 mcfd. DEL and Doha more recently have agreed for this capacity to be reached despite a Doha moratorium on new gas development projects at Qatar's offshore North Field.
Of this, DEL supplies 200 mcfd to Oman through an extension from Al Ain to the neighbouring sultanate. DEL, owned 51 per cent by the Abu Dhabi state's Mubadala Development Co (MDC) and 24.5 per cent each by Total and Occidental Petroleum (Oxy), in February 2008 reached its targeted production of 2,000 mcfd through its pipeline connecting Qatar with the UAE. The gas is produced from DEL's 24 wells in the North Field.
It is then processed at the onshore Ras Laffan gas plant. The gas is compressed and pumped through a 48 inch, 364-km marine export pipeline. The refined and compressed gas goes to Abu Dhabi's Taweelah centre for power generation. From Taweelah, the gas is distributed by land-line to contracted customers in Abu Dhabi, Dubai and other northern emirates.
The DEL deal with Qatar secures gas supplies at reduced prices. But as the supply deficit deepens, the UAE will have to accept higher gas prices. Originally intended to cover the summer peak in power demand, when air-conditioning and increased water usage ramp up consumption, the gas imports have become an all-year-round fixture. Abu Dhabi's production of natural gas has reached 8,500 mcfd, up from 6,000 mcfd in 2011 and 4,000 mcfd in 2009. The increase came from two mega-projects: the $11 billion offshore IGD programme producing 1,000 mcfd from the late autumn of 2013; and the $10 billion Shah Sour Gas system - a 60/40 JV of Adnoc and Oxy - producing 1,000 mcfd of ultra-heavy gas from 2014, out of which Abu Dhabi gets 500 mcfd of sales gas.
Large gas re-injection needs to maintain Abu Dhabi's oil production limit the amount of gas available for the domestic market. As a result, planners are considering more use of alternatives for generating power.
The Abu Dhabi Water & Electricity Authority (Adwea) has received major steam turbines for oil-fired plants. These have resulted in the Taweelah-C independent water and power project (IWPP) becoming the first to run exclusively on liquid fuel. The Fujairah-3 IWPP is the emirate's other steam turbine power plant.
The Abu Dhabi programme involves providing gas for residential buildings which has begun to replace LPG, and to make it the primary source of energy for industry, as well as expanding the network of compressed natural gas (CNG) refilling stations for motor vehicles. The system involves a network of residential pipelines on which work had begun in late 2008. Several CNG stations have complemented installations at Mussafah and near Port Zayed.
The state-controlled Abu Dhabi Gas Industries Co (Gasco) in April 2008 was made in charge of a $300 m project for a gas distribution network in Abu Dhabi city. The project was initially handled by a unit of the state-owned Abu Dhabi National Oil Co (Adnoc), Adnoc for Distribution (Adnoc-FOD).
The project covered installation of over 350 km of pipes linking residential and commercial properties to the national gas grid and gas metres. The project has included the conversion of bottled gas networks to natural gas, and construction of primary and secondary pressure-reduction stations. It has extended the network in Abu Dhabi and covers Al Ain and several other areas. The use of gas is reducing pressure on Abu Dhabi's power network.
Adnoc-FOD, in charge of fuel distribution in Abu Dhabi and operating abroad, provides gas to many users at the Industrial City of Abu Dhabi's Phase-I (ICAD-I), and Phase-II (ICAD-II), as well as supplying Emirates Steel. The industrial areas get the supply from the Mussafah station which receives the gas from Maqta' through a marine pipeline. Since early 2008 it has expanded its retail network with the arrival of Qatari gas.
Adnoc has a pipeline linking Habshan to Maqta and the Taweelah complex of power plants. Completed in June 1995, the 121-km line to Maqta has a 750 mcfd capacity. Another 40-km line completed in 1995 supplies gas to the Mirfa power station. A 50-km line completed in early 1996 links Maqta' to Taweelah.
All the gas receiving terminals have been upgraded. Together these pipelines carry all the gas required to supply Abu Dhabi's water and electricity systems. They have been expanded to meet the systems' needs until 2015.
Tebodin of the Netherlands in 2014 began negotiations with Gasco to establish underground gas storage (UGS) facilities in Abu Dhabi. These now assure consumers a disruption-free supply of natural gas. The UGS technology is popular in Europe, especially among gas suppliers avoiding heavy penalties in case of disruptions. Aside of being a strategic gas buffer, UGS provides more flexibility to gas companies during seasonal peak/off-peak demand management.