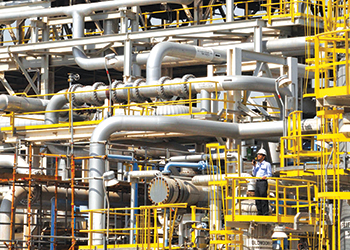 Bapco ... targeting the region and Far East for exports
Bapco secured its first export order for its branded lubricants. Following an order for 12,700 litres of fully synthetic Bapco Charger Motor Oil from Shenzhen, China, discussions with customers in the GCC and other nearby regions were ongoing
On the local front, crude sales from Abu Safah, the offshore field in which Bahrain holds an equity share of 150,000 barrels per day (bpd) of output with Saudi Arabia, totalled 56.2 million barrels, up from 54.6 million barrels in 2015. The bulk of exports were shipped East of Suez, notably to the Far East (50.4 per cent of exports) and South East Asia (32.7 per cent).
This took place at a time when high international market inventories, exacerbated by rising non-Opec supply, caused average crude prices to fall 18 per cent year-on-year in 2016.
The average realised sales price for Abu Safah crude was $39.6 per barrel, against $49.2 per barrel in 2015. That said, despite demand challenges for medium and heavier grade crudes through the year, higher premiums were achieved for contractual volumes of Abu Safah crude.

REFINED PRODUCTS
Bapco once again secured stable outlets for its refined products during 2016. A total of 80.5 million barrels of product were exported, with middle distillates (kerosene and diesel) accounting for about 56.7 per cent of sales, followed by fuel oil (20.1 per cent) exported primarily to the Middle East bunker market and naphtha (17.6 per cent), sold mainly to Asian petrochemical manufacturers.
Middle East (predominantly GCC) countries accounted for 64.1 per cent of product sales, followed by the Far East (12.9 per cent), Europe (8.2 per cent) and Africa (7.7 per cent). The remaining balance of export customers were in Southeast Asia, the Indian subcontinent and the USA. Bapco's environmental sustainability credentials were enhanced during the year as the company successfully converted its international market diesel pool to ultra-low sulphur diesel (10 parts per million sulphur).
Meanwhile, the company secured its first export order for its branded lubricants. Following an order for 12,700 litres of fully synthetic Bapco Charger Motor Oil from Shenzhen, China, discussions with potential customers in the GCC and other nearby regions were ongoing as of year-end.

LOCAL SALES
In the local market, the total volume of refined product sales amounted to 10.5 million barrels, up 3.0 per cent year-on-year, led by high octane (Mumtaz) gasoline (41.3 per cent of sales), diesel (22.9 per cent), low octane (Jayyid) gasoline (21.8 per cent), LPG (6.8 per cent), kero/jet (4.6 per cent) and asphalt (2.6 per cent).
A total of 700,000 litres of Bapco-brand lubricants were sold in 2016, almost double the previous year, with a significant uptake from the commercial market and car service garages in the Kingdom. Work also continued to expand the range of Bapco industrial lubricants, including industrial gear oils and turbine oils. Validation trials for the latter began at the Refinery, with expected distribution of both products by the end of the second quarter of 2017.
Meanwhile, engineering and procurement activities were completed for an extension to the existing gas pipeline header at South Alba Distribution Point (SADP). As of year-end, construction work was in progress on the alternative route, which will not only supply new customers at South Alba Industrial Area (SAIA) from June 2017 but also free up existing pipelines at SAIA for maintenance and inspection.

BUSINESS DEVELOPMENT
The company initiated a number of initiatives to enhance and expand its market reach and access, and optimise its production, storage and manufacturing assets to improve productivity.
Bapco signed a joint venture agreement in November with nogaholding and Greenergy, a UK distributor of petrol and diesel for motor vehicles. The new entity, Bahrain Gasoline Blending (BGB), will blend gasoline from Refinery and other imported components, and will potentially be developed into a standalone Gasoline Blending Hub in the Kingdom.
Bapco signed a memorandum of understanding in September with a multinational company to develop a fuel oil blending hub in Bahrain to blend Refinery and other imported components. Team members worked to define the scope of the project, which may develop into a standalone business, and established the basis of a working model, including paper trading. Trial blends will begin in the first quarter of 2017.
A Joint Account Contract Format was finalised with a multinational company in October, enabling Bapco to participate in contango, arbitrage and CIF 9cost, insurance and freight) trades and secure a share of paper trading profits. The agreement allows Bapco greater contractual flexibility to secure a return on assets, boost competitiveness, and maintain market share and profitability.
Construction of Phase 1 of the facility, a joint venture between nogaholding and Schmidt, a provider of storage, warehousing, handling and shipping of dry bulk goods, was completed at Bahrain Logistics Zone in September. The facility, which received its first import for storage in December, is designed to provide medium-term storage and packing facilities for importers, including Bapco, of dry bulk products such as polymers, plastics and catalysts.
New Bapco-standardised joint venture documents were developed to serve as the basis for the formation, governance and management of all future joint ventures into which the company enters. Six agreements between Bapco and the Bahrain Aviation Fuelling Company (Bafco) were reviewed and updated during the year in consultation with the company's legal teams along with Chevron and BP, Bafco's shareholders. One focus was on the development of a new Concession Agreement with Bafco, which as of year-end was under management review.

Bapco provided support to Noga in a number of ways during the year, notably drafting, in conjunction with energy consultancy Nexant, a study on Bahrain Local Market LPG Pricing and Policies. As of the end of 2016 Noga was reviewing the final draft report. Furthermore, several potential business opportunity requests from Noga were evaluated.

HEALTH & SAFETY
Year 2016 proved to be challenging from a health and safety perspective. Despite Bapco's robust and proven Operational Excellence Management System (OEMS), which spearheads the quest for a zero injury, zero incident workplace, a total of nine Lost Time Injuries (LTIs) and three non-lost-time injuries (NLTIs) among employees and contractors provided a stark reminder of workplace hazards and the need for greater diligence.
Moreover, it highlighted the need to more closely adhere to safe work practices and operational excellence tools such as OSOOL Bapco and 4Keys to Safety.
Following a comprehensive review of all LTI and NLTIs in 2016, action plans were drawn up to mitigate future incidents.
Bapco's emergency response preparedness infrastructure was upgraded to better protect workers and assets in the long-term.
The EFPS project was initiated to upgrade existing firewater systems at the Refinery, Sitra Tank Farm and Sitra Marketing Terminal, thereby ensuring that the necessary water flows and pressures are available to fight worst case scenario fires.
The new system will include eight 3,000usgpm diesel engine driven pumps, approximately 45 kilometres of pipeline and accessories, pump houses and related instrument and electrical work when it is commissioned in the third quarter of 2019.
As of year-end, Bapco had obtained Chevron approval at CPDEP phase 1 and 2 stages of the project, and the company was negotiating with the highest ranked bidder for the engineering, procurement and construction contract.
The UCCC brings under one roof Bapco's Crisis and Emergency Response Plan (CERP), Oil Spill and Security Department emergency response teams, enabling more effective communication and co-ordination among response teams in the event of a major emergency such as fire, explosion, oil spill or security threat. The two-storey, energy efficient UCCC structure was completed in 2016 ahead of a 2017 opening.
Launched in 2014, Bapco's Crisis & Emergency Response Plan (CERP) was fully activated in 2016, upgrading the company's ability to manage major emergencies, crises and incidents. To this end training exercises were carried out to improve awareness of personnel roles and responsibilities during emergencies.
The status of the flagship BOOST (Behaviour Observation Obtains Safe Trends) program as a major contributor to improved safety practices across the company was enhanced, with year-on-year increases in the number and quality of observations and a focus on removing 'barriers' that hinder safe work behaviours.
A total of 11,779 observations were conducted in 2016 (10,028 in 2015) with 14,406 individuals observed.