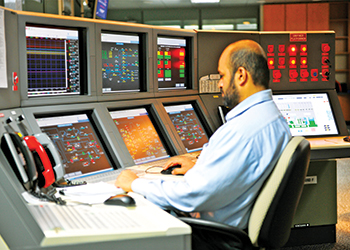 Bapco ... embracing technology
An ITD Strategy framework was published to provide a roadmap until 2020 for the Department to achieve its goals of being an innovative, proactive entity
Modern IT infrastructure forms the backbone of the Bapco organisation, driving operating efficiencies, boosting productivity and rationalising costs. In this regard, the Information Technology Department (ITD) prioritised several key initiatives during 2016.
Oracle Time & Labour (OTL) management module: OTL went live in August, offering a more streamlined process of recording employee attendance.
With OTL, which replaces the Time and Attendance Management System, approvals required to clear attendance anomalies are paperless. The module also offers greater functionality in terms of data processing, retrieval and analysis, and improves co-ordination with other Oracle modules such as HR, payroll and projects, leading to enhanced overall efficiency. Furthermore, OTL has lower annual maintenance costs and eliminates vendor development costs.
e-Forms: The advantages of automated electronic forms and workflow-based actions were extended in 2016 as new e-Forms addressed Document Management System Phase 2 (DMS); Marketing Confidential File Memorandum (CFM); Scholarship, Sadeem Processes and Accommodation functions of the business.
Gas Calculation and Billing System (GCBS) upgrade: Errors associated with manual data entry were significantly reduced as gas flow, customer consumption data and gas bill invoices were automated. A more robust system, GCBS works with automatic customer gas consumption data from meters transferred from SCADA to GCBS, which then transfers data electronically to the Finance Department to generate customer invoices automatically.
P8 Server Implementation: To support the massive computing power requirements of the new ROAYA enterprise asset management application suite being rolled out, the company undertook a migration from IBM Power 6 to Power 8 (P8) servers.
In addition to supporting ROAYA, which succeeds the EMPAC system, the three P8 machines will host other critical applications under development, including EIMS, OTL and other Oracle applications. As well as centralising administration functions and maximising the availability of Bapco corporate applications, the server migration will also be a pillar of the upcoming IT Disaster Recovery (ITDR) project infrastructure.
IT Department (ITD) Strategy/Vision 2020: An ITD Strategy framework document was published to provide a roadmap until 2020 for the Department to achieve its goals of being an innovative, proactive entity fully aligned with the business.
Simultaneously, an annual ITD Vision 2020 booklet was also released, defining objectives, mechanisms, KPIs and governance of all activities driving the transformation process.
IT Business Relationship (IT-BR) Management: An IT & Business Relationship (IT-BR) Management process was established to bring the two parties strategically closer. All company divisions were exposed to ITBRM, with the expectation that it will help address priorities and capture opportunities.
PMO Website: The Project Management Office website was revamped and re-launched as the Enterprise Project Management Office portal, addressing the requirement of the Operational Excellence Department to manage information relating to ongoing SPC and PIC projects.

NEW PRODUCTS
Fire Retardant Clothing: New personal protective equipment, using flame-retardant blends of highly durable fibers and meeting global safety standards such as NFPA2112, EN ISO11612 and EN1149-5, was introduced for all personnel working in classified areas.
H2S detectors: The new TANGO personal H2S monitor was successfully introduced in 2016, offering a more reliable, user-friendly solution which uses dual sensor technology.

PROCEDURES
A Working at Height risk assessment report targeting high risk locations and activities, was completed.