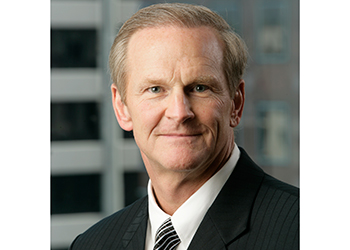 Eastlack ... delivering on a commitment
Since the start of the oil price downturn at the end of Q3 2014, the company has successfully managed to reduce its costs of production and is now among the lowest of the regional producers, says James Kenneth Eastlack, CEO Tatweer Petroleum
Despite the withdrawal of partners Occidental Petroleum and Mubadala in June 2016, Tatweer Petroleum, the upstream operator created seven years ago to improve oil and gas production of the mature Bahrain Field, maintained an average oil and condensate production of 48,500 barrels per day (bpd), including black oil production of 44,400 bpd. This is an average of 2,000 bpd over the budget production of 44,200 bpd for black oil. Production capacity of non-associated gas was successfully maintained at 2.1 billion cubic feet per day, meeting the kingdom's average and peak demands for energy, says James Kenneth Eastlack, CEO Tatweer Petroleum.
In spite of the low oil prices in 2016, Tatweer drilled 38 new oil wells by year-end. This helped maintain production in spite of a four month freeze on drilling to cut cost. In light of the drastic drop in oil prices, Tatweer turned to cost cutting and production enhancing activities that helped maintain production, Eastlack tells OGN in an exclusive interview.
The cost saving programme included over 150 initiatives that resulted in savings of $4.6 million in 2016. Furthermore, Tatweer formed an oil production improvement team that came up with over 20 ideas that help minimise production decline.
With this high level of activity, Tatweer achieved an employee Injury and Illness Rate (IIR) of 0, the lowest in their 6-year history. Unfortunately, the contractors' IIR increased to 0.29, which resulted in a combined IIR of 0.21. "We are currently working closely with our contractors to improve their safety records.

Excerpts from the interview:
It was reported that Bahrain plans to increase its gas production by drilling new wells in the Awali oil field, in order to double the volume of associated gas. How many more wells are planned?
Non-associated gas (NAG) production is important for the Kingdom of Bahrain. Last year we managed to maintain a deliverability of 2.1 billion standard cubic feet per day (mmscfd), meeting the kingdom's average and peak NAG demand. We are currently working closely with Noga to formulate a gas forecast in light of the new LNG project and deep gas discovery to optimise the investment level in the Bahrain Field.
As part of NAG Long Term Field Development, work under the engineering, procurement and construction (EPC) contract was awarded in September 2015 for the installation of a 500 mmscfd Gas Dehydration Unit. Construction work started in June 2016 and the overall project progress is 63 per cent. The project is on schedule and budget towards completion by Q1 2018.

What is the total number of wells drilled till end of 2016?
Total number of wells drilled since 2010: 883 wells. Total number of wells drilled in 2016: 38 wells

How do you plan to fill the void left after the pull-out of Occidental Petroleum and Mubadala from Tatweer Petroleum?
Tatweer Petroleum's partnership with Occidental Petroleum (based in the United States) and Mubadala Petroleum (based in the United Arab Emirates) ended on June 30, 2016. Tatweer Petroleum continued its operations as the Bahrain Oil Field operator as normal, managed by the National Oil and Gas Authority (Noga) and nogaholding.
Since oil was first discovered in Bahrain in 1932, over 1 billion barrels of oil has been produced but there are still around 8 billion barrels remaining in the Bahrain reservoir that Tatweer continues to target in order to recover more oil. Since Tatweer's inception, the partners have successfully transferred both knowledge and technology to Bahrainis and have completely modernised the 80 year old oil field as well as building an admirable new company. With continued investment and hard work, Tatweer is very capable of continuing production plans under nogaholding.

What does the agreement with Italian major Eni entail? Are they offering technologies for the Bahrain Field development?
Bahrain authorities have invited Eni to explore potential areas for collaboration with Tatweer Petroleum. Tatweer Petroleum signed collaboration agreements in the presence of the Oil Minister Shaikh Mohamed Bin Khalifa Al Khalifa, during the visit in the Country of Eni's CEO Claudio Descalzi.
Eni will have access to the data for the study of the oil and gas fields potential within the offshore and onshore areas. At the end of the studies, Bahrain Authorities and Eni will evaluate together the possibility of future initiatives in the kingdom, with the view to cooperate for further developments of the country's energy resources.

After over seven years of operation how much have you been able to improve production at the Bahrain Field?
When Tatweer Petroleum assumed stewardship of the Bahrain Field, the kingdom's oil production was at approximately 26,000 bpd. Since then, Tatweer has managed to increase production by 60 per cent of that rate. In 2015, we reached a daily production of 56,000 bpd, which is a rate last seen in Bahrain in the late seventies.
This is mainly due to the dedication and efforts of our employees, using the knowledge and expertise of our previous partners, new technologies, and innovative ideas. We hope to continue to maintain if not increase production despite the monumental challenges we face, which include the dip in global oil prices and subsequent reduction in drilling activities in the field.

Have you achieved your output targets? If not, why? If yes, what were the factors that contributed towards the achievement?
As part of Tatweer's initiatives to improve oil production, a multidisciplinary team was formed in early 2016 to combine the efforts of Operations, Facilities, Subsurface, Production Engineering and Maintenance, Supply Chain and Executive Management. As a result, the team has carried out significant surface and subsurface improvements, including operations enhancement, identifying physical bottlenecks, review of underperforming wells, exploring new ways to identify and tackle wells issues, and continuously strive in accelerating other project works. This sustainable effort has led to an increase of 4,000 bpd, which continues to grow with more ideas and actions by the team and the supporting manpower.
Highlights:
• Completed 399 Work-over and acid stimulated 220 wells to improve productivity
• Added 9 high volume Electrical Submersible Pumps in order to increase production
• Conversion of 7 wells to annular gas lift in order to increase production
• Opening 165 wells to the Casing Vapour Recovery (CVR) system to improve production
• Internally and externally coated tubing and began downhole chemical treatments resulting in a decreased beam pump well failure rate from 0.49 in 2014 to 0.43 by the end of 2015

Do you plan fresh capital injection to fast-track the field development?
Tatweer continues to invest in its pilot appraisals for thermal enhanced oil recovery in readiness for when oil prices recover. Our spending this year will be highly optimised in order to focus on the best opportunities to maximise the economic production of oil. Since the start of the oil price down turn at the end of Q3 2014, we have successfully managed our programmes to reduce our costs of production and we are now among the lowest of the regional producers, to an extent that eases some of the pressure we face under this low price environment. Choosing the best development wells as well as dramatically scrutinising and improving the margin on each dollar we invest is essential.

What are the targets set by Tatweer for 2017?
Tatweer Petroleum plans to continue its focus on optimising the ongoing Improved Oil Recovery schemes such as steam injection and artificial lifting techniques which have shown good potential to extract more difficult oil from the Bahrain field. We see our company as a leader in the development of mature fields in the area. We need to keep a steady hand on the tiller and to maintain the current high production levels, while better understanding the economic potentials of our EOR pilot appraisals in order to steer through the low oil price period.

What are the challenges that you face currently in your task of boosting output? How do you overcome them?
In 2016 Tatweer Petroleum witnessed two major challenges, the withdrawal of partners, Occidental Petroleum and Mubadala end of June 2016, and the drastic drop in oil prices. While the former was well managed by Noga and Tatweer Petroleum teams to ensure a smooth transition to a 100 per cent government owned entity, the latter provided a more serious challenge in terms of maintaining production levels, less workforce and less investment in a low oil price environment.
As well as those reasons, we have a very complex set of 16 stacked reservoirs from extra-heavy oil near the surface to very light oil deeper down in the structure. Each reservoir has its own unique characteristics and requires different recovery techniques to be applied – they also require an enormous amount of hard engineering work to keep them performing. But having said that, Tatweer has one of the strongest technical teams in the industry and we are very confident that once oil prices recover, our teams will be ready and waiting with our expansion plans.

What were the new construction projects undertaken during 2016?
A total of six cyclic steam wells (East x 3 / West x 3) were completed and commissioned. A common well pad facilities at East and West pads, and steam/production pipelines were installed to connect the new East/West pads to the existing Rubble steam/production systems. These facilities have provided Subsurface with additional thermal handling /testing capabilities as part of the Rubble thermal expansion. A total of seven production steam injection wells were completed and commissioned. We installed common well pad facilities and insulated steam/production pipelines to connect the new Light Oil Steam Flood (LOSF) 7 Spot pad to existing Mauddud LOSF steam/production systems. These facilities have provided Subsurface with a new test concept as part of the Mauddud Light Oil Steam Flood (LOSF) expansion.

What are the green initiatives being undertaken by Tatweer?
Tatweer Petroleum have continued its effort in improving the environmental practices throughout the Field and have strived towards compliances. In 2016, there were several initiatives and efforts executed towards meeting these goals.