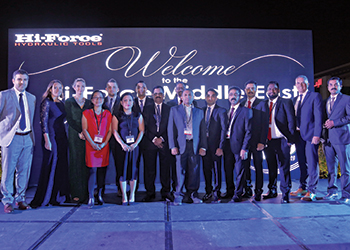 Hi-Force Middle East Management and Sales team
On February 1, 2017 UK hydraulic tools manufacturer, Hi-Force, celebrated the 25th anniversary of its Middle East business, located in Jebel Ali Free Zone, Dubai. From humble beginnings of just one employee (Kevin Brown) working from a lease office building in LOB3, Hi-Force growth in the UAE and Middle East Region has been unprecedented for a specialist high pressure hydraulic tools manufacturer.
In fact the Hi-Force success story started in May 1991, when UK Sales Director, Kevin Brown flew out to Dubai to participate in a 'Rebuild Kuwait Exhibition' held following the first Gulf War, at the Dubai World Trade Centre Exhibition Halls, between May 22 and 25, 1991. Brown recalls those challenging and pioneering days as the catalyst for the hugely successful global business Hi-Force is today: 'I arrived in Dubai late evening on the 21st May 1991 and as I awoke to bright sunshine, the following morning, the newspapers were full of the headline news that Rajiv Gandhi had been assassinated in India. Given the fact it was my first ever visit to the Middle East, its close proximity to India and the high number of Indian nationals living in UAE, to say I was a little nervous was an understatement! But having left a UK market that was in the middle of its worse recession for decades, I had to remain positive and give this opportunity, for Hi-Force, everything I had. The exhibition itself was a huge success, with all my literature being taken within the first two days and over 75 per cent of the stock being sold, directly off the Hi-Force exhibition stand!'
'In those days the majority of trading companies worked a split day of 08.00 am to 1.00 pm and then 4.00pm to 7.00pm and the exhibition opening hours were also very similar. This gave me the opportunity, to visit some of the many potential users of our products, during the afternoon break, so I found myself hopping around in taxis to cement plants, power stations, oil companies and their main contractors most afternoons. By the end of a hugely successful and enjoyable week, I was under no illusion, Hi-Force had to come to the Middle East and where better than the vibrant city of Dubai?'
Brown made further visits to Dubai in July and September that year, to follow up on the many sales leads, received from the exhibition and further orders followed after each visit. By the September visit, that year, the decision was made and Hi-Force was established, within the Jebel Ali Free Zone, under licence number 704, on 5th February 1992. At that time 704 signified that Hi-Force was the 704th Company, registered by JAFZA, which when you consider that today there are now over 7,000 companies, registered in JAFZA, with Hi-Force as the first hydraulic tools company, it certainly was a historic decision for Hi-Force, as pioneers in their industry.
(From left) Adel Bin Turkeya, Chief Resources Officer – Jafza, Omar Ibrahim
BinHendi, VP - Customer Relations & Development – Jafza, Craig Brown,
Hi-Force Group Sales Director, Graham, Hi-Force Sales Director, Kelly Kevin
Brown, Hi-Force Group Managing Director, Mohammed Al Muallem, SVP and
Managing Director of DP WORLD UAE Region, CEO – Jafza and Laura
Thompson, Hi-Force Group Marketing Director
Brown relocated to Dubai, as a resident on February 1st 1992, with his young family following, just two short months later. Reflecting on those early days, Brown recalls the excitement and challenges of literally being a 'one man band operation' although the appointment, of his first employee, as an office based secretary and PA, greatly assisted Brown, by allowing him to move around, in the local and regional market. As Brown recalls: 'There were no mobile phones in those days and if my secretary needed me, she had to page me and then I had to find a phone box to call her! When out of the UAE, the daily morning catch up call sometimes lasted for an hour! We operated from a lease office building for the first year, by which time sales of Hi-Force products, had gone so well, it became vitally important that we established a service and repair facility, to support those customers that were brave enough, to invest in the purchase of Hi-Force products. The Hi-Force culture has always been Service First and I saw absolutely no reason why Hi-Force could not replicate, its successful UK policies in the UAE.'
With the establishment of a Service and Repair Centre in the UAE, came a growth in personnel and one of the very first employees, T N S Kumar, joined Hi-Force, direct from India in June 1993 and is still with Hi-Force Middle East, as Training Manager, today. Indeed Hi-Force Middle East currently has its current longest serving 15 employees, with over 250 years of combined service, which is clear evidence of what a great company Hi-Force is to work for.
Further expansion in 1996 saw Hi-Force open an office in Abu Dhabi, which followed the same route plan as Dubai, with a Service & Repair Centre established, within a year of operation, in the UAE capital. Both the Dubai and Abu Dhabi facilities also established safe product use and repair training facilities. Additionally considerable growth was achieved regionally with trained and authorised Hi-Force Distributors appointed throughout the GCC, India, Pakistan, Egypt, Russia, Kazakhstan and several other strategically located countries.
In 2006 Kevin Brown relocated, back to the UK, as Group Managing Director of Hi-Force worldwide, a new and challenging role, given that continued growth worldwide had seen further Hi-Force companies established in Azerbaijan, Australia, China, Holland, Malaysia and South Africa, between 1994 and 2006. Brown's son, Craig took over as the Middle East Regional Director, at the relatively young age of 28. Brown senior recalls: 'I had an amazing time building the Hi-Force Middle East business, during my 14 years living in the UAE, however the time was right for me to head home and turn Hi-Force UK into a world class manufacturing company, a challenge that really excited me at the time. My son, Craig, had joined the Middle East business, in 1996, at the age of 18, so he had spent ten years working with me, learning everything I could teach him, so I knew the Middle East business was in safe hands, after my departure for UK.
In 2010, Hi-Force UK relocated to a brand new, state of the art, manufacturing facility, close by to its original facilities, in Daventry, UK. The new facility, which was over five times the size, of the earlier one, saw a huge investment, in people, manufacturing machines and assembly processes. As Brown explains: 'The growth within Hi-Force worldwide and the huge investment, made in the UK facilities, would not have been possible without the tremendous growth, of business, achieved within our Middle East operations. As a family owned business, we will always be eternally grateful to the visionary leadership, of the UAE Government and the people of the UAE that welcomed us, as a family and a business, with open arms, way back in 1992. We look forward with pride and optimism, at what the UAE has achieved and what is still to come, believing, in our own small way, that Hi-Force has played its part, helping to build a world class country. After all, the Dubai World Trade Centre was the only skyscraper back in 1992, and aside from the oil and gas business, infrastructure and construction industries need hydraulic tools too!!'
In 2012, Hi-Force global business came under the full ownership and control of the Brown Family and following the success of Craig Brown's involvement in the business, since 1996, his youngest sister, Laura Thompson, joined the business in 2010 as a Marketing Executive, after completing her university education and Laura is now the Group Marketing Director. Kevin's elder daughter, Kelly Graham joined the business in 2013, after completing university and spending three years gaining experience, in other business areas. Kelly is now also a Group Director, based out of the Dubai office.
Today Hi-Force is a financially strong, well-managed business, driven and managed by hardworking Shareholders & Directors, alongside a fantastic global workforce, of over 200 employees, all of whom retain the same passion for Hi-Force, as Kevin Brown did all those years ago, when he joined the UK business, as a 17 year old trainee fitter in 1975. Future plans include the opening of a new Hi-Force business in Saudi Arabia, further expansion of our Holland and recently acquired Italy businesses, as well as further expansion of manufacturing capabilities in the UK. Clearly the Hi-Force success story will continue for many years to come.
The Hi-Force Middle East 25 year anniversary celebrations, were held at the JW Marriott Marquis Hotel in Dubai, attended by all of the Brown Family Shareholders, Regional Directors, Customers past and present, Business Partners and colleagues from across the Middle East Region. In his short address Kevin thanked everyone for their attendance and reiterated that Hi-Force is only as good as its people and its partners in business, all of whom should take equal recognition for helping Hi-Force to be where it is today. 'We thank all of our distinguished guests, customers past and present, suppliers and our employees for helping us to recognise and celebrate this auspicious occasion together.'