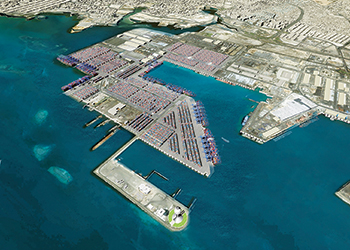 Logistics and infrastructure policy will play a key role in Saudi Arabia's economic diversification
Saudi Arabia is determined to diversify its economy as enshrined in Vision 2030. Its rise on global development indices is a promising sign the country is moving in the right direction
The Covid-19 global pandemic will have some economic bearing on Saudi Arabia, which has carried out one of the strictest lockdowns in the region in attempts to contain the disease.
The oil-rich kingdom has swiftly drawn out plans to maintain financial stability. The Saudi Arabian Monetary Authority (SAMA) announced a SR50-billion ($13.33 billion) program to support the private sector, especially the small and medium enterprises and mitigate any financial impact from the pandemic.
The measures are essential so the country meets its goals outlined in Vision 2030, an ambitious path it set out on in 2016. The leadership's bold foresight then envisioned a country less dependent on oil, economically diversified and transforming into a knowledge economy. Nothing proves that vision more correct than today's oil prices, which have plummeted to new historic lows. For a country, whose bread and butter is oil that can prove devastating.
Saudi Arabia's economy is strongly linked to the revenues generated from its oil sales, which have remained roughly 80 per cent of total government revenues between 2009 and 2018.
But the kingdom is looking for ways to strengthen its non-oil profile to sustain long-term growth. This is also a key objective of the Saudi Vision 2030, which puts the non-oil sector at the heart of the country's economic development. Reducing its reliance on the oil sector is vital for the country's economic diversification.
The vision's key economic goals include increasing the private sector's contribution to gross domestic product (GDP) from 40 to 65 per cent, raising the share of non-oil exports in non-oil GDP from 16 to 50 per cent, and reducing the unemployment rate from 11.6 per cent to 7 per cent by 2030.
It also aims to maximise local content by localising more than $70 billion of content through programmes such as In-Kingdom Total Value Add (IKTVA) Programme, make economic agents more efficient and increase government revenues by removing domestic energy subsidies and introduce other non-oil revenue items, enabling further government investment. Developing the kingdom's non-oil sector would help it to meet these targets.
According to the Governor of the Saudi Arabian Monetary Authority, Ahmed al-Kholifey, monetary, fiscal and structural policies are all geared towards an expansion of the private non-oil sector GDP over the medium term.
Ministers and other Key officials at the 5th IKTVA Forum & Exhibition held in
Al Khobar in February
The IKTVA programme has attracted 468 investments from 25 countries with an estimated capital expenditure of $6.5 billion, resulting in 44 industrial facilities completed to-date, with another 64 facilities under construction.
Saudi Aramco, a key stakeholder in the Vision 2030, has signed 66 memoranda of understanding (MoUs) and strategic and commercial collaborations valued at more than $21 billion with international partner companies and entities from 11 countries in several industrial and business sectors under its IKTVA Programme.
These investments will contribute to building an integrated Saudi supply chain and bringing new capabilities to the kingdom.
The agreements have been with companies like Hyundai Heavy Industry, Seimens, Aasia Steel, Oilfelds Supply Center (OSC), Al-Khorayef Petroleum, Mitsubishi Hitachi Power Systems, Schneider Electric, Honeywell, Advanced Electronic Company (IT), XDM 3D Printing, Shengong New Materials, XINFOO and Saudi Exports Development Authority.
CLIMBING GLOBAL RANKINGS
Fortunately for Saudi Arabia, Vision 2030 took off to a solid start. Official reports have painted a promising picture of how the goals in the vision are being met.
Recently, the National Transformation Program (NTP) released its annual report, reviewing its most significant achievements by the end of 2019. The programme plays a major role in overcoming the challenges to Vision 2030 goals.
The achievements highlighted in the NTP are categorised into three main principles: achieving governmental operational excellence, improving economic enablers, and enhancing the standards of living, and further spread into eight themes.
Eng Thamir bin Abdullah Al-Sadoun, CEO of NTP, says the Kingdom has achieved numerous successes through the programme, which aimed at removing obstacles to doing business in the country.
He says Saudi Arabia was the worldís most improved in the annual ranking of the ease of doing business in 190 countries, according to the 'Doing Business 2020' report issued by the World Bank Group. It climbed to 62nd place, from 92nd last year. In this regard, the country had implemented more than 400 reforms through the National Competitiveness Centre (Tayseer) to serve investors, such as: procedures automation, development of regulations, regulations and policies, and enabling the private sector to achieve economic development.
The Kingdom advanced more than 100 rankings, from 141 in 2018 to 38 in 2019, in the 'Business Start-up' index through the launch of the Comprehensive Service Centers (Meras), which offer easy establishment of companies, electronically in just one hour. Additionally, the country rose to 49th position on the index of the most developed countries in the United Nations Trade and Development Index (UNCTAD).
The NTP through the instrumental role played by the digital transformation plan has contributed to raising the kingdom to second place among G20 countries for its advancement in the digital arena.
INDUSTRIAL REVOLUTION
As a part of the Vision 2030, Saudi Arabia established the National Industrial Development and Logistics Vision Realisation Program (NIDLP) that aims to transform the Kingdom into a leading industrial power and an international logistics platform, while focusing on the 4th Industrial Revolution in a way that will generate ample employment opportunities for Saudi cadres, boost trade balance and maximise local content.
The programme focuses on four key sectors: industry, mining, energy and logistics. The program also designs and provides a range of essential enablers that include developing appropriate systems, providing the required financing, developing infrastructure, industrial lands and private areas, and enhancing research and innovation.
A key player in the NIDLP is the Saudi Authority for Industrial Cities and Technology Zones (Modon), which oversees the country's industrial cities. There are 35 industrial cities with over 3,500 factories that are leading Saudi Arabia's transformation to a leading industrial power.
Eng Khalid bin Mohammed Al-Salem, the Director General of Modon, says the authority has become one of the pillars of the Vision 2030 and an enabler of industry.
Modon has launched its new strategy aiming to enable the industrial sector, contribute to the development of local industry, strengthen local and global partnerships to attract local and foreign investments that have the added-value, and to transfer and localize industrial knowledge in the industrial cities.
It also launched a number of new products being provided to its industrial partners, and the number of products increased from only 4 in 2015 to 14 products by the end of 2019, and the industrial sector will witness the positive impact of these products on micro, small, and medium enterprises and will contribute to strengthening supply chain in Saudi Arabia.
Additionally, Modon has been very successful in attracting leading global companies to bring in value-added investments. These include General Electric for manufacturing gas turbines, Isuzu Motors for producing trucks, Ebara Pumps Saudi Arabia, Schlumberger for drilling rigs, and Henkel for chemical industry.
Dammam 2nd Industrial City hosts two industrial factories by Siemens. The first factory, covering 70,000 sq m, manufactures gas turbines, while the second factory produces automatic control panels.
Keen on environmental protection, Modon encourages best practices for sustainable development, such as recycling, fighting desertification, and conservation of natural resources.
In this regard, Modon has launched the 'Zero Waste' programme to promote environmental sustainability and to reduce manufacturing wastes into zero waste.
To be in line with the Digital Transformation and the 4th Industrial Revolution, Modon in partnership with the Saudi Industrial Development Fund and King Abdulaziz City for Science and Technology (KACST), has launched the National Productivity Program to support factories in achieving the highest averages of production efficiency, and to enable the factories to adopt the technologies of the 4th Industrial Revolution.
Phase 1 of the program that included working with 20 factories was launched in April 2019 in cooperation with General Electric. Phase 2 will be launched in 2020 and will include 40 factories, enabling them to shift toward the IR4.0 technologies.
LOGISTICS & INFRASTRUCTURE
Logistics and infrastructure policy will play a key role in Saudi Arabia's economic diversification and reform efforts. Vision 2030 aims at making the country a global player in logistics by enhancing the freight transport sector and associated value chain. The modernisation of ports is key to meeting that objective.
Saudi Arabia's ports are witnessing a qualitative shift in their systems and procedures by launching more advanced services in its ports along the western and eastern coasts.
The Saudi Ports Authority (Mawani) recently signed a $1.86-billion deal to modernise King Abdulaziz Port in Dammam and increase its capacity to an estimated annual handling capacity of 7.5 million twenty-foot equivalent units (TEUs).
Separately, at Jeddah Islamic Port, a $1.7 deal will see Red Sea Gate Terminal (RSGT) improve infrastructure, equipment and technology by 2050, with annual container throughput capacity growing to 8 million TEUs.
Eng Saad bin Alkhalb, President of Mawani, says the total expected investments in both the Jeddah Islamic Port and King Abdulaziz Port amount to approximately SR17 billion.
Saudi Ports in February handled 20 million tonnes of cargo, with the total number of exported and imported containers reaching 552,000, an increase of 2.46 per cent, compared to the same period of the previous year.
Modon too has increased the number of zones dedicated for logistics by 60 per cent in 2019, compared to 2018. These zones will enable integrating and interconnecting with import, export, and transportation agencies in the public and private sectors.
Some prominent logistic companies that Modon signed agreements with include Naqel in Arar and Madinah, and Starlinks in Jazan, Tabuk, and other zones.
Moreover, Modon's logistic zone in Jeddah 1st Industrial City has been expanded to be a smart logistics zone having integrated services with LogiPoint Company. This zone covers 120,000 sq m land area.