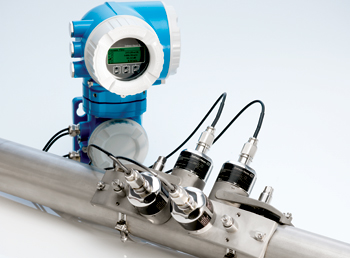 The Prosonic Flow P 500 allows measurement of various fluids
Tried-and-tested ultrasonic measuring technology and intelligent diagnostic functions ensure optimum operation – even with minimum straight inlet runs and disturbed flow

The Prosonic Flow P 500 measuring system is ideally suited for industrial process plants with their usually restricted pipeline network. Thanks to the FlowDC function, which is unique in the market, the device requires only minimal straight inlet runs and, therefore, can be used even where space is at a minimum.
Since the device is installed directly onto the exterior of the pipe, there is no need to interrupt the running process. As a result, planners and operators of plants benefit in more ways than one. They stay flexible and can install Prosonic Flow P 500 wherever and whenever they want, independent of the pipeline design.
Ultrasonic flow measurement with clamp-on sensors has been used successfully in the process industry for decades. In contrast to mechanical meters with high maintenance requirements, ultrasonic flowmeters have no moving parts.
This non-intrusive measuring method with sensors mounted directly on the pipe enables safe measurement of corrosive, abrasive and toxic fluids – regardless of their properties, such as conductivity and pressure. That makes Prosonic Flow P 500 ideal for monitoring and controlling processes in the chemical, petrochemical and oil industries.
Moreover, in the energy and power plant sector clamp-on measuring technology provides a cost-effective solution with unbeatable advantages, for example, for retrofitting ultrasonic sensors on very large pressure lines with diameters of up to 4 m (13 feet).
Prosonic Flow P 500 allows measurement of a wide variety of fluids, such as chemicals, liquid hydrocarbons, solvents, acids, bases, water and many others.
Along with the extensive functionality of the Proline 500 transmitter, this opens up a wide range of applications, such as quantity and volume measurement, totalising and balancing, process monitoring, verification of previously installed flowmeters and detection of leaks between two measuring points in a large pipeline.

FLOWDC FUNCTION FOR MAXIMUM PERFORMANCE
The compact pipeline systems in the process industry usually have numerous fittings such as pipe bends, etc. Disturbed flow profiles occur downstream of such obstacles and can impair the accuracy of a flowmeter.
Prosonic Flow P 500 is the world's first ultrasonic flowmeter, which has a FlowDC function that detects and automatically compensates for effects of flow disturbance on the measuring signal via calculation.
This makes it possible to maintain a consistent (specified) accuracy even with a significant reduction in inlet runs – for example, from 15 pipe diameters (DN) all the way down to 2 pipe diameters (DN). This means maximum flexibility for planners and operators should they want to equip or retrofit a plant with clamp-on flowmeters.

FITS ON ANY PIPE
As a versatile flowmeter, Prosonic Flow P 500 can be mounted on a wide variety of pipeline types and materials: on metal pipes (steel or cast iron), plastic pipes, GRP pipes and pipes made of composite materials with or without lining.
A special, maintenance-free contact foil (coupling pad) provides optimum sound transmission between the sensor surface and the pipe. The resulting constantly high signal strength ensures stable measurement results and high performance over many years.
Depending on the line size, fluid and pipe material, the sensors are delivered with different ultrasonic frequencies (0.3 – 0.5 – 1 – 2 – 5 MHz) so that users can fully rely on maximum signal quality and thus accuracy and repeatability.

ROBUST AND RELIABLE
The robust Prosonic Flow P sensors made of stainless steel and with IP68 (Type 6P) enable low-maintenance and long-term operation, making them suitable for the harsh ambient conditions in offshore applications.
They can be used at process temperatures between –40 to +170 deg C. Due to the SIL-compliant device development (IEC 61508), Prosonic Flow P is also suited to be used in safety-related applications. And last but not least, the numerous approvals for hazardous areas (ATEX, IECEx, cCSAus, NEPSI, INMETRO, EAC, etc) ensure a broad range of applications.

HEARTBEAT TECHNOLOGY
Heartbeat Technology is another highlight. This testing function is integrated into all Endress+Hauser Proline measuring devices and enables permanent self-diagnostics with the highest diagnostic coverage (over 95 per cent) as well as a traceable device verification without process interruption.
For safety reasons, Heartbeat Technology also has a 'heartbeat sensor integrity' test function for detecting changes to the measuring electronics and/or the sensor resulting from extreme environmental or process conditions. Heartbeat Technology reduces risks in a system and thus increases its reliability and availability.

DIRECT DATA ACCESS IN FIELD
The Proline 500 transmitter includes a web server as standard. Using a standard Ethernet cable and a laptop, or wireless via WLAN, users have direct and easy access to all diagnostic, configuration and device data without additional software or hardware. This enables targeted parameterisation of a measuring point as well as time-saving commissioning, maintenance and service work.

HISTOROM – SIMPLY UNFORGETTABLE
The data storage concept (HistoROM) ensures maximum data security before, during and after service. All device parameters are stored securely on the HistoROM data storage module and are automatically reloaded after maintenance work. Therefore, installing spare parts is easy, saves time and reduces unnecessary downtimes.

SEAMLESS SYSTEM INTEGRATION
The Proline 500 transmitter leaves nothing to be desired in terms of performance and accuracy.
Digital signal processing already begins in the intelligent sensor and is the basis for real multivariable measurement. This means that Prosonic Flow P can simultaneously record multiple measured values for process control, such as volume flow, flow velocity and sound velocity, and forward them to a process control system.
For this purpose, Proline 500 has three inputs and outputs. Complete access to all measurement data, including diagnostic data acquired by Heartbeat Technology, is possible at any time thanks to digital data transmission via HART or Modbus RS485 as well as via WLAN or via the freely configurable inputs and outputs.