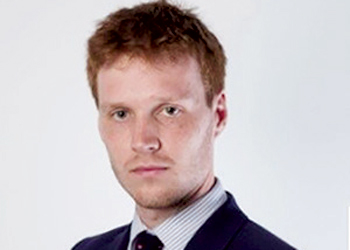 Neve ... invest in CCUS tech
Freddie Neve, Asia House Middle East Associate, argues that more investment is needed to support the Gulf's vision for global decarbonisation

The lead up to COP26 in Glasgow saw the Gulf states enter a new era of climate diplomacy.
The UAE became the first Gulf state to announce a net-zero target, pledging to reach this by 2050. Saudi Arabia and Bahrain followed shortly afterwards with commitments of their own to become net-zero by 2060.
New Nationally Determined Contributions (NDCs) under the Paris climate accords were also announced, with Qatar, for example, committing to reduce greenhouse gas emissions by 25 per cent by 2030.
The Gulf states have also fostered greater intraregional dialogue on climate change over the last year.
Saudi Arabia, the region's largest oil producer, launched two ambitious climate change initiatives, 'The Saudi Green Initiative' (SGI) and 'The Middle East Green Initiative' (MGI). The latter aims to reduce Middle East carbon emissions by 60 per cent by 2030.
A UAE-led regional summit earlier in the year also brought together several leaders from the Middle East and North Africa to accelerate climate change action.
The recent announcement that Egypt and the UAE will host COP27 and COP28 respectively will ensure the Middle East will become an important centre for international dialogue on sustainability over the next couple of years.
One theme that will feature heavily in the Gulf's contribution to these discussions is the role of carbon capture utilisation and storage (CCUS) technologies in the global energy transition.

CCUS & GCC'S VISION FOR GLOBAL DECARBONISATION
The Gulf states are serious about developing their renewable energy sectors and reducing domestic emissions.
However, their vision for global decarbonisation is one where hydrocarbons remain a central part of the global energy mix, but with the negative environmental impact of their emissions reduced by CCUS technologies.
The Gulf states' determination to continue exporting hydrocarbons is underscored by Saudi Arabia's Energy Minister Prince Abdulaziz bin Salman's recent pledge to drill "every last molecule" of oil in Saudi Arabia, as well as recent announcements by major energy companies such as Abu Dhabi National Oil Company (Adnoc), Kuwait Oil Company, and Aramco, to invest in increased production.
Ultimately the Gulf states remain reliant on fossil fuel exports. While hydrocarbon GDP as a proportion of overall GDP has declined in all GCC economies between 2014 and 2019, it has not done so significantly.
The recent rise in oil prices to multi-year highs will probably further expand the hydrocarbon sector's contribution to GCC GDP over the short term.
Oil and gas exports are still crucial to meeting GCC revenue targets. Oil revenues still exceed 70 per cent of total government revenues in Kuwait, Qatar, Oman, and Bahrain, meaning that even with increased focus on economic diversification, the GGC economies could still be dependent on hydrocarbon revenue for the foreseeable future.
The GCC's reliance on hydrocarbon revenue is encouraging the Gulf states to invest heavily in developing CCUS technologies and working with the international community to accept and promote CCUS as a tool to reduce carbon emissions.
One emerging application of CCUS is capturing the CO2 emitted during the transformation of natural gas into ammonia, creating 'blue ammonia'.
Crucially, ammonia is a store of hydrogen and does not emit any CO2 when burned and, therefore, could assist other countries with their energy transition.
There remains debate regarding blue ammonia's environmental impacts and risks.
Arguments have been put forward that using CO2 produced by blue ammonia, for enhanced oil recovery, is not as environment-friendly as storing the captured CO2 underground.
Recent scientific research has also expressed concern over the risk of methane leakage during the production process.
Still, the Gulf states and other energy producers argue that blue ammonia can play a crucial role in decarbonisation by providing low-carbon fuel to a range of sectors such as shipping, steel production, and aluminium production.

BIG INVESTMENT
Gulf energy majors are investing heavily in the technology with, for example, Adnoc developing a 1,000 kiloton per annum 'world-scale' blue ammonia production facility.
Increasingly, in addition to its investments, GCC governments are demonstrating blue ammonia's real-world applications.
In September 2020, Saudi Arabia sent blue ammonia to Japan in a world-first shipment; and in August 2021, Adnoc announcing three separate sales of blue ammonia to new Japanese customers, Idemitsu, Inpex, and Itochu.
The GCC's development of CCUS, and its associated technologies, aim to support the hydrocarbon sector, while simultaneously reducing the sector's environmental impact.
More GCC investment in renewable energy will reduce GCC domestic emissions and lower consumption of its own hydrocarbon resources. This will free more oil and natural gas that could be exported to markets outside the GCC, meaning until CCUS is further adopted at scale, Gulf oil exports will continue to generate CO2 emissions.

LOOKING AHEAD TO GREATER GREEN FINANCE
Increased Gulf focus on tackling climate change is a positive development that international governments and investors should continue to encourage.
But this alone will not prevent Gulf hydrocarbons from being exported to other markets and releasing emissions.
Global oil demand is still rising, with the International Energy Agency (IEA) recently forecasting global demand to increase significantly until 2026.
Oil remains central to the global economy and the Gulf states will not want to forgo any potential revenue from meeting this demand, leading to carbon emissions outside its borders.
GCC investment in CCUS technology aims to reduce domestic emissions and advance the technology so that existing oil customers are persuaded that they can continue purchasing hydrocarbons while maintaining their climate change commitments.
But the technology remains under-developed and further research and investment into CCUS technologies, as well as alternative fuels such as blue ammonia, are needed to encourage wider-spread adoption.
Increased demand for blue ammonia can assist with encouraging development in greener forms of the technology such as green ammonia, which is produced entirely from renewables.
International governments and Gulf governments should cooperate to identify opportunities to develop and share knowledge on CCUS, as well as identify projects that could benefit from investment.
There is a need for GCC governments and global financial institutions to elevate the financing and investment of CCUS. The Gulf states themselves are increasingly open to green finance.
The first half of 2021 also saw green financing for projects in Mena rise by 38 per cent to reach $6.4 billion.
Global financial institutions should work with the Gulf states to bring more of these projects to the market, and explore products structured around CCUS and/or blue ammonia investments, while simultaneously working with the Gulf states to develop standards for these technologies to increase investor confidence.