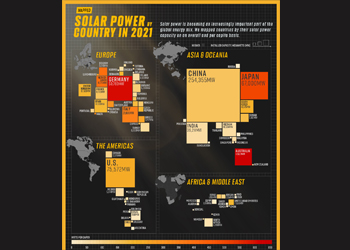 This infographic maps solar power capacity by country in 2021
Globally, solar PV electricity generation is expected to increase by 145 TWh to approach 1,000 TWh in 2021. This increase should push the share of renewables in the electricity generation mix to an all-time high of 30 per cent

The world is in a promising race to install renewable energy facilities, as countries make an attempt to live up to their pledges of decarbonisation.
Last year, many countries added solar to their power mix. A record estimated 139 gigawatts (GW) was installed in 2020 worldwide, said a report by the International Energy Agency (IEA).
This brought the global total to an estimated 760 GW, including both on-grid and off-grid capacity.
According to the International Energy Agency (IEA), renewable energy use increased 3 per cent in 2020 as demand for all other fuels declined. The primary driver was an almost 7 per cent growth in electricity generation from renewable sources.
Renewable electricity generation in 2021 is set to expand by more than 8 per cent to reach 8,300 TWh, the fastest year-on-year growth since the 1970s.
Solar photovoltaic (PV) and wind are set to contribute two-thirds of renewables growth. China alone should account for almost half of the global increase in renewable electricity in 2021, followed by the United States, the European Union and India.
Currently, China has a substantial lead, housing over 35 per cent of the global capacity. It has 254,355 MW of installed capacity, with an additional 400,000 MW in the pipeline from the China Desert Project, which is underway in western China. One completed, this will be the world's largest wind and solar project.
A distant second is the US with over 75,000 MW of installed capacity until last year. In early 2021, it added another 50,000 MW.
While China will remain the largest PV market, expansion will continue in the US with ongoing policy support at the federal and state level.
Having experienced a significant decline in new solar PV capacity additions in 2020 as a result of Covid-related delays, India's PV market is expected to recover rapidly in 2021, while increases in generation in Brazil and Vietnam are driven by strong policy supports for distributed solar PV applications.
Globally, solar PV electricity generation is expected to increase by 145 TWh, almost 18 per cent, to approach 1,000 TWh in 2021.
Increases in electricity generation from all renewable sources should push the share of renewables in the electricity generation mix to an all-time high of 30 per cent in 2021.