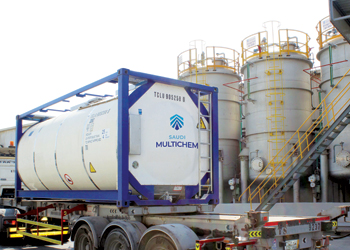 Saudi Made ... Saudi Multichem becomes first local company to export MEA Triazine to US
The contract to export MEA Triazine to the US not only marks a milestone in the company's growth and expansion strategies, but also highlights a proactive response from the Kingdom's oil and gas industry to global market pressures

Saudi Multichem, a leading chemicals supplier in the Kingdom of Saudi Arabia, has secured a significant contract to export MEA Triazine to the US.
It is a first for the indigenous Saudi company to export MEA Triazine to the oil and gas industry in the US.
Global shortages of some commodities are putting pressure on players in oil and gas to find alternative sources for materials and products. One of these products is MEA Triazine, a H2S scavenger used extensively in removing H2S in sour oil and gas.
The contract with a major US oil and gas operator marks a significant milestone in the company's growth and expansion strategies, but also highlights a proactive response from the Kingdom's oil and gas industry to global market pressures.
Commenting on gaining market entry, General Manager Abdur Rahman Adil, says: "Saudi Multichem is poised to create opportunity out of crisis, the current global shipping crisis coupled with China's domestic power generation challenges present opportunities for Saudi Multichem to expand into global markets.
"We have the capacity and knowhow to manufacture Triazine (Chemara HS-1501) for the international market and recently received orders from our strategic partners in the US for large volumes for the US market."
Established in 2001 by Mohammed Hassan Al Saidi, Saudi Multichem is a wholly owned subsidiary of Al Saidi Group, an indigenous oilfield chemical manufacturing and supply company based in Dammam, Saudi Arabia.
In the past over 20 years, Saudi Multichem has grown into a vertically integrated organisation offering oilfield chemicals and oilfield services to local and international markets.
In 2018, Saudi Multichem embarked on a transformational journey to develop its capabilities in chemical manufacturing, through the introduction of its own products using in-house R&D capability, strategic partnerships with international specialty chemical companies, and acquisitions.
In anticipation of an upswing in worldwide oil and gas production, production capacity was expanded during 2020 and into 2021 with the introduction of new state-of-the-art reactor vessels, liquid blenders.
Added to this, a multidiscipline team of international and Saudi talent gives Saudi Multichem the competency and capabilities to develop additional inhouse complex chemistries to meet more diverse local and global customer needs.
It was the result of these investments and ongoing global supply chain disruption events that Saudi Multichem secured the MEA Triazine export contract.
Saudi Multichem's international trajectory is further made possible by the initiatives taken by the Saudi government, which is supporting and creating greater opportunities for local manufacturers to export to the wider world and fits well with Saudi Arabia's Vision 2030 strategies.
In successfully overcoming the challenges posed by the global pandemic and other market disruptors, Saudi Multichem has built a resilient, responsive, and agile supply chain by developing strong relationships with local suppliers in the Saudi market and international suppliers across the globe.
Through the support and collaboration of industry partners SABIC and Aramco, greater in-country value is achieved leading to further internationalisation and growth is for Saudi Multichem.
The company is continuously striving to contribute to the In-Kingdom Total Value Add (IKTVA) programme, and currently has an IKTVA score in the 40s. Measures are underway to improve that further.