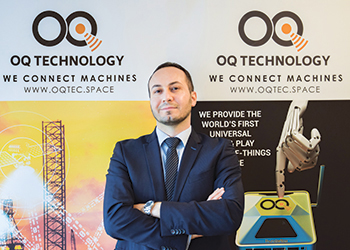 Using LEO satellites for connectivity
MANAMA: OQ Technology, the world's first global satellite 5G operator, claims it can offer 5G Internet of Things (IoT) and machine-to-machine (M2M) communication through its growing satellite constellation, to help companies detect hazardous gases or leaks in oil pipes that need to be communicated quickly.
Over the next few years, the company is planning to launch a constellation of 72 satellites,
In this excerpted interview with Abdulaziz Khattak of OGN, Omar Qaisy, the CEO of OQ, gives an overview of 5G IoT satellite technology, and explains the implications and applications of the company's technology and services for oil and gas, and in particular the region.

Mitsubishi Power in energy transition race
MANAMA: AS a provider of the world's most efficient gas turbines operating today, and a leader in hydrogen-fueled turbine technology for 50 years, Mitsubishi Power recognises that highly efficient energy generation technologies can play a crucial role in helping countries across the EMEA region meet ambitious net zero carbon emissions targets.
With the establishment of its Gas Turbine Combined Cycle (GTCC) business in EMEA, the company says its step closer to helping transition the world to cleaner, more sustainable, and affordable energy.
In an exhaustive interview with Abdulaziz Khattak of OGN, Khalid Salem, President of Mitsubishi Power Mena, describes the technology brought into the region with the aim of transfer of technology, localisation efforts, key projects, technology of the future, and the company's efforts of supporting the region on its path to decarbonisation.