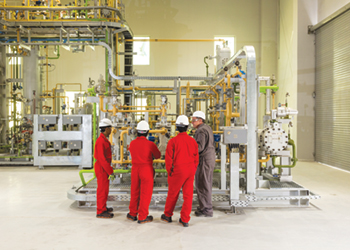 Petrofac creates shared value by employing local people
HR is a partner to the business and central to who we are, what we do, and that fuels our commitment to building a diverse workforce locally, Gereis Gereis, Vice-President of Human Resources for Petrofac, tells OGN
Petrofac, a leading service provider to the global energy industry, uses its engineering know-how and consultancy expertise to design, build, and operate world-class energy facilities that are engineered for safety, optimal efficiency, and low emissions.
But in addition to that, its competitive edge comes from the quality of its human resource. The company's enthusiasm for training is recognisable from the various initiatives created to nurture talent from within the communities it operates in.
In an interview, Gereis Gereis, who is Vice-President of Human Resources for Petrofac based at the group's operations hub in Sharjah, UAE, discusses the varied approaches in this regard including the local delivery model, state-of-the-art training centre, graduate programmes, in-person and online training, and diversity and inclusion.

What are the steps being taken by your company in regard to human resources and the development of people?
Gereis ... using the local delivery model
Before talking about HR, it's useful to talk about our operating model, which we describe as 'global reach, local delivery'.
Wherever we operate, Petrofac is committed to creating shared value by employing local people, supporting local supply chains, developing local capabilities, and stimulating local economies.
As well as being the right thing to do, we see this local delivery model as a source of competitive advantage. It helps us bid on challenging projects, keep costs down, improve the quality and capability of local vendors and supply chains, and build stronger relationships with local stakeholders.
As part of this local delivery model, we want our teams to be representative of the communities in which they work.
Ultimately, we want to be – and seen to be – an Emirati company in the UAE, an Omani company in Oman, and so on. This means we are committed to recruiting and developing local workforces who operate to the same standards everywhere in the Petrofac world.
So, we recruit actively across the Middle East and North Africa, and have strong professional development and career progression processes for everyone in the business.
We also have a commitment to treating all employees fairly and with dignity, and ensure they are rewarded competitively according to their role, location, and seniority.
And, for an industry that has historically been male-oriented, we also have an ambitious approach to diversity and inclusion, including a target for women to make up 30 per cent of our senior management roles by 2025.
Of course, one big advantage is that training is an important part of our core business. We help clients around the world build capacity and fill skills gaps, and this means we have a wealth of world-class pedagogical talent in-house.

The industry in the region depends to a large extent on foreign talent, what steps is your company taking to train the local workforce?
Again, training is part of our DNA.
The Takatuf Petrofac Oman is developing job-ready Omani graduates
In our core business, it's a door-opener and a differentiator. It leads us into new markets and leaves a positive footprint behind us.
A great example is Takatuf Petrofac Oman (TPO), a joint-venture with Oman's leading people consulting firm.
This $30-million technical training centre, which opened in 2018, is helping to accelerate the development of young Omanis – and provide the Sultanate's energy industries with a steady supply of well-qualified, job-ready, skilled graduates.
It is an incredible facility, with a full-time faculty of 45 people, capacity for up to 320 students.
You see wide-eyed young people arrive, who are not fluent in English. Then, in the space of just two years, they are highly competent, fluent not just in English but in technical English, graduating with internationally recognised qualifications equivalent to NVQ level 3, and skilled enough to go out into the real world and operate a plant.
We are equally fanatical about training our own people, and an example is our graduate programme.
Before Covid-19, we recruited several hundred graduates every year and, in our last formal intake, welcomed people from 14 nationalities, 46 per cent of whom were women.
We see these graduates as future leaders and invest heavily in their development. The retention rates are very high, and a large proportion of today's managers joined us through the graduate programme.
On the Duqm refinery project, for example, several members of the senior project team are alumni of the programme.

What has been the key challenges in training or upskilling the local workforce, and how are you overcoming them?
By far the biggest challenges of recent years have been pandemic related. If major projects face being cancelled or delayed, there is a need to right-size the workforce, and the prospect of having to lose talented engineers.
At Petrofac, we worked with the American University of Beirut to design and sponsor a first-of-its-kind elite Masters Programme in Engineering Management and over 100 students have now graduated.
We offered mid-career engineers the opportunity to join the programme, with Petrofac paying tuition fees and covering subsistence costs.
This enabled us to retain talent that could otherwise have been lost. It is also helped to supplement their engineering skills, by teaching them to be more financially astute and digitally-savvy.
Meanwhile, to compensate for the lack of face-to-face training, and to make better use of today's distance learning technologies, we continued to develop Petrofac Academy Online, which now includes more than 1,300 resources covering a wide range of topics, as well as more than 75 e-learning courses.
Although these initiatives may have been initiated by or accelerated in response to the pandemic, they have enabled us to raise our game nonetheless, and will remain in place into the future.
Aside from the pandemic, I would say the challenges of training and upskilling are fourfold.
First, how do you ensure that the skills you impart are practical, not just theoretical?
Our approach at Petrofac is to make our training as true-to-life as we can. For example, at TPO we built four true-to-life production facilities.
This means trainees can work through typical on-the-job scenarios, like a start-up or a shut-down, using the same equipment they will use in the field. There is no way they can get the same experience in a classroom. Nor can they try it on a live plant.
Second, how do you ensure that trainees are engaged?
Our approach is to make use of the latest technologies, such as augmented reality. This helps grab and keep the interest of a new generation of digital-savvy trainees, who have higher expectations.
It also simplifies things for people who are trying to learn something new via an unfamiliar language, which is particularly important in our industry, where much of the training is in English, but few of the students are native-speakers.
Third, how do you ensure that your curriculum meets the needs of today's employers?
At Petrofac, we again have an advantage. We work with clients through the entire lifecycle of their energy assets, from design to decommissioning.
So, we understand the pressure points, where the biggest skills gaps are, and how best to fill them.
Finally, how do you ensure that your recruitment and programmes are relevant and appealing to a diverse audience, especially in an industry like ours that has traditionally been male oriented?
Our strong belief at Petrofac is that a diverse workforce is a strong workforce. And this feeds through to the way we think about our recruitment, on boarding, and training.
Ultimately, Petrofac is its people. As a service business, it is our employees, their attitude and skills who set us apart from our competitors.
We are, therefore committed to building a diverse workforce, which is representative of the communities in which we operate, while developing all our people, and looking out for their wellbeing.
So, HR isn't something separate from the business; it is a partner to the business, and central to who we are, what we do, and whether we succeed.