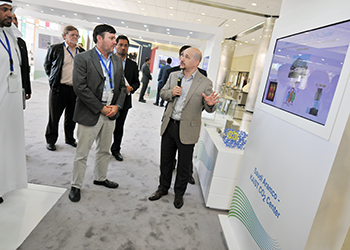 Carbon capture takes priority
In a major milestone, Aramco launched a pilot programme to capture CO2 and inject it underground to enhance oil recovery. The national oil company also worked to improve wastewater management and preserve groundwater resources
An enterprise-wide, organisationally driven focus on health, safety, and the environment is a central tenet of Saudi Aramco's operations.
Managing its performance in these areas in daily operations is critical, above all, for managing risk. Mitigating health risks promotes well-being and ensures employees, its most valuable resource, can do the best work of their careers.
A top-down approach to mitigating safety risks creates a work culture that places a premium on ensuring employees have the training, equipment, and protocols they need to complete tasks safely.
Managing risks to the environment minimises the impact of operations on local and global communities and helps to protect and sustain the natural environment for future generations. Aramco has earned a reputation for diligently supporting and enhancing the health of its employees, retirees, and dependents. Johns Hopkins Aramco Healthcare (JHAH), its health care joint venture with Johns Hopkins Medicine, delivers the best possible care for its people and contributes to the health and well-being of the people of Saudi Arabia through collaboration, research, and education.
Safety is one of its five core values and Aramco strives to embed a safety first mindset, both on- and off-the-job, in its employees and their families, and in contractor companies working with Aramco. During 2015, Aramco bolstered many of its safety initiatives as part of its efforts to develop a safety culture.
Aramco continued its efforts to improve road and traffic safety in the kingdom – a challenge that confronts not only its employees but everyone who lives in the country. On rare occasions, unfortunate incidents may occur. One such incident occurred on August 30 when a fire broke out at a leased residential compound in the city of Al Khobar.
Regrettably, Aramco's family lost one employee and nine dependents. Additionally, 83 individuals were admitted to JHAH and local hospitals with injuries. Aramco responded immediately to find replacement housing for those who were displaced from their homes and treated the injured.
Aramco cooperated with the government in its investigation and used the lessons learned to strengthen its safety procedures to prevent similar incidents. Aramco continued making progress toward reducing the environmental impact of its operations through a number of means, in particular, the search for technological solutions to lower greenhouse gas emissions through carbon capture and sequestration, and research into advanced engines and fuel formulations.
Its efforts to protect the environment are not limited to Saudi Arabia. Aramco also endeavours to effect positive change on a global scale. With other leaders in the energy industry, Aramco supports the efforts of the Oil and Gas Climate Initiative, a collaborative effort that seeks to spur practical action in areas such as the role of natural gas, greenhouse gas reduction, and lasting energy solutions.
At the United Nation's Climate Change Conference, the 21st Conference of the Parties (COP21), held in Paris in December, Aramco exhibited elements from its portfolio of greenhouse gas management technologies and initiatives, including carbon capture and storage, and research into cleaner, more efficient engines.
Aramco also participated in the 6th Ministerial Conference of the Carbon Sequestration Leadership Forum in Riyadh and the Global Methane Initiative for the Oil and Gas Sector Workshop and Exhibition in Al Khobar. Aramco believes the health and safety of its people and the preservation of the natural environment provide a foundation for future progress and development. Its desire for a prosperous tomorrow drives its commitment to continuously improve its health, safety, and environmental performance through innovative thinking, the creative application of technology, and setting new standards of excellence.

HEALTH
Safety is paramount at Aramco
Realising the goals for its company and the kingdom is only possible through the sustained health and well-being of its employees and their families. In 2015, JHAH offered a wide range of wellness and preventative health programmes to improve the quality of the health care experience for employees, retirees, and their families.
JHAH also introduced new technologies and programmes designed to enhance patient care and treatment, including a new robotic urology surgical system, an outpatient cardiac rehabilitation programme, and a fellowship programme to develop patient safety and quality teams.
Aramco endeavours to effect positive change on a global scale. As part of the push to improve and expand health care services for its employees, work progressed in 2015 to upgrade the Al-Hasa Health Centre, now part of the JHAH network, to establish an 80-bed community hospital. The upgrades include additional capabilities and improved inpatient and outpatient care.
When completed in 2016, the facility will be capable of providing services to 50,000 people and will be an exemplar of quality medical care in the region. In a prime example of its commitment to pioneer new services, Aramco completed construction of the Shamah Autism Centre in Dammam – the first multidisciplinary autism centre for Saudi children in the Eastern Province.
In conjunction with a local special education and rehabilitation centre and a UK-based autism school, the centre, which opened in late 2015, will fill critical gaps in the way autism is treated in the Province.
The centre will provide comprehensive behavioural treatment programmes and diagnostics, in line with international standards, with a strong focus on early intervention therapy for approximately 100 children aged three to eight. A cadre of Saudi professionals working at the centre will benefit from the experience and best practices of the international partner, further raising health care capabilities in the kingdom.
JHAH launched the first Doctorate of Nursing Programme in Saudi Arabia to develop advanced nursing practices, which help to extend physician care and build more attractive career paths for nurses. The first cohort of 13 students, including Saudis and expatriates, is enrolled in a two-year programme with Johns Hopkins University School of Nursing.
JHAH also hosts a residency programme for Saudi nursing students and collaborates with local universities on educational and career development projects.

SAFETY
During 2015, Aramco maintained its unrelenting focus on protecting its people and assets by living safety every day and by conducting initiatives to improve its safety performance and that of contractors working for the company.
Integrated with its companywide rollout of an operational excellence framework is a safety management system that empowers organisations to identify and mitigate risks to improve safety performance. Saudi Arabia has one of the highest traffic fatality rates in the world.
To combat this issue, particularly among younger drivers who represent the future of the kingdom, Aramco deploys multiple measures to promote safe driving and general road safety, including the following:
• Aramco drew more than 80,000 visitors to its traffic safety village in Al Khobar and opened a new traffic safety village in the city of Dammam. Its Traffic Safety Signature Programme was the primary sponsor of the 3rd Traffic Safety Forum in November, reaching more than 1,000 people. The Programme also distributed copies of its curriculum materials to more than 4,900 schools, reaching 850,000 students in the Eastern Province and Riyadh. These materials, and the traffic safety villages, are designed to instill respect for driving laws and ingrain safe driving habits in the nation's youth;
• Aramco renewed its support for the Saudi Aramco Chair for Traffic Safety at the University of Dammam. Over the first three years of the programme, research and analysis were conducted in areas such as crash investigations, highway studies, and traffic data analysis, and a Bachelor of Science programme in Transportation was created, among other accomplishments;
• Aramco installed 2,100 driver monitoring devices in the private vehicles of its trainee employees to monitor the movement of the vehicles and driver behaviour. Data from the devices enabled the company to assess driver behaviour and educate trainees on safe driving practices;
• Its vehicle management programme installed more than 7,400 automatic vehicle location systems in company owned and leased vehicles, representing 61 per cent of its vehicle fleet. These systems allow the company to remotely track vehicles and monitor tire health, seat belt use, speed and other safety factors; and
• Operating facilities in remote areas pay special attention to instilling a safe driving mindset in their employees, particularly young people. For example, at Tanajib Aramco introduced a mass transportation programme and employees volunteered to install speed monitoring chips in their vehicles.
Defensive driving training is offered at its remote facilities, and new roads designed to improve safety are under construction in the Haradh area. Aramco also took steps to improve the safety practices of its contractors. For example, Aramco conducted more than 3,600 audits and
Aramco inspected more than 670 contractor construction and residential communities. Aramco held 45 safety training sessions for company and contractor employees in contractor communities during the year. Aramco understands that its success is underpinned by its commitment to protecting its people and those who perform work for the company.
Ensuring safety practices on- and off-the-job helps uphold its standards of excellence while also raising the safety performance of its contractor companies in the kingdom.

ENVIRONMENT
Hawiyah ... recycling in progress
Aramco believes technology solutions offer the key to protecting and preserving the environment while sustaining the benefits to be derived from hydrocarbon resources. Its global research network is dedicated to achieving breakthrough innovations in engine efficiency, more environment-friendly fuels, onboard carbon capture from mobile sources, and other technology domains that hold the promise of balancing energy sustainability with protection of the environment.
In April, Aramco participated in the Global Methane Initiative for the Oil and Gas Sector Workshop and Exhibition in Al Khobar. International experts gathered to discuss the challenges of balancing the ever-growing worldwide need for energy while meeting that demand in an environmentally sustainable way.
Along with nine other global oil and gas companies, Aramco supports the Oil and Gas Climate Initiative, a CEO led, technology driven, voluntary oil and gas industry initiative that strives to catalyse practical action on climate change by collaborating on technology development and sharing best practices.
On October 16, the group, which together supplies nearly 10 per cent of the world's energy, issued a collaborative declaration agreeing to strengthen actions and investments to contribute to reducing greenhouse gas emissions.
In the wake of COP21, the group expressed its support for the historic result achieved in Paris, which creates significant opportunities for innovation and investments in support of lower greenhouse gas emission solutions. The key areas where the participating companies will focus their collaboration include:
• Increasing the share of gas in the global energy mix, eliminating routine flaring, and reducing methane emissions;
• Investing in R&D and innovation to reduce greenhouse gas emissions, progressing carbon capture and storage, and increasing the share of renewables; and
• Raising the efficiency performance of their own operations and of road vehicles.
Aramco seeks to balance energy sustainability with environmental protection. In November, Aramco supported the 6th Ministerial Conference of the Carbon Sequestration Leadership Forum in Riyadh, co-chaired by Ali I Al Naimi, the former Saudi Arabian Minister of Petroleum and Mineral Resources, and Dr Ernest Moniz, the US Secretary of Energy, during which delegates from the 25 member countries gathered to share knowledge and highlight technology innovations focused on addressing climate change challenges.
The forum provides governments with an international platform for reaching a shared commitment on research, development, and the deployment of innovative systems and methods for capturing, storing, and using CO2 in ways that reduce the impact on the environment.
At the forum, representatives from its Petroleum Engineering organisation and R&D Centre presented the company's greenhouse gas management solutions, highlighting two groundbreaking achievements: The CO2 capture and enhanced oil recovery project and the onboard carbon capture system for vehicles. The CO2 capture project, the largest project of its kind in the Middle East, injects compressed CO2 into flooded oil reservoirs as a mechanism for CO2 storage, simultaneously enhancing oil recovery.
Aramco also showcased its mobile carbon capture device for vehicles – the only such device in the world capable of capturing CO2 onboard vehicles. Currently, the technology can capture up to 25 per cent of the CO2 emitted through the vehicle's exhaust system.
Through continuing research, Aramco plans to make the concept more cost-effective and compact, with a goal of capturing as much as 60 per cent of the CO2 emitted. In addition, Aramco highlighted its research to advance the technology of oxycombustion, which improves the combustion of difficult to burn liquid fuels while capturing CO2 at a high rate and purity, and its investment in technology startups such as Novomer, which develops catalysts capable of converting CO2 into products such as polyurethane.
Its in-house and collaborative research, investments in technology, and support for global environmental initiatives are part of a holistic approach that complements the kingdom's broader energy framework. Its long-term approach and scale amplify the impact of its ability to drive economic growth and enable wider access to energy while increasing energy efficiency and lowering emissions.

CONSERVING RESOURCES
Born of necessity as an energy company in a desert nation, Aramco has long been a pioneer in water conservation. Its water conservation roadmap governs its water usage through actions such as the use of flow meters, wider applications for wastewater, assessment of conservation opportunities, implementation of best practices, and the promotion of water conservation awareness among employees, their families, and local communities.
As part of its water conservation plan, Aramco conducted a study on injecting secondary treated sewage effluent to support enhanced oil recovery operations. In addition to saving groundwater, treated sewage effluent also reduces scale and limits incompatibility effects in reservoir formations.
Aramco also uses treated wastewater for irrigation, with roughly 46 per cent of its irrigation needs for landscaping in its communities met by recycled sanitary wastewater. At its North Park office complex in Dhahran, Aramco initiated a pilot programme for reusing "gray water" – recycled water from wash basins – for landscape irrigation, industrial processes, toilet flushing, and replenishing groundwater basins.
Water conservation efforts such as these, scaled up across its communities and facilities, and combined with its efforts to educate the public, serve as a model for other industries and businesses, and have the potential to contribute significantly to preserving the kingdom's water resources.
The planting of trees to serve as windbreaks and to prevent sand from encroaching on roads and into communities and facilities has long been one of its standard practices in facilities planning. Aramco is now able to combine this approach with a new water conservation technology developed by a company in Riyadh.
The technology features a polymer capable of absorbing 600 times its own weight in water, allowing newly planted trees to retain water, which reduces irrigation requirements. In 2015, Aramco supported the planting of roughly 3,500 trees suited to desert conditions on 5.5 km of land in Khurais. If the technology proves successful, Aramco will use it on tree planting projects elsewhere in the kingdom, improving road safety and providing habitat for birds and wildlife, while also saving water.
Improving air quality by lowering emissions is addressed through a number of initiatives, such as the installation of flare gas recovery systems and its Flaring Minimisation Roadmap that establishes guidelines to further reduce flaring.
Aramco has set ambitious targets and track key performance indicators for flaring minimisation. As a result of these initiatives, its flaring levels are less than 1 per cent of its annual gas production and the future trend is for even lower levels of emissions. Aramco is incorporating tail gas treatment technology in its existing sulphur plants to further reduce sulphur dioxide emissions, and its Fadhili Gas Plant, Jazan Refinery, and Jazan integrated gasification combined cycle power plant will include tail gas treatment units.
The tail gas treatment process at the Fadhili Gas Plant, for example, is designed to recover 99.9 per cent of the produced sulphur. Lower emissions contribute to improved air quality in the kingdom and are part of its broader efforts to protect the natural environment.
In addition to reducing emissions, Aramco adheres to a rigorous zero discharge policy for its drilling and workover operations to minimise the release of hydrocarbons to the environment.
In 2015, Aramco recovered 1.2 billion scf of gas and more than 260,000 barrels of crude oil through this approach. Effective waste management is another area in which Aramco seeks to reduce its impact and spread the benefits of its approach throughout the kingdom.
Aramco conducts recycling awareness programmes in its residential communities and offices, as well as in local schools, universities, and municipalities. Since 2009, Aramco has collected more than 400 US tonnes (over 360,000 kg) of plastic, glass, and aluminium for recycling and more than 7,400 US tonnes (over 6.7 million kg) of paper and carton from its offices and residential communities.

PROTECTING BIODIVERSITY
Saudi Aramco's Corporate Biodiversity Plan sets requirements for protecting the terrestrial and marine environments adjacent to, and within, its operations by conserving and enhancing biodiversity, preventing or mitigating impacts, minimising waste disposal on land, and assessing and rehabilitating sensitive natural habitats.
Aramco continued to make progress on the construction of the Shaybah Wildlife Sanctuary, a 637 sq km fenced sanctuary for wildlife in the Rub' Al Khali.