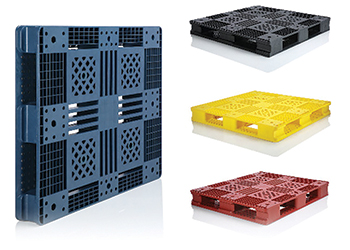 Al Babtain's containers and plastic pallets (right)
The company, one of the most trusted names in the GCC, makes pallets from polypropylene (thermo-plastic) injection moulded materials and are available in different sizes with high racking and dynamic load capacity

Al Babtain Plastic & Insulation Materials Mfg Co Ltd is a pioneer and one of the most trusted names in GCC in the realm of plastic and insulation. Set up in 1979, their factories are located at the first industrial city in Dammam, Eastern Province of Saudi Arabia.
"We produce plastic containers, drums (closed and open top) & pails of different shapes and capacities ranging from 3.5 litres to 220 litres. Our wide range of products that meets international standards are an ideal choice for chemicals packaging, says Faisal Abdel Hamid Al Babtain, general manager of the company.
Talking about products, he says the company's pallets are made from polypropylene injection moulded materials and are available in different sizes with high racking and dynamic load capacity.
"In addition to equipping our plant with the latest technology, we have recently increased our production capacity by adding new machines and introducing new products to fulfil our customer requirements," he says.
Talking about business, he says: "Given the current market conditions we did quite well, but of course there is always a room for improvement."
On the company's plans for the future, Al Babtain says the firm is constantly keeping an eye on the latest technology to be up to date with the growing market.
In addition to the product advantages the company is providing printing facility and its products come in a different colours to meet customer requirements.
"Since we introduced polyurethane foam technology in the GCC, we are offering the best roofing system that meets all the environmental challenges. Moreover, our products are dedicated to quality and reliability," he adds.
At the end, the company expressed its appreciation for the government support for the industrial sector and says it looks forward to supporting the Saudi 2030 vision.