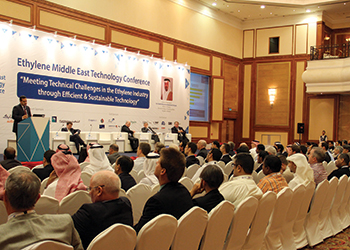 A previous edition of EMET
The conference will provide a platform for networking across the streams of operators and owners as well as product and service providers to meet and understand constantly evolving trends, technologies, products and solutions to the challenges

With its ethylene production having increased by 300 per cent, the GCC is the region with the fastest growth in ethylene production and has now reached 20 per cent of the global production.
The Ethylene Middle East Technology Conference – is the only conference and exhibition of its kind in the region and takes place at the Gulf Hotel, Bahrain, on October 17 and 18, 2016. With over 400 delegates already confirmed, EMET is expected to attract well over 600 key players of the ethylene industry in the region.
After completing a survey with the GCC Ethylene Producers, the technical topics chosen will be aimed at discuss solutions to challenges the industry faces today. Under the theme, 'Sustaining Ethylene Competitiveness through Solution Sharing', 12 of the 18 presentations will be made by operators/ owners sharing the solutions implemented in their plants covering subjects like extending cracked gas compressor run cycle, mercury removal, energy real time optimisation, plant-wide implementation of APC, furnace performance and run length improvement, CGC dryer water flooding, "popcorn" polymer in steam crackers and investigating the tube rupture relief to name a few. A special session on furnace tube technology will be dedicated to the issue of Furnaces and discussions on improving ethylene output.
"The conference will provide a platform for networking across the streams of operators and owners as well as product and service providers to meet and understand constantly evolving trends, technologies, products and solutions to the challenges faced by the ethylene industry. I welcome you to participate in the conference, and look forward to seeing you in the Kingdom of Bahrain in October!," says Ziad Al Labban, CEO, Sadara Chemical Company & EMET 2016 conference chairman.
EMET 2016 will be officially inaugurated by Shaikh Mohamed bin Khalifa bin Ahmed Al Khalifa, Minister of Oil, Kingdom of Bahrain, and will see a host of top level industry executives. Senior leaders will share their company's strategy on topics like the "Changing Competitive Landscape for Ethylene Production in the GCC" and the "Importance of Operational Excellence in Middle East Chemicals" during the morning keynote sessions.
Confirmed speakers include the likes of Antonio Pietri, president & CEO, Aspentech; Charles Swartz, president, Dow Saudi Arabia; Gregory Yeo, chief engineer, ExxonMobil Chemical; Guo Hongli, chief representative, Science & Technology, Sinopec; Hetain Mistry, managing analyst, Petrochemicals, Platts; Ibrahim AlZaabi, vice president, Olefins and Utilities, Borouge; Jean-Paul Laugier, vice president, Ethylene Product Line, Technip; John Derbyshire, president, KBR Technology; Kevin W. McQuillan, Sr Consultant, Solomon Associates; Niyazi Demir, general manager, Business Strategy, Chemicals SBU, Sabic and Dr Tobias Scheele, senior vice president, Software, Schneider Electric.
Representatives from Middle East, China, US and India will engage in a panel discussion on the topic "Key Challenges and Issues facing the World Ethylene Market". Bringing insights from their regions to talk and answer questions – truly a knowledge sharing platform!
A master class on Process Safety in Ethylene Plants will also take place on October 16. This class, taught by global ethylene safety experts, will begin with extended technical presentations on three ethylene-specific hazards and will also include an introduction to Risk Based Process Safety (RBPS) approach.
EMET is the event for professionals looking to develop their technical knowledge and optimise their position in the fast evolving Ethylene Industry by increased operational efficiency, sustainability and excellence.