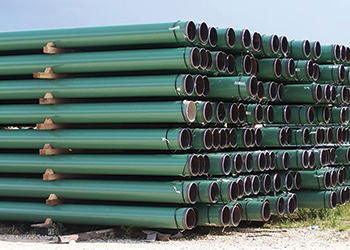 Pipes powder coated by Manifa
The company, which has a production capacity of 14,500 metric tonnes per year (tpy), is maintaining the highest standards of production results with optimum product performance which requires stringent and consistent quality control procedures

With a production capacity of 14,500 metric tonnes per year (tpy) and expansion plans in place, Jubail-based Manifa Powder Coating is geared to take on any powder-coating assignment in the Middle Eastern region and beyond.
Situated in the Industrial City of Jubail, Saudi Arabia, Manifa's head office boasts a sophisticated manufacturing and R&D facility, equipped to cater to existing customers besides meeting the demand for future growth.
The R&D facility is focused on the creation and development of fusion bonded epoxy (FBE) powder coatings, hybrid epoxy/polyester, architectural polyester powder coatings and other specialised products.
As a technology provider, the manufacturing and R&D facilities reflect Manifa's objectives to design and develop products benchmarking the highest international standards in the industry and to maintain a level of quality which enhances the company's reputation with customers, says the company's marketing manager Chris le Roux.

QUALITY IN EVERYTHING
Manifa ... dedication to quality
Manifa is maintaining the highest standards of production results in optimum product performance which requires stringent and consistent quality control procedures. Careful strategic planning ensures that production facilities meet the demand for products without sacrificing quality, consistency or reliability, le Roux says.
Its dedication to quality is reflected in the number of certifications it has achieved. Recently, Qualicoat Class 1 was added to the already impressive list that includes Saudi Aramco approval for re-bar and pipe coating and WRAS (Water Regulations Advisory Scheme).
"Manifa is synonymous with expertise in the field of thermosetting powder coatings. Widely regarded as a connoisseur of fine quality products, we enjoy a great deal of trust from our users. We enjoy their patronage for providing them with unrivalled products in quality and durability," he adds.

BEING CUSTOMER-CENTRIC
Manifa's meteoric rise would not have been possible without its large customer base. This was made possible due to the fact that it offers a round-the-clock technical assistance and hands-on training to sales staff and powder coating operators during its full day powder school training sessions.
Its customers have full access to the complete range of testing facilities. For instance, the salt spray chamber ensures that the products coated with Manifa powder are truly the best in the market.

PRODUCT RANGE
Manifa may have its roots in FBE coatings but with an ever growing customer base across all market sectors which includes architectural, functional, and general industrial markets, this demands an extensive product offering specifically designed for the unique requirements of each application.
The Manifa range consists of:
Manifa PY Series: Manifa PY polyester and hybrid powder coatings are a Triglycidylisocyanurate (TGIC) powder designed to provide excellent weather resistance, excellent mechanical properties and outstanding chemical resistance. These are aimed at the general industrial market.
Manifa PY-F Series: Manifa PY-F standard (Qualicoat Class 1) durability architectural polyester powder provides exterior colour stability, aesthetic touch, gloss retention and corrosion protection. This series is formulated to withstand the onslaught of any harsh, rough, unpredictable weather conditions and can stand on extreme temperatures.
Manifa HD Series: Manifa HD – super durable series is a special line of super durable polyester powder coating that provides outstanding weathering capabilities ensuring the maximum levels of protection and long lasting aesthetic appearance.
Manifa EY Series: Manifa EY Series is a FBE powder coating that is widely used to protect steel pipe used in pipeline construction, concrete reinforcing bars (rebar) and on a wide variety of piping connections, valves from corrosion. FBE is thermosetting materials that achieve a high bond to metal surface.