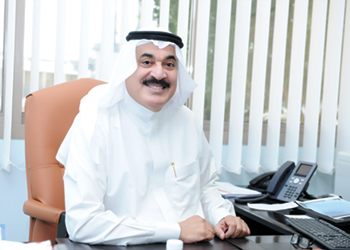 Sheikh Mohamed ... maximum production targetted
The continuous operation of processing facilities will be achieved by implementing intensive routine inspection and preventive maintenance programmes, and a seamless supply of gas to these facilities, Dr Sheikh Mohamed bin Khalifa Al Khalifa tells OGN
Bahrain National Gas Company (Banagas) is implementing an extensive strategy to ensure all its three plants run to their maximum design capacities throughout the year.
In an interview, Dr Sheikh Mohamed bin Khalifa Al Khalifa, Banagas Chief Executive, told Abdulaziz Khattak of OGN about these strategies and how the company is overcoming associated challenges.

What was Banagas' total production in 2020, and what was the total demand? Will Banagas increase production capacity in 2021?
The total production from associated gas in 2020 was 148,578 metric tons (MT) of propane, 151,308 MT of butane and 333,976 MT of naphtha. Meanwhile, the total sales quantities/demand was 147,401 MT of Propane, 148,598 MT of butane, and 331,967 MT of naphtha.
There are no plans to increase production capacity in 2021. Furthermore, the Bahrain Gas Plant was recently commissioned and currently all available feed gas is being processed.
The CGP III has a capacity of 350 million standard cubic feet per day (mmscfd)
What was the company's turnover in 2020 and how does it compare with 2019?
The total turnover was BD85.5 million ($227.4 million) which was 30 per cent less compared to 2019 due to a drop in the product prices on the international market.

How much capex does Banagas intend to allocate for 2021, and what will it be used for?
The expected capex for 2021 is BD 8.7 million ($23 million) and this will be utilised majorly for the modernisation programme, to upgrade our facilities and to provide additional infrastructure to augment our existing facilities. These include a turbine exchange at CGP I, turbine replacement and control system upgrade at CS 1 and CS 3, control system upgrade at Sitra storage, upgrade of power systems at Sitra, renovation of existing lab building, and implementation of Phase II of the security masterplan.

What steps are you taking to ensure seamless supply of gas so that Banagas plants remain fully utilised?
The continuous operation of our processing facilities — running them at maximum capacities and maintaining full utilisation of our assets on a sustained basis — is a top concern and is always given top priority.
Of course, this cannot be achieved without implementing intensive routine inspection and preventive maintenance programmes, and seamless supply of gas to these facilities, all of which play a major role in keeping operations ongoing.
And this is accomplished by following a number of steps, such as entering into long-term contracts with gas suppliers, maintaining redundancy in the upstream facilities, having a comprehensive plan for maintenance and repair works at the upstream facilities to coincide with works at the plants, and most importantly having a long-term modernisation plan to timely upgrade aged and obsolete equipment and systems in the upstream facilities. Additionally, also required is interface of upstream supply facilities, assigning a dedicated team for day-to-day coordination with gas supplying facilities, and maintaining an experienced and motivated manpower.
What are some key challenges for the business?
There are some challenges that are common for all organisations and which need to be managed throughout the business' life. Challenges such as market volatility, energy management, efficiency improvement, equipment aging and obsoletism, change in feedstock specs, rationalisation operating expenditures, new stringent environmental and labour rules and regulations, such as and corporate governance, are applicable to our plants as well. We regularly review our plans and programmes to manage the impacts from these challenges.

What is Banagas' strategy with regard to digitalisation?
The above-mentioned challenges cannot be effectively managed without digitalisation. Moreover, minimising human interference through digitalisation is a key element for effective process safety management. In line with this, we at Banagas consider digitalisation in all our new and modernisation projects.
Digitalisation is widely used in our plant operations for different purposes such as operating parameters monitoring, metering, data transferring, and online troubleshooting with vendors. The same is extended to the different working processes managed by the company's departments and sections.
What are some new technologies used at Banagas?
Many new technologies such as score technology for NGL recovery process, heat recovery systems and low NOX lean head end liners are used at our newest central gas plant.

How does Banagas approach environmental protection?
Banagas approaches environmental protection through the following:
• Ensuring full utilisation of the processing facilities throughout the year to assure zero gas flaring and venting.
• Considering waste heat recovery systems for the new facilities.
• Considering redundancy/sparing philosophy in the design of our facilities.
• Establishment of energy management system.
• Undertaking solar energy projects.
• Empowerment of existing HSE policies and systems.
• Strictly complying with ISO 14001 (Environmental Management System) requirements.
• Bahrain Environmental regulations and standards are ensured to be completely complied in the design of all of our new facilities.
• As part of its obligation towards protecting the surrounding environment, Banagas has signed an Environmental Compliance Plan in which actions to resolve all applicable environmental regulations are addressed and committed.
• Reporting annual greenhouse gas emissions to the National Oil and Gas Authority (Noga).
• Regularly reporting flue gas emissions to the Supreme Council of Environment (SCE).
• Implementing waste minimising and recycling systems.
• Organising annual Safety, Health & Environment Week with different themes.
• Sponsoring and participating in environmental conferences and exhibitions.

What is your vision of Banagas?
I want to see Banagas process associated gas into marketable products and supply residue gas for local industrial use, and to provide Bahraini nationals with employment and training opportunities.
Furthermore, I want Banagas to be a leading company admired and respected for the strength of its partnerships, people and performance. I also want the company to be a key contributor to the growth and prosperity of the Kingdom while ensuring compliance with the laws and regulations, in addition to applying the principles of corporate governance.

What is the percentage of Bahrainis at Banagas? What succession plans does Banagas offer Bahrainis?
We currently have around 80 per cent Bahrainisation at Banagas, and this is expected to increase to 80.8 per cent by 2021-end and 91 per cent by 2025. It is a matter of great pride for us that all management positions in Banagas are occupied by Bahrainis, including most of the superintendent and supervisory positions.
Banagas follows a robust Bahrainisation policy and provides opportunities to only Bahrainis at entry level positions allowing them to be trained to take up leading roles including supervisory positions.
We have in place a career development programme for all Bahraini employees to equip them with career progression and identify their training and development needs.