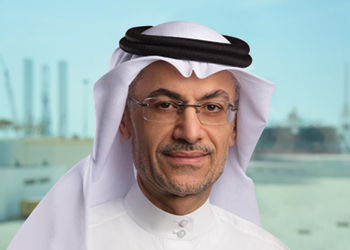 Matar ... leading Asry's modernisation
As the deadline for IMO regulations calling on ships to become more fuel efficient nears, vessels will either have to retrofit scrubbers and BWTS or scrap the ships altogether, and Asry will have prepared for both options, MD Mazen Matar tells OGN
The Arab Shipbuilding and Repair Yard (Asry) is the GCC's leading maritime repair and fabrication facility, and has for the last 44 years been a major part of Bahrain's economy.
In an exclusive interview with Abdulaziz Khattak of OGN, Mazen Matar, Asry's Managing Director, spoke in detail about the recent developments at the company, future strategies, and his vision for Asry.
What are the key developments at Asry ever since your appointment? What are your plans for 2021?
I was appointed as Managing Director of Asry in November 2019 after it was taken over by the National Oil and Gas authority (Noga). Soon after, we launched a modernisation plan to look at different aspects of the business. Our first major achievement was debt restructuring in coordination with major local banks.
In the meanwhile, we have been working on improving performance at Asry through business diversification, and attracting new customers. Since Asry has always worked at full capacity, the emphasis, therefore, was on looking at efficiencies and improving overall performance.
Asry has returned to full capacity after the pandemic
For 2021, we have an ambitious programme that includes infrastructure investment, with primary focus on safety, environment, and the well-being of our employees and subcontractors.
We have upgraded the IT infrastructure and modernised both hardware and software. We have also signed an agreement with renowned global software company Infor to have a cloud-based ERP system covering all the businesses and processes of Asry.
Additionally, we obtained many new certifications in 2020, including ISO 45,001, ISO 27001 and ISO 28,000/20858 in addition to all our previous ISO certifications, and an ASME accreditation, which allows Asry to manufacture and repair coded pressure vessels.
The year 2020 was devastating for businesses worldwide because of the pandemic and drop in oil prices. What was the impact on Asry?
Of course, it was a tough year because of the pandemic. However, we remained operational throughout 2020 even when the pandemic was its peak. Business was affected in different ways, such as customers changing their plans, descoping of services, postponement of jobs and projects, (both ship and rig repair), etc. But there was also the drop in oil prices, which led to many projects getting suspended or postponed to the later months of 2020, or to the beginning of 2021.
However, we connected very well with other entities in Bahrain and continued to serve the industry during the pandemic. For example, we worked with the government to create a safe system for crew changes in Bahrain to help alleviate the global problem of crew stuck on board vessels, and allow customer representatives to continue their projects unhindered. This was also possible thanks to the Bahrain International Airport being kept operational by the government.
Naturally, the year 2020 did bring a drop of around 30 per cent in our top-line growth compared with our budget estimates for the year, however we are recovering that drop in 2021. It is still a challenge but we have now achieved full capacity at the yard once again, and our readiness to cope with the pandemic remains high, as we have implemented contingency and business continuity plans, and put in place all measures to protect our workforce, both onshore and offshore.
Last year was the busiest for Asry with regards to environmental retrofits when it booked a milestone 50 ballast water treatment systems (BWTS) jobs. How did you manage to accomplish that achievement?
This was something we wanted to excel in. We managed to improve the way we delivered the BWTS by essentially improving the delivery time for such jobs. That helped customers with a quicker and faster turnaround time. The more we practised, the higher the efficiency and the better the delivery became. Asry was acclaimed worldwide and this naturally got us more jobs. On the other hand, this is also now a requirement by the International Maritime Organisation (IMO) so as to help improve the environment and comes with a 2023 deadline for all ships to be retrofitted. Therefore we expect a peak in these jobs to come.
The number of non-navy repair projects also rose last year showing customer trust in Asry. Will Asry keep catering to such customers even post-Covid?
The impact on the international maritime industry was largely due to logistic constraints during the pandemic. However, the world trade lines kept moving and the supply lines remained open. Logistics are now starting to normalise, so we will see busy times, not only on the shipyard but with the demand on the rig repair as well, especially now with the stabilisation of the oil markets.
How are environment regulations shaping the global shipping industry and how is Asry preparing for that?
As part of the environmental drive worldwide, certain initiatives have been launched that ship owners have to adhere to. This is reflected in retrofitting of scrubbers and BWTS, thus leading ship owners to modify and retrofit their ships. But wherever that is not feasible, then the only other option is to scrap those ships.
Hence at the beginning of 2021 we kicked off an initiative at Asry to be equipped technically, operationally, and licence-wise to start up a recycling business here to the highest global standards. Therefore, when the deadlines are enforced by IMO and other organisations, Asry will have prepared for both options: either retrofit existing ships or scrapping them.
What is Asry's strategy on digitalisation? What other infrastructure developments has Asry witnessed?
Asry signed an ERP contract on February 15, 2021, with Infor for a cloud based system, which will run on Amazon Web Services (AWS). The new system will help deliver high performance, scalability and security, and replace the existing ERP system. This also fits well with Bahrain's strategy of being the AWS region for Amazon.
We have already done our study of all the processes and identified the systems and criteria required by each division. We will next be moving to the training phase, wherein around 130 staff of Asry, across all divisions and departments will be engaged to achieve a challenging schedule of going live in 12 months. We expect our first module to go live by 2021-end.
Separately, there have been many major infrastructure and equipment upgrades. We are upgrading and modernising our workshops, which are some of the biggest in the Middle East, and also digitalising the workflow to connect the workshops with 3D modelling and CAD operations. This initiative is bearing fruit now in the form of quicker turnaround time and faster project deliveries.
Additionally, we have acquired new equipment, including welding machines, lathe machines, etc. We are also looking at upgrading our facilities such as cranes and yard equipment, and have finished improving the lighting systems around the yard as well. The latter was a great addition to the infrastructure because it enabled higher productivity during night shifts, thus improving the yard's efficiency.
Furthermore, part of the infrastructure upgrade included improving efficiencies of our power and water systems. For the former, we installed capacitor banks in all our transformers and switch gears. This helped reduce our power consumption by around 20 to 25 per cent.
We are now in the process of commissioning our RO system. We have also re-commissioned our sewage treatment, marine sludge treatment, and grit treatment plants.
What is your vision for Asry?
My vision for Asry is twofold. Firstly, modernising Asry in all aspects, whether infrastructure, the way we do business, corporate culture, manpower development, and more.
Secondly, diversifying our businesses by capitalising on the assets of Asry to offer the market more choices in ways of doing business with us and, therefore, create different revenues for the future.