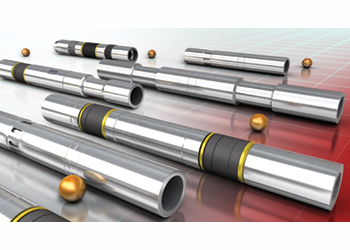 Titanium XV completion solutions for HPHT (high pressure/high temperature) wells
The innovative completions expert aims to establish centres of technical excellence in the long-term in specific countries where in-country support is essential and valued, Stuart Wilson, Packers Plus President and CEO, tells OGN
With an ever-changing and fluctuating market over the past few years that transformed the global oil and gas industry, Packers Plus Energy Services is aiming to continue providing world-class completion solutions and support to its customers by evolving its technology, products and offerings.
The company appointed Stuart Wilson as the new President and CEO on April 1, 2021. Based in Dubai, UAE, Wilson served as the Eastern Hemisphere Director of Packers Plus prior to his new role.
OGN asked Wilson about his new role, and what's in store for Packers Plus.

As the new CEO, what excites you about the future of Packers Plus?
Wilson ... local content focus
Packers Plus has an excellent foundation and global reputation that we can build on, and we are expecting lots of positives in terms of growth and expansion in the coming years. We have expanding opportunities to take the company in a broader direction with a greater focus on the Middle East market. And, perhaps most exciting of all, we have a young and energetic team to help us reach these aims.
What are your priorities for your first few months in this role?
With senior leadership now based in the Middle East and a strong focus in the area, personally I need to pay a great deal of attention to the Canada market, as that has always been and always will be a key customer base for Packers Plus.
I am very much a people-person, so engaging with all areas of the organisation, meeting as many people as possible early on and listening to suggestions and feedback is high on my priority list.
I plan to visit as many clients as feasible. It is certainly not easy in the current environment due to the Covid-19 pandemic; however, I'm passionate about customer interaction. Discussing their challenges and finding creative and innovative solutions to implement will be key to our success.
What are some top challenges you've noticed that producers face, and how do you think Packers Plus can help with those issues?
Packers Plus has completed geothermal wells from Finland to Australia with
excellent success
The challenges our customers have faced over the last 14 months are unprecedented in many ways with high uncertainty in many regions and logistical challenges on a daily basis that were not previously encountered. Two of the well-known strengths of Packers Plus are rapid engineering tool development and world-class automated express manufacturing. Both of these attributes allow more time and flexibility for customers to complete their well plans, in addition to reducing their logistical risks and uncertainties.
As a customer of Packers Plus, what can I expect looking forward?
Continued operational excellence from our technical and operational support can always be expected with Packers Plus. Moving forward we will dedicate more resources and expertise to the Middle East and provide local support in a timely and efficient manner. This will include locally based tool designers and manufacturing in Saudi Arabia, the UAE, Kuwait and Oman, as well as other countries we are currently looking at for expansion with the group.
What is the long-term perspective for Packers Plus?
As a well-established locally focused company with a global footprint, I see the trend towards the international market continuing to grow. We have always been defined as an innovative completions provider and the long-term aim will be to establish centres of technical excellence in specific countries where in-country support is essential and valued.
The local talent available in the Middle East is currently at a very impressive level and Packers Plus will play a key role in nurturing the development of that talent. Diversification of the energy industry, while remaining highly focused on oil and gas, will be essential in the long-term. I foresee that we will need to remain dynamic and be prepared to expand beyond that of our standard environment.
What does the energy industry need to do to ensure its long-term sustainability as the energy mix transitions over time?
We have been established as an 'energy services' company from our inception and we have been the pioneers of extreme high-temperature/high-pressure new technology, such as liner hangers and multistage stimulation technologies for geothermal applications. We started this work several years ago, so the transition to many of these varied environments is very familiar to us with much of the technology already developed and part of our offerings. We have completed geothermal wells from Finland to Australia and worldwide with excellent success.
What changes in the industry over the past five years have created challenges and opportunities for Packers Plus?
The pandemic immediately comes to mind as one of the biggest global challenges in a lifetime; however, the oil and gas market has fluctuated greatly even prior to the current situation. Packers Plus has remained strong and focused throughout, and our team has performed above and beyond to support all our clients' needs. There have been many occasions when our employees have been under lockdown and had to remain in various countries for several months while continuing to work on field operations. The key was having locally available people in our key markets when borders were closed and having an excellent infrastructure to support operations.
What traits do you value in your employees to support your company's culture and business?
As a starting point, I always value honesty and integrity. I will always be transparent with employees and I expect the same in return. Maintaining an open, healthy two-way communication is the culture I want to cultivate and it is particularly important because we have a 'one company, two region approach', with offices in North and South America and the Middle East. We all need to be pulling in the same direction with a common vision and objectives. Packers Plus has always had a family feel with genuine care for the employees, and fosters an environment where employees can generate creativity and truly enjoy a relaxed workplace.
What is the mindset that you carry while developing the company's future?
Those who have worked closely with me know that I can be competitive, especially in sports. I take enjoyment in winning and equally do not like to lose. I carry that mentality into my work life, studying strategies and tactics from a wide range of sports, and that is how I approach the President and CEO role. It is about setting the vision and direction with a strong plan that everyone on the team can understand and relate to, resulting in a collective direction.
Simultaneously, always being polite, respectful and having a positive mentality is fundamental to developing a company with open and equal opportunities for everyone. With this approach I am certain Packers Plus will achieve great success in the short-term and long-term as a leader in the global completions industry.